When Echo's opens on Banks Street on Wednesday, it will bring a different type of pizzeria to Mid-City, one developed by a local baker and a pair of restaurateurs who earlier built followings on their own.
It also will open another test case for the idea that a specific culture, worked across a restaurant's operations and policies, can play out in the dining room and pay off in the long run.
A wood-burning oven is front and center at Echo's, and Kate Heller is in charge of the pizza and bread it produces. Heller is known for Leo's Bread, a small-batch brand she bootstrapped into existence, initially selling bread at pop-ups.
Her partners at Echo's are Theresa Galli and Gavin Cady. 1000 Figs, the couple's shoebox-sized eatery in Faubourg St. John, is known for vibrantly fresh Mediterranean flavors.
Galli and Cady were early patrons of Leo's Bread, using Heller's crusty semolina loaves and dense, bubble-pocked sandwich bread on the 1000 Figs menu. Along the way, the three built a friendship and saw the potential to build something else in business together.
Echo's isn't a bakery but rather a restaurant that focuses Heller's particular skills and passion for baking on pizza. She also makes bread for a changing menu of side dishes and small plates, as well as some loaves to sell to walk-up customers.
Although Echo's menu is different from 1000 Figs, it shares some underpinnings with its sister business. These get into notions of restaurant culture and staff interactions that have been a subject of broad scrutiny across the hospitality industry in light of high-profile chef scandals.
Policies, paychecks
Cady and Galli had scant restaurant experience when they opened 1000 Figs in 2014. They had mostly worked for themselves through their food truck, the Fat Falafel. But as they started hiring employees and gradually built up the back-end functions and policies of their restaurant, they kept a central goal in mind.
"It's really important for us to have a good restaurant culture and work environment, to have people feel like they're cared about and respected here," said Galli.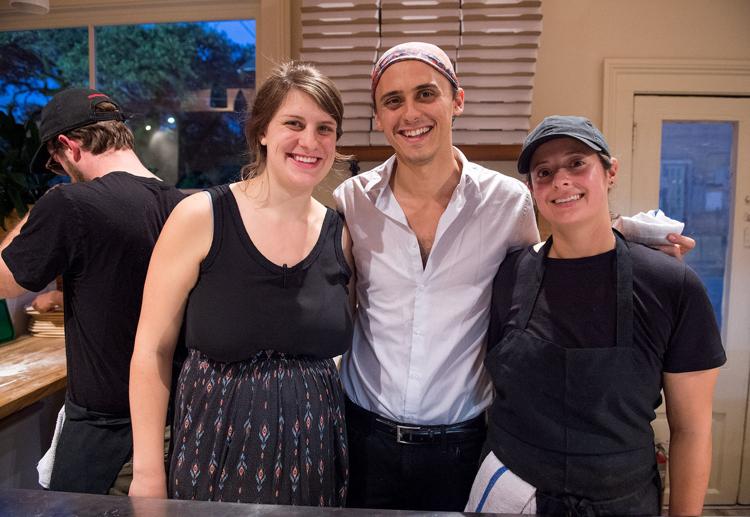 That's a common trope of mission statements and HR handbooks. But in the close confines of a tiny restaurant with just 17 employees, 1000 Figs provided a unique proving ground where the couple could synthesize their ideas into business practices.
"We hire for it, we have reviews and talk with staff about restaurant culture and what part they have in it," said Cady. "It costs us in time, but these are ways you make sure the culture is kept up. I don't believe you can give good service if your staff isn't happy."
The approach plays out in paychecks too. 1000 Figs uses a tip-pooling system to distribute earnings more evenly across the staff. Raises are assessed on a regular schedule. The restaurant also has a quarterly bonus system. If 1000 Figs finishes a financial quarter with a profit, the owners redistribute 25 percent of that sum to their staff.
All of this grew gradually at 1000 Figs, and the partners say they are still working out just which parts of it will apply to Echo's. They want to see how the new restaurant develops, what it becomes and how customers use it. They think that will give their approach to culture-building here a more natural fit.
They are clear-eyed that this next step may be a daunting one, however. Echo's is opening with 28 employees, multiplying the management complexities of their small crew at 1000 Figs.
"When you get bigger and there are more people, it does get harder to make sure all those people feel cared about," said Galli.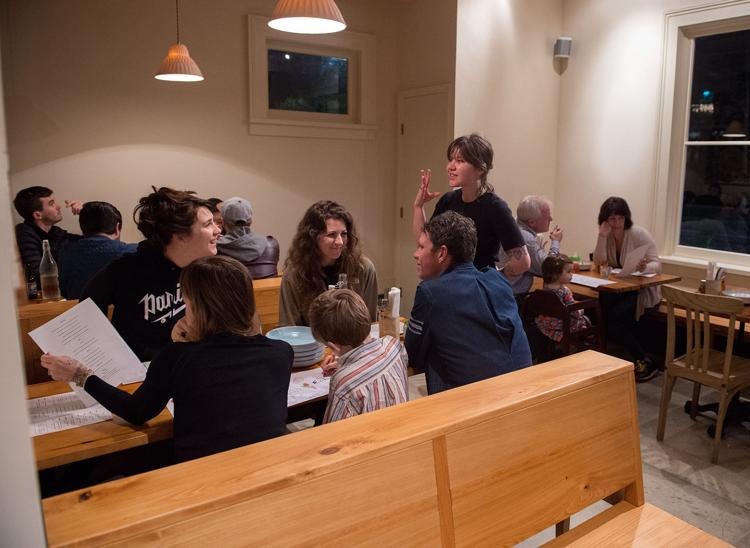 In a way, though, the reputation 1000 Figs has earned has already paid dividends at Echo's. Some people on the new restaurant's opening staff sought out jobs here as soon as they heard about the project. In some cases, that meant waiting months as construction delays pushed back the opening.
"Hiring people is really hard, so when you get the best people in the city wanting to work with you, that's just a great feeling," said Cady.
A first slice
Echo's is in a section of Mid-City near the new medical complexes that is seeing much new redevelopment. It is in the ground floor of a corner building that had been decrepit for many years.
The new restaurant unfolds in stages, with a small window-lined room of booths up front and a larger dining room and bar in back. A patio continues the dining area outside.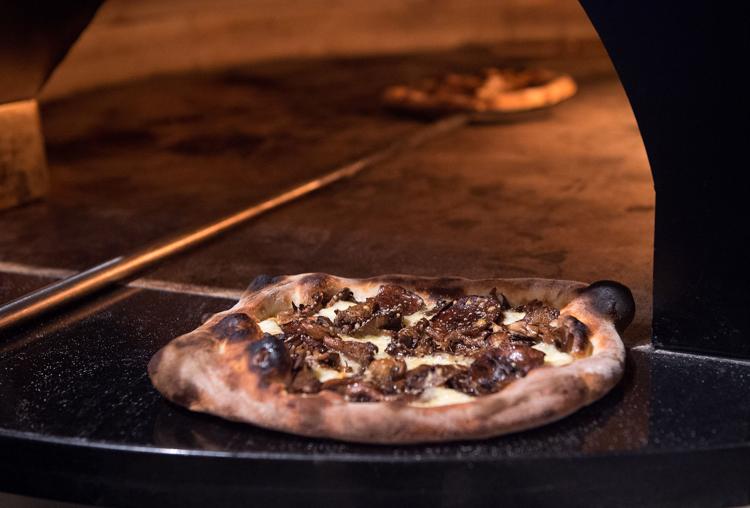 Heller's pizza doesn't follow a strict traditional style. The pies are single-serving size, like Neapolitan pizza, but they have a thinner, crisper crust than that classic type. They're made from dough that mixes whole-grain flour from the local Bellegarde stone mill and other flours.
"I just want to make the best pie that everyone wants to eat," said Heller.
Echo's daily menu has a short selection of salads and fried dishes (oysters, zucchini and suppli, or cheese-stuffed rice fritters, similar to arancini). The changing roster of specials runs through "little things," like seared squid crostini, anchovies with bread and butter, charcuterie and cheeses, and a few "bigger things, like roasted chicken and shrimp with polenta.
Echo's serves dinner, and it will add lunch in the future.
3200 Banks St., 504-267-3231 (opens Jan. 31)
Open Wednesday through Monday, (closed Tuesday) from 4 p.m.
Last week, when I'd had enough of faucets gurgling against the freeze and the depressing sight of plants shriveled by it, I decided to have di…
This spring, Inglewood Farm brought in the first commercial harvest of organic wheat that Louisiana has seen for generations.
At the corner of Tulane and Broad, you can get a box of chicken wings and a bottle of pills with one stop at Best Life, a pharmacy that double…
The new restaurant 1000 Figs is tiny by nearly any standard, but for proprietors Theresa Galli and Gavin Cady, it represents a big expansion f…