Good soul food usually carries a sense of place. Two Sisters in da East also gives a little more specific direction right in its name.
Now, the New Orleans East restaurant has expanded in Gretna. This new restaurant is called, naturally, Two Sisters on the West Bank.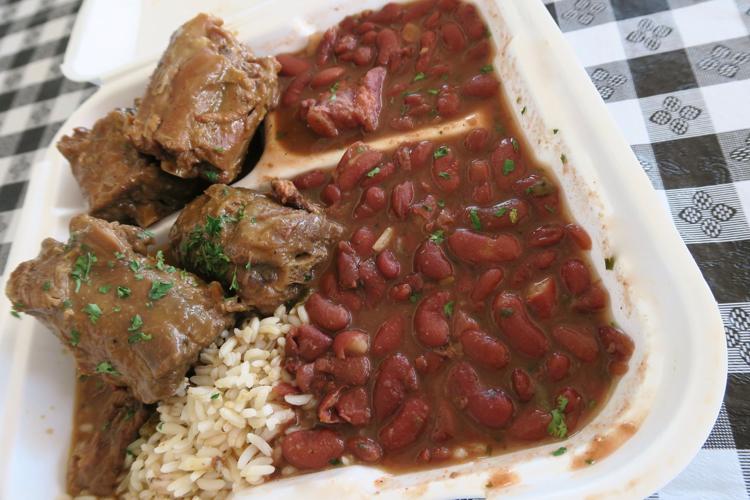 The restaurant has long roots in New Orleans, and it has earned a following for a down-home style that has become harder to find. The flavors from the Two Sisters kitchen are more akin to country-style soul food than the Creole soul cooking that is more prominent in the city. 
"It's our soul pots. We have well-seasoned pots, well-seasoned food," said Shanel Snowton, who runs the new Gretna restaurant. "It's where we come from. My family is from northern Louisiana and Mississippi. You get that gravy and roux going, and the rest is history."
The new Gretna restaurant serves the same menu as the original (see below). That's a full-throttle soul food catalog of beans and greens, rice and gravy, cornbread and cabbage, smothered chicken and smothered okra, turkey necks, turkey wings and neck bones. The particulars change daily. The gumbo (with potato salad) and barbecue ribs join the menu on Fridays, the chitterlings are on the board Wednesday through Friday, and it's the most popular choice here, Snowton said.
"It's about home cooking. It's our culture — people look for this," she said.
The new restaurant, which opened at the end of September, is a smaller operation than Two Sisters in da East. Order at the counter, and you can look down the line of pots simmering and steaming in the kitchen. There are a handful of tables, though everything is packed in takeout cartons.
In the days since its debut, many of the customers coming in already have the menu's rhythms down pat from frequent treks out to the New Orleans East location.
There's gumbo in the pot whenever the Tremé restaurant Li'l Dizzy's Café is open, and that i…
Snowton herself is a familiar face, having grown up in her family's first restaurant. Two Sisters got its start back in the 1970s on a side street near Canal Street and North Claiborne Avenue. It drew a clientele that ranged from bus drivers to NOPD brass. This first location (which has since closed) is where the pattern of today's menu of daily specials and everyday staples was set. 
Two Sisters in da East opened as a separate restaurant in 2010, taking over a former Pizza Hut franchise. Snowton worked there with her sister, Collette Tate. She credits Tate with encouraging her, and eventually pushing her, to open the new West Bank eatery.
"I was in my comfort zone in the East, but my sister said, 'You know what? You can do it for yourself. It's time to fly,'" said Snowton.
Like its predecessor in the East, Two Sisters on the West Bank serves lunch and early dinner, closing at 5:30 p.m.
Two Sisters on the West Bank
1601 Franklin Ave., Gretna, (504) 309-4772
Two Sisters in da East
9901 Chef Menteur Highway, New Orleans, (504) 242-0469
Click the link below to see the full menu
The walls at We Dat's Chicken & Shrimp are emblazoned with murals of New Orleans notable…
When Neyow's Creole Café relocated to its new address last weekend it was a short trip but a big move.
A good gumbo can give you different tastes from one spoonful to the next. That's been the ca…