Photographer Richard Sexton could live anywhere. He has traveled the world, capturing images of brightly hued stucco buildings in the Caribbean for his book "Creole World" as well as impressions of decaying New Orleans mansions and Louisiana plantations for "Elegance and Decadence" and "Vestiges of Grandeur." Born in Georgia, Sexton moved to San Francisco after completing his studies at Emory and lived there for 16 years.
But instead of New York or Paris, Budapest or San Francisco, Sexton resides in New Orleans, in a compact building that's both home and workspace.
"Many people think of me as a preservationist because of the buildings I photograph," he said. "But it is more accurate to say, I am an urbanist because I believe in the city and closely knit communities. We have to face the fact that building more and more highways to reach new subdivisions just isn't sustainable because of the environmental costs. Instead of urban sprawl, we need to focus in on the urban fabric. In post-(Hurricane) Katrina New Orleans, there are vacant lots on nearly every block. We need to think of them as opportunities, rather than problems."
Sexton did just that when he bought a lot at Music Street and North Claiborne Avenue in 2017 with the express intent of building a home that could model how to rebuild while blending in with the local architecture and streetscape. The result is a contemporary riff on the traditional camelback shotgun that makes a pleasing live/work space for a photographer and could just as easily suit a family of four.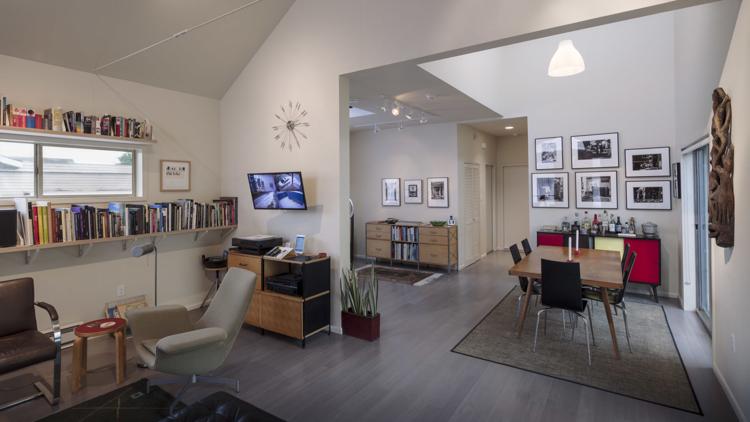 "In trying to work out the puzzle of how to combine my house and studio under one roof, I realized that I needed to build something new rather than to renovate something old," Sexton said. "It would have been prohibitively expensive to build an authentic copy of an old house, and it was important to conserve costs to keep the house affordable if it were to serve as a model."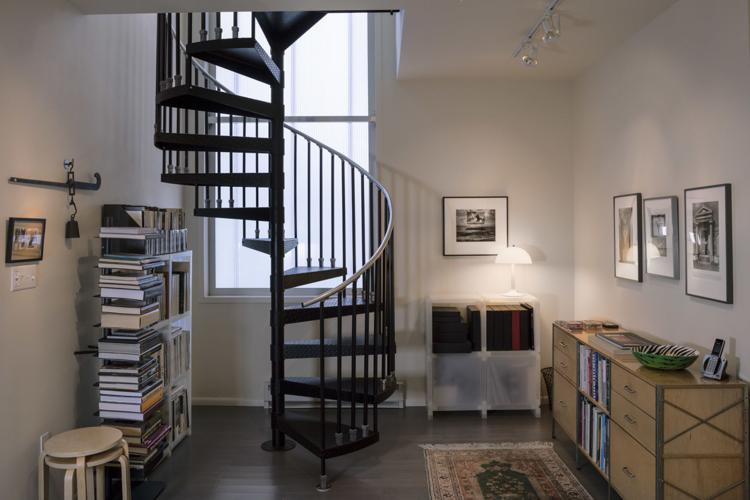 In lieu of weatherboards, the structure is clad in 4-by-8-foot panels of dark gray Hardie board installed in a grid-like pattern, with strips of aluminum concealing the seams. Instead of concrete paving the drive and parking area, there's crushed gravel. To bring in extra light, plans called for large panels of polycarbonate, a readily available, translucent material that's strong and inexpensive. Windows and doors are all stock, rather than custom. An elegant stair that winds its way between the first and second floor came in a ready-to-assemble kit, and blue cabinets in the kitchen were shipped in from Ikea. When all was done, Sexton had spent between $160 to $170 per square foot.
More than merely serving as an urbanist experiment, however, the house makes a gracious and comfortable home and studio for Sexton. Downstairs there's the kitchen (where a vintage Chambers stove contrasts with the newness of the cabinets), living and dining areas that flow into one another and are filled with mid-century rugs, lamps and furniture. Art consists of works by photographic masters (though Sexton does not display his own work) and a collection of books that run for what seems like miles on shelves suspended on the walls.
In the rear are rooms that Sexton uses for his office and production lab, but could also serve as bedrooms in a different scenario. Through sliding glass doors, Sexton can access a screened-in side porch, and up the spiral staircase is the "sleeping loft." The drama of the interior spaces is enhanced by the fact that ceilings soar to the roofline.
Sexton worked with a design team on the plans: Stephen Stojcich, of Eley Guild Hardy Architects of Biloxi, Mississippi; and Michael Cajski and Van Tran, of Volume Zero of New Orleans. The builder was Chris Meehan, of Literal Construction.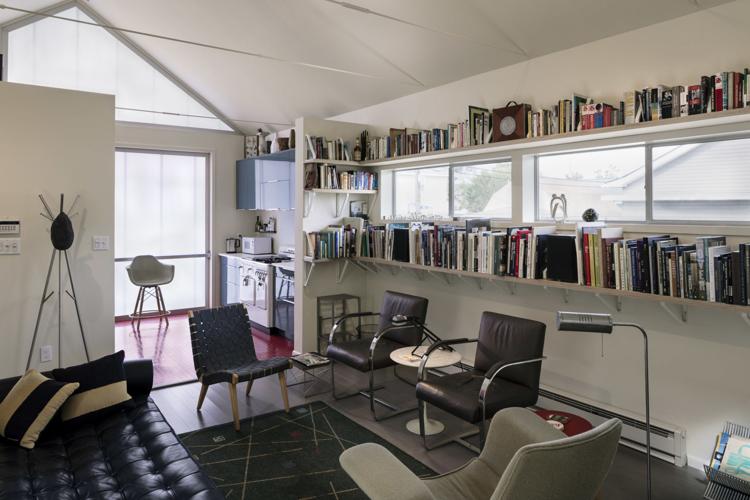 The corner on which the house is situated presented an unusual dilemma, because North Claiborne Avenue serves as a major thoroughfare that brings traffic from St. Bernard Parish and the Lower 9th Ward into the city.
"Without proper insulation and the right kind of windows, it would have been awfully noisy," Sexton said.
Instead, it is just the opposite. Not only is it peacefully quiet, but the view is soothing as well: the steeple of three churches rise from below and reflect the diversity of the city.
"The closest is New Shiloh's, the next is from the St. Roch chapel," Sexton said. "And the third is from Our Lady Star of the Sea. I have never been inside that church, but now that it's in my neighborhood, you can bet that I will go."
R. Stephanie Bruno writes about homes and gardens. Contact her at rstephaniebruno@gmail.com.