The cross-pollination of NBA All-Star Weekend and New Orleans was often surreal.
Last Sunday afternoon, you could have stood on St. Ann Street in the French Quarter and either watched dozens of dogs costumed as pirates strutted by with the Krewe of Barkus, or watched Beyoncé, one of the biggest pop stars on the planet, watching the parade from a balcony alongside husband Jay Z, sister Solange and daughter Blue Ivy.
You could have gone to Preservation Hall, that bastion of traditional jazz, and rubbed shoulders with Jay Z, who built his empire on rap and hip-hop, when he turned up for a late-night set by New Orleans-born rapper Jay Electronica, a signee to Jay Z's Roc Nation record label.
Had you been hanging out on the corner of North Claiborne Avenue and Bienville Street last Friday — not exactly an intersection known for glitz and glamour — you might have seen Michael Jordan, arguably the greatest player in NBA history and the only African-American majority owner of an NBA team, stepping into his ultra-exclusive party at Seven Three Distilling Company, which hadn't officially opened to the public yet.
If you were willing to pay $75 and give up your cell phone for the night, you could have been bussed to the Bayou Barn, deep on the West Bank, where comedian Dave Chappelle, in the midst of four consecutive sold-out nights at the Saenger Theatre, staged one of his secret "Juke Joint" events with an assortment of comics, musicians, actors and NBA players.
Anyone crossing the intersection of Royal and Conti streets at 3 a.m. Sunday morning could have looked up to spy NBA heavyweight LeBron James, in full-on King James mode, partying on the balcony of Latrobe's, cattycorner from the Eighth District police sub-station.
Suffice to say that party, hosted by James and high-end headphone brand Beats by Dre, was considerably more lively than the sort of business conducted by the Bank of Louisiana, Latrobe's original tenant in the early 1800s. Kevin Durant and other NBA stars whooped it up in a jam-packed crowd as a scantily clad woman frolicked in a giant wine glass filled with gold confetti.
A reproduction of James' favorite New York party spot, ZZ's Clam Bar, was built in an upstairs room of Latrobe's. Just to make it even more authentic, a bartender from ZZ's was flown in for the event.
Downstairs, on a stage squeezed into a corner normally occupied these days by wedding bands, homegrown rap star Lil Wayne headlined a raucous show that featured guest turns by DJ Khaled — the omnipresent hip-hop producer and pitchman who was born in New Orleans to Palestinian parents — 2 Chainz, Fat Joe, 21 Savage and more.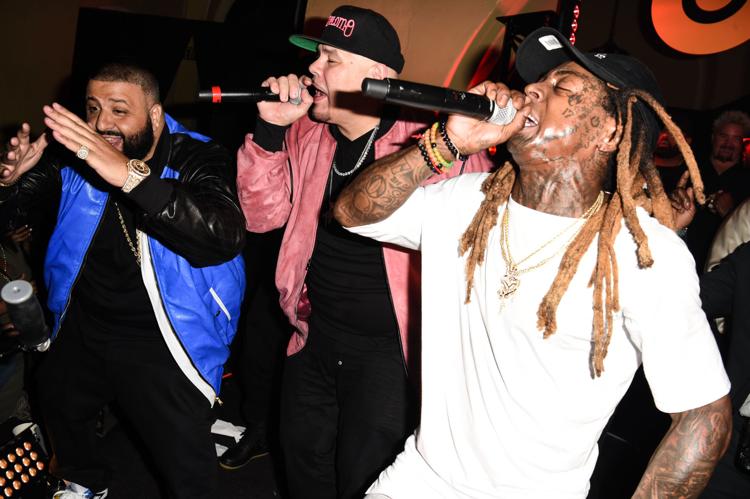 James also presided over a partial reunion of the Hot Boys, the crew that helped establish New Orleans' Cash Money Records as a national force. Much to James' delight, Wayne was joined onstage by fellow Hot Boys Juvenile and Young Turk, plus Cash Money producer Mannie Fresh.
"Because this is my party, I got to make sure that people fully understand what's going on tonight," James declared from the crowded stage, in a video posted on InstaGram. "I grew up on these boys right here."
Before departing, select guests received a special gift: A "NOLA"-themed, customized pair of Beats by Dre headphones.
Elsewhere, the Ogden Museum of Southern Art welcomed the likes of recently crowned Grammy Awards best new artist Chance the Rapper, Pelicans star and eventual all-star game MVP Anthony Davis, and the ubiquitous Dave Chappelle for a party co-sponsored by Nike and GQ magazine, with music by the Roots.
Grammy-winning contemporary R&B star John Legend met with former felons who have restarted their lives with new business ventures, before starring in the all-star game's halftime show.
Rather tall Arcade Fire frontman Win Butler, a New Orleans transplant and basketball enthusiast, played in the celebrity all-star game at the Mercedes-Benz Superdome on Saturday, then attended the real all-star game the next night. He was snapped courtside alongside Troy "Trombone Shorty" Andrews — a halftime performer during the 2014 all-star game in New Orleans — celebrity chef Guy Fieri and Brazilian soccer star Ronaldinho, an unlikely quartet for sure.
All involved, from the biggest stars to locals trying to get to work, dealt with gridlock traffic in and around downtown exacerbated by Mardi Gras parades.
But overall, New Orleans put its best foot forward.
Close encounters with famous faces, especially in unexpected settings, can be a thrill. But the real benefit goes beyond celebrity pixie dust. When the NBA All-Star Game, or the Super Bowl, or any other high-profile sporting event comes to town, New Orleans gets to show off what it does best.
Rap star Travis Scott was the featured entertainer at Michael Jordan's party, but the Stooges Brass Band was hired to play on a smaller secondary stage. Big Sam's Funky Nation cashed a nice paycheck for playing a late-night party hosted by CAA, the talent agency that represents many high-profile athletes.
Money trickled down in other ways, as corporations, celebrities and TV networks paid to play. One local chef earned a princely sum for frying up and delivering enough chicken to feed 30 people during a LeBron James video shoot at throwback barbershop Aidan Gill For Men.
NBA All-Star Weekend resulted in a good payday for locals, and a good time for our famous guests.
Those guests have moved on. And here, it's still Carnival.
By the time the players hit the court for the NBA All-Star Game on Sunday, most of the weeke…