In 1976, Houston native Kenny Rogers released his debut solo album, "Love Lifted Me." He and his trademark gray beard have remained pop culture fixtures ever since, thanks to smash country-pop singles — "The Gambler," "Coward of the County," "Lady," "Islands in the Stream," etc. — holiday albums, movies and, more recently, an amusing, self-deprecating commercial for an insurance company.
At age 78, the father of twin 12-year-old boys is winding down his career with a farewell tour dubbed The Gambler's Last Deal. It stops at the Saenger Theatre on Saturday.
During a recent conference call with journalists, a gracious, cordial and frank Rogers answered all he was asked (personal and political questions were off-limits). Physically, he's slowing down, but his recollection of details from throughout his remarkably durable career remains sharp.
Here are highlights from the conversation, lightly edited for clarity and length:
Have you had any New Orleans experiences that you'd like to share?
Rogers: When I was a kid playing jazz (bass), we used to work at the Playboy Club in New Orleans. Pete Fountain and I became really good friends. We got to play with him quite often. I never drank, so I didn't have much to do there. But I loved all the excitement.
Your commercial for GEICO insurance was very amusing. How was it pitched to you, and why did you do it?
Rogers: They first just pitched me the idea of doing a commercial based on "The Gambler." I thought that in itself was clever. We're sitting at the table, me and the three guys. After about four times of running their proposed skit and dialogue, (the director) said, "Why don't you just sing one?" And it was so cute. Everybody was laughing so hard that we decided that had a lot more magic than the other ones did.
I get more comments on that commercial than on any record I've ever released. I don't like to do those things for the money. I do them because they add something to your career. And I think that definitely was a career infusion. They did it during football season and played it the whole season. They actually re-upped it once.
It gave you a lot of exposure in advance of your farewell tour.
Rogers: It was perfect. And the people were so nice and so professional. It took about 200 people. ... I've done movies that didn't have that many people on the staff.
You had success early on with Kenny Rogers & the First Edition, which was a rock 'n' roll act, then you made the transition to country music.
Rogers: The First Edition wasn't set up as a rock 'n' roll act. It was just set up to be contemporary for the times. We had a lot of success, and most of those records were successful in the country market, too — "Reuben James," "Ruby Don't Take Your Love to Town."
When the First Edition broke up, I didn't know where to go. Country music semi-welcomed me in. The guy who ran Capitol Records at the time said, "We don't want him in here. He's not country." And my producer, Larry Butler, said, "My contract says I can produce anybody I want to. And I want to do Kenny Rogers."
Once I got in ... I wasn't typical country. But I think I did invite people into country music that wouldn't have been there otherwise. The great thing about country music is, once you get into it, you don't get out of it. It's a very personal music, and no other music can say that.
Now that you're winding down with music, will you focus on photography more?
Rogers: I'm an impulsive obsessive. I impulsively get involved with something, and then I obsess with it. I played tennis for eight years before photography, and I played eight hours a day, every day. I developed a national ranking. Once I realized I couldn't move any more, and I couldn't play, I got interested in photography.
I hired John Sexton, who was Ansel Adams' assistant, to teach me Ansel's concepts. I've always said that the difference between a snapshot and a photograph is where you take it from. I can't get down below the waterfalls anymore, so I may have to find something else to do.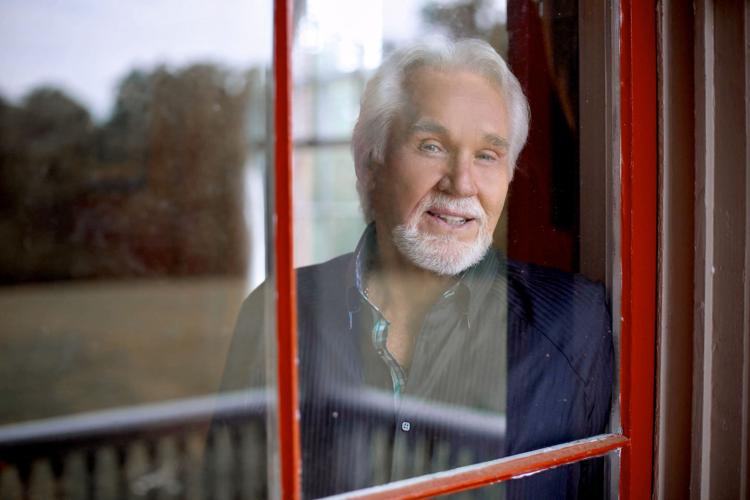 What do you think it is about your music that connects with audiences all over the world?
Rogers: The availability. Whatever the radio station is that plays American music all over the world. … I've had so many people from Korea and places like that say, "I learned to speak English listening to your music."
Country music itself is very simple. In country music, if it hurts, you say it hurts; you don't use all that superfluous stuff.
Do you have a favorite decade, personally or professionally?
Rogers: "The Gambler" personified (me), having done five "Gambler" movies. It became bigger than life. Everybody seemed to love that song. In doing that song, I became The Gambler. I was not a good gambler or a good actor, but it was a combination that made it make sense.
You've said that reinventing yourself has been the secret to your success.
Rogers: In the music business, you can do what everyone else is doing and do it better, (but) I never liked my chances. I knew I couldn't do what Johnny Cash and Waylon Jennings and Willie Nelson and those guys did, and do it better.
Or you can do something totally different, and then you stand out, because there's no way to invite comparisons. That's where I've always been most comfortable.
And the ballads I did … I came up through jazz, so I had a little more experience in singing those types of songs, which helped me on "Through the Years," "She Believes in Me" and "You Decorated My Life." They were song songs. They weren't country songs. They were just songs with great messages.
Are you documenting your farewell tour for a CD or DVD?
Rogers: I think they're documenting the tour more for documentation than for music release.
I've done everything I set out to do, every goal I set for myself. There's a point where you have to say, "I had my turn. Let someone else have it."
That's kind of where I am. It's not that I dislike music. It's just that I can't keep doing this and do what I want to do, which is spend time with my family.
When did you decide to make this the final tour?
Rogers: I have two boys that are 12, and I have two older boys. I didn't get to spend this time with my older boys, and I resent it, because it's a very special time in a kid's age.
My boys are playing football this year — very poorly, I might add, but they're playing. We went to watch a game yesterday, and they were so excited about us being there. That's the kind of thing that as a parent you want to be a part of as much as you can because it means so much to them. And conversely, it means a lot to me that they have that concern about it.
What's going to be the hardest thing about saying goodbye to life on the road?
Rogers: I thought it was going to be easy because I'm so tired. It's not as easy for me to get around. But I've changed the show totally. I go through a chronological look at my life.
A lot of people don't know this, but in 1957, I had a record on the Cue label that got to No. 59 on the charts. That's where it all started. Since then, it's been an interesting career, to say the least — the places I've been allowed to go to, the people I've been allowed to sing for.
For me to go back and recap my First Edition experiences, and a group I was with called the Scholars, and (jazz pianist) Bobby Doyle (for whom Rogers played standup bass in the early 1960s), is very exciting for me.
Casey Kasem used to tell a story that you would do very little preparation before recording a song, that you would do it cold.
Rogers: If I know the gist of the song, and I know the melody, I'll get in and sing it, and think, "I need to do something on this part." But I don't belabor that stuff. You get tired of a song, and it sounds tired.
What has been the biggest change for you as a musician over the years?
Rogers: I have hopefully become more professional. I've constantly tried to have something unique to offer people when I come into their town. That has really served me well. The live performance is usually better than the recorded performance.
What is it that makes a piece of music timeless?
Rogers: I think the lyric content, as a rule. Music is the great memory-maker. ... I try to do songs that every man would like to say, and every woman would like to hear. If you do that, you get both groups.
You can play numerous instruments. Do you still play onstage?
Rogers: The last time I played an instrument onstage was on "Crossroads" with Lionel Richie (in 2005); I sang and played (guitar on) "Sweet Music Man." I can't play any instruments now. I had an ulnar nerve transposition on my left hand. It just kills your grip; you can't grip anything tightly any more.
But I am truly convinced that the world is a better place without me playing guitar.
Can you talk about the interplay of soul, R&B, funk and country?
Rogers: I played jazz for 10 years. The kid that had the jazz group (Bobby Doyle) was a piano player who was blind. He sang and played like Ray Charles. It was such an inspiration to me because it was so truthful.
I had a conversation with Ray Charles once, and I said, "Ray, how do you know when to do those little jazz licks?" And he said, "Kenny, if you have to ask, they're wrong." I've learned that: You either feel something or you don't feel it. If you don't feel it, you don't sing it.
This year is the 40th anniversary of "Love Lifted Me," your first solo album. Is that a coincidence, that you're saying farewell now?
Rogers: It is a coincidence. Interestingly enough, I sent out some brochures to my fan club (asking) if there's a specific song that you're afraid I won't do if you come to this show. I can't tell you how many people wrote back and said, "Love Lifted Me." It's pretty cool. I enjoy doing it, and I treat it very special.
Does it feel like 40 years, or 40 minutes, or 400 years?
Rogers: Four hundred years. It feels like a long, long time ago, because so much has happened.