Once John Mayer, Bob Weir and their Dead & Company bandmates settle in backstage at the Smoothie King Center on Saturday, they should have no trouble remembering where they are.
They'll be the first band to enjoy the results of a backstage makeover meant to trumpet New Orleans' musical legacy and distinguish the Smoothie King Center from other arenas across the country.
"We wanted to separate ourselves from the pack," said SMG General Manager Alan Freeman, who oversees the arena. "We wanted to make sure artists and their road crews know they're in New Orleans."
Can't see the video below? Click here.
---
Before the $50,000 makeover, musicians walked from the arena loading dock to the dressing rooms along a corridor of plain white cinderblock walls.
"You didn't know if you were in New Orleans or Dallas or a hospital," Freeman said.
Now artists will pass walls trimmed in New Orleans Pelicans red and gold and hung with 10-foot-long, brushed-metal panels depicting local musical legends Louis Armstrong, Irma Thomas, Allen Toussaint, Pete Fountain, Mahalia Jackson and Dr. John. Three other panels list 22 prominent New Orleans musicians and bands.
A floor-to-ceiling photo of a brass band in the French Quarter dominates one wall. A widely circulated quotation attributed to New Orleans rhythm and blues character Ernie K-Doe — "I'm not sure, but I'm almost positive that all music came from New Orleans" — factors prominently in a display.
"It's our celebration of New Orleans' musical legacy," Freeman said. "Hopefully, it will serve as a welcoming statement."
Justin Timberlake is coming to New Orleans.
A wall adorned with the line "There is a house in New Orleans" — nipped from the traditional song "The House of the Rising Sun," popularized by the Animals — is otherwise blank. The plan is to decorate that wall with plaques, autographed by the performers, commemorating every concert at the Smoothie King Center.
Katy Perry, who headlined the arena on Jan. 5, signed the first plaque with, "Always a blast, love you NOLA."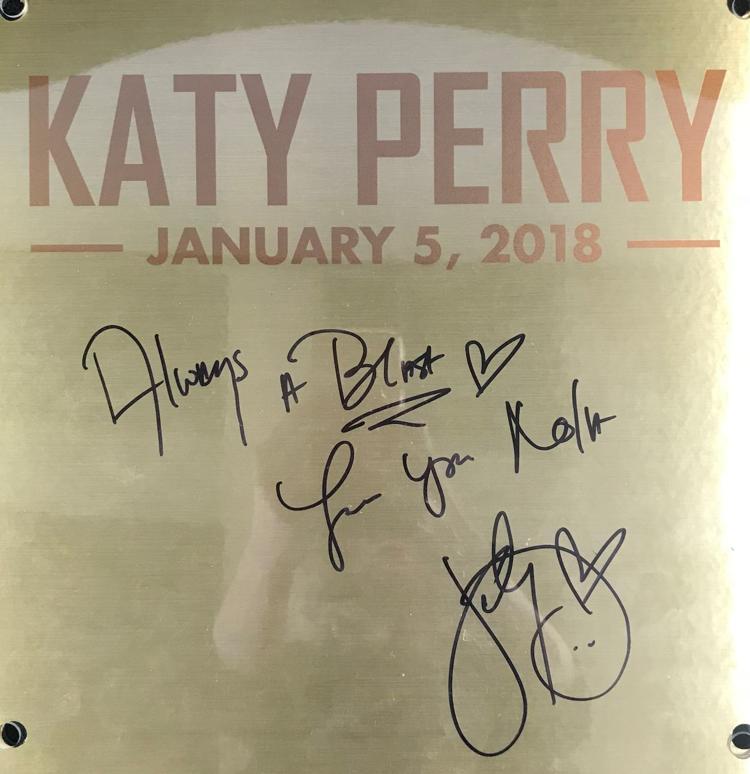 Refurbished dressing rooms are decorated with framed photographs of New Orleans musicians and Mardi Gras. The images previously hung in the hallways of the Mercedes-Benz Superdome's 400-level suites. They were removed during Superdome renovations.
From concept to execution, the Smoothie King Center upgrade required six months. Expenses included licensing fees for the photographs incorporated in the wall displays.
The local firm Crystal Clear Imaging printed and installed the brushed metal panels and the channel-cut metal lettering in various typefaces. "They embraced the project and bought into the concept," Freeman said.
A black bumper running along the walls is intended to prevent equipment cases from banging into the new artwork. Otherwise, Freeman is confident the decor will remain unscathed, as backstage is rarely as rowdy as it once was.
"We don't see that much anymore," he said. "I think the age of excess has passed us."
Case in point: Bleary-eyed road crews who arrive at the arena before dawn will now be greeted by a cappuccino cart.
Many rock, rap and pop stars are likely to see the arena's new decor in the coming years. In an age of downloads and streaming, artists sell far fewer recordings than they used to; they make up the lost income by touring more frequently.
The city's three largest venues — the Superdome, the Smoothie King Center and Champions Square — sold a record $40 million worth of concert tickets during the fiscal year that concluded June 30, according to SMG, which manages all three facilities.
Elton John's epic three-year farewell tour, an especially long goodbye even by pop star standards, is slated to stop at the Smoothie King Cent…
The Smoothie King Center placed 38th in the tour industry trade publication PollStar's 2017 ranking of the top American arenas by ticket sales. Excluding Pelicans home games, the center sold 288,542 tickets to 33 events last year: 24 concerts, six family shows, two non-NBA sporting events and one comedy show.
More than 16,000 of those tickets were sold for Billy Joel's Feb. 10, 2017, show. That was the building's largest concert crowd of 2017, and the third-largest overall since it opened in 1999. The Red Hot Chili Peppers, Charlie Wilson, Radiohead, Tim McGraw and Faith Hill, The Weeknd, Journey, Bruno Mars, Trans-Siberian Orchestra and XSCAPE also sold out the building in slightly smaller configurations last year.
"The local concert market is strong," Freeman said. "People are supporting our shows. We needed to up our game."
Dead & Company was originally scheduled to perform at the Smoothie King Center on Dec. 5. But that morning, guitarist Mayer underwent an emergency appendectomy, postponing the show.
Mayer had performed his own headlining show at the Smoothie King Center on Aug. 9, well before the backstage makeover. Freeman hopes the guitarist notices a difference this weekend:
"Hopefully, he'll say, 'Have I played here before?' "