In the raunchy 2017 comedy "Girls Trip," Queen Latifah plays Sasha, one of four women who get wild in New Orleans during Essence Festival.
The spirit of Sasha was nowhere to be found throughout the first half of Latifah's performance Saturday night in the Mercedes-Benz Superdome. Instead of throwing down with the hip-hop of her first four albums, she showcased material from her mid-career metamorphosis into a jazzy singer of standards.
Dressed in an elegant red robe trimmed in gold, Latifah put a bossa nova twist on the Mamas and the Papas' "California Dreamin' " and crafted a stately cover of Phoebe Snow's "Poetry Man."
As they did last year, Aisha Cooper and Karla Darby took a bus to the 2018 Essence Festival with about 40 other people from Kingstree, S.C.
It was all very nice but way too mellow for the main stage of Essence Fest on a Saturday night.
Dina, Lisa and Ryan, the other three members of Latifah/Sasha's "Flossy Posse" in "Girls Trip," didn't ride to her rescue. Instead, it was Missy Elliott, Brandy, Remy Ma, MC Lyte, Yo-Yo and Salt-N-Pepa, all of whom lit up the latter half of Latifah's "Ladies First" showcase for what turned out to be one of the most entertaining hours of the 2018 Essence.
Latifah set the tone by opening with "When You're Good to Mama," her saucy theme song from the film version of the musical "Chicago." The lyrics have all the swagger of hip-hop but are set to a Depression-era hot jazz vamp — not necessarily what many Essencegoers were expecting.
"I'm going to take you on a musical journey," Latifah promised, before noting the prominent echo in the Mercedes-Benz Superdome. If people are cheering, you don't notice the echo as much.
She wrapped herself in Al Green's "Simply Beautiful," which she covered on her first non-hip-hop project, 2004's "The Dana Owens Album." In her role as bandleader, she called out musicians for solos and obviously enjoyed their musicianship, as well as the depth of the material.
Finally, she arrived at "Just Another Day," a snapshot of hip-hop hood life from her 1993 album "Black Reign." With that, the music stand that had stood next to her microphone was removed, and the show shifted gears, in a good way.
She called out the first of her special guests: the R&B singer Brandy Norwood, who jumped into her debut 1994 single, "I Wanna Be Down." Rappers MC Lyte and Yo-Yo quickly joined in, re-creating the hip-hop remix of "I Wanna Be Down," which also featured Latifah.
"Y'all were legends at the time," Norwood said to her co-stars. "I was just getting started."
The Saturday night Essence party also was just getting started. Remy Ma, the Bronx-born co-star of the reality show "Love and Hip-Hop: New York," stormed the stage with "All the Way Up."
The energy level in the Dome went all the way up with the arrival of Missy Elliott and her troupe of 16 sharp dancers. During the 2015 Essence, Elliott presided over a disjointed mess of a show, in which she wasted copious amounts of time before the festival's production crew cut off her microphone.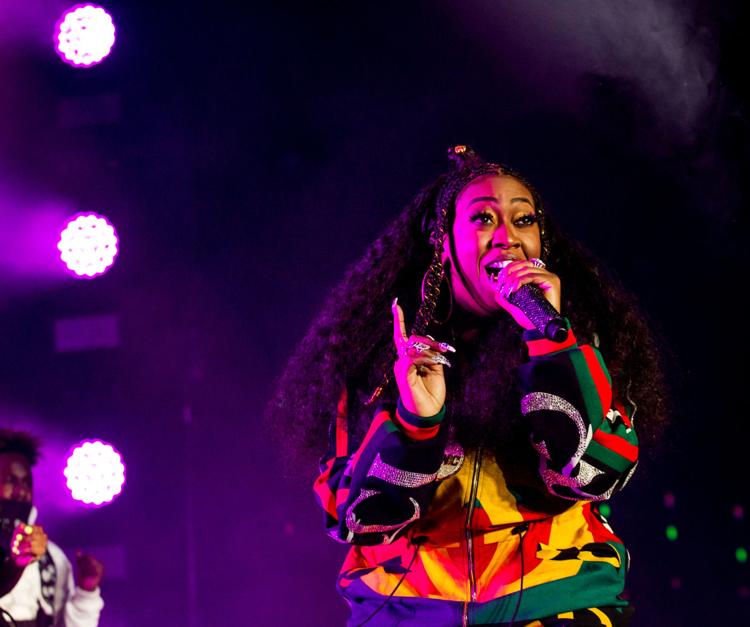 On Saturday, Elliott was all killer, no filler during her eight-minute segment of Latifah's "Ladies First" revue. Grinning broadly and ranging across the stage in a Gucci hoodie, Elliott banged out "Get Ur Freak On," "Work It," "Pass That Dutch" and "Lose Control" in quick succession. It was a best of Missy Elliott sampler, and it was a hoot.
So, too, was what followed: a surprise showing by Salt-N-Pepa. Like Elliott, they delivered a condensed greatest-hits showcase of "Whatta Man," "Shoop" and "Push It," working hard and making the most of their allotted minutes.
"Make some noise for the queens from Queens!" Latifah said.
For the finale, she and her guests joined forces for "U.N.I.T.Y.," Latifah's Grammy-winning single from "Black Reign." Released two years before the Essence Festival was founded, "U.N.I.T.Y." took a stand against the disrespect of women. A quarter-century later, it culminated the "Ladies First" camaraderie at a festival of female empowerment.
But the first lady of Essence is still Mary J. Blige. Her appearances at the festival number in the double digits, including three of the past four years.
Mary J. fatigue has yet to set in. Fans were on their feet as she strode to center stage at 10:30 p.m. in a short yellow bodysuit, red, high-heeled ankle boots and long, braided, blonde extensions.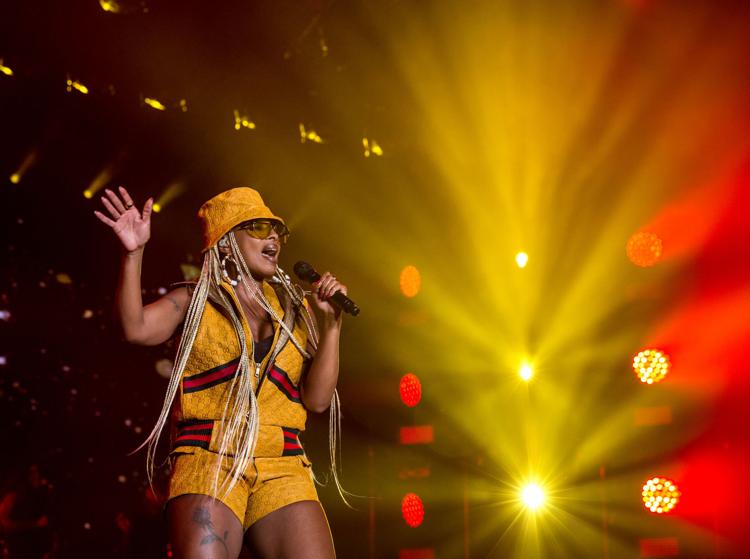 Blige has remained relevant to her largely female fan base because she speaks directly to them, and for them. She is unafraid to put her own struggles on display.
She and her fans engage in a relationship of mutual support. Addressing her "been there from the start Mary J. Blige fans," she exclaimed, "I need you right now! I need you!"
In June, Blige's divorce from her husband and manager of more than a decade was finalized. That closing of a chapter was likely on her mind Saturday when she stated, "I'll never call another human being 'my everything.' I will never give anybody that much power ever again."
Going forward, the "everything" in her song "My Everything," she made clear, would be God.
That she is utterly un-self-conscious onstage, awkwardly flapping her arms and legs, further endears her to fans. Many women sang along even to the more generic mid-tempo numbers, songs that had at least one husband seated near me nodding off.
Nobody was likely snoozing when Blige arrived at the swinging chorus of "I'm Goin' Down"; she let the audience sing it, with gusto. In "No More Drama," her signature statement of resolve, she ended up flat on her back, chest heaving from the effort.
"Can I call y'all family tonight?" she asked.
At Essence, Blige is always among family.