Starting Friday at 10 a.m., the general public can, for the first time in 20 years, buy a ticket to a U2 concert in New Orleans.
The last time U2 played a full show in New Orleans was November 21, 1997. I attended with a fifth-year Loyola University senior as one of our first dates.
In the interim between that show and U2's long-awaited return to the Mercedes-Benz Superdome on Sept. 14, she and I dated for six years. We got married. Dealt with Hurricane Katrina. Had three kids, the eldest of whom is now nearly 10. Bought one house, and built another. Along the way, I wrote a book and she embarked on a couple of different careers.
In other words, enough time elapsed between local U2 shows for a whole lot of life to happen.
In that same 20-year span, singer Bono, guitarist The Edge, bassist Adam Clayton and drummer Larry Mullen Jr., who first met as Irish schoolboys in the 1970s, endured many ups and downs of their own.
They successfully rebounded from their dicey experiment with irony on the "Pop" album and PopMart Tour, the tour that brought them to the Dome back in '97. Given the poor attendance that night, it's no surprise subsequent U2 tours skipped New Orleans.
Three years after the "Pop" misfire, U2 returned to their roots on "All That You Can't Leave Behind." Thanks to such indelible anthems as "Beautiful Day," "Elevation" and "Stuck in a Moment You Can't Get Out Of," the album was a critical and commercial triumph, rightly considered alongside "The Joshua Tree" and "Achtung Baby" as U2's greatest works.
"All That You Can't Leave Behind" and the associated Elevation Tour fulfilled Bono's ambition to "reapply for the job" as the best band in the world.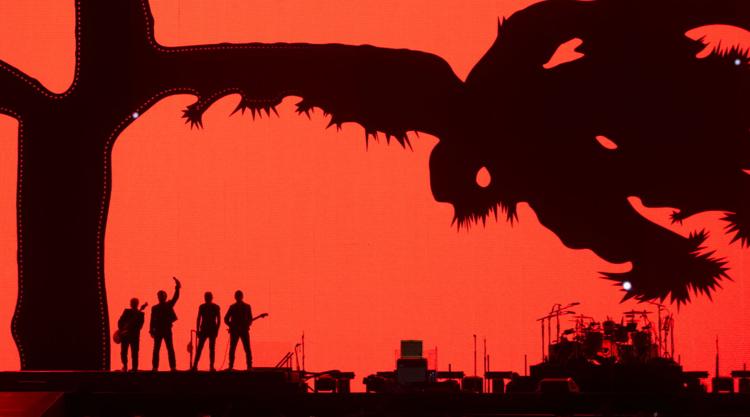 Even as U2 became big business, the band maintained a social conscience often expressed by its passionate and fully engaged frontman. As a result, U2 has, over the past two decades, often been called upon, either deliberately or by a twist of fate, to address big moments and big tragedies.
They have done so deftly, from the first Super Bowl after the Sept. 11, 2001 terrorist attacks, to the reopening of the Superdome following Hurricane Katrina, to their Paris concerts in late 2015, three weeks after terrorists slaughtered 90 people at an Eagles of Death Metal concert in the same city.
Unfortunately, they've had occasion to address even more tragedy from the stage of the current "Joshua Tree" 30th anniversary tour.
At Houston's NRG Stadium on May 24, U2's first show since a suicide bomber killed more than 20 people leaving an Ariana Grande concert in Manchester, England, Bono said, "We're brokenhearted for parents who lost children and children who lost parents. There's no end to grief. That's how we know there is no end to love." At Chicago's Soldier Field a few days later, Bono addressed yet another round of terrorist attacks, this time in London.
HOUSTON — U2 put a contemporary frame around its 30-year-old "The Joshua Tree" album at NRG …
Such moments underscore how U2 concerts have always been more than just concerts. They can be a means of collective catharsis.
The band's 40-year history includes more than 1,300 performances, from early club gigs to back-to-back nights in front of 70,000 fans at Soldier Field early this month. Onstage in Chicago, Bono mentioned how he and his bandmates have always felt at home there, which makes sense: They've entertained Windy City fans more than 30 times.
By contrast, their Big Easy history is scant. They hit the now-demolished Avondale nightclub Ole Man River's on May 8, 1981, during the "Boy" tour. They returned the following year, while touring for "October," to play aboard the SS President riverboat on Feb. 11, 1982. Fifteen years later, they'd graduated to the Superdome with the PopMart spectacle.
While attending college in Texas in 1987, I witnessed U2's transition to superstar status during the original "Joshua Tree" tour. The show was at Houston's old Summit arena, which is now home to televangelist Joel Osteen's mega-church.
It was, therefore, something of a full-circle moment when I returned to Houston last month — accompanied by my date from that long-ago PopMart show — for the "Joshua Tree" 30th anniversary tour stop at NRG Stadium.
It didn't surpass the two U2 shows on my all-time concert Top 10 list — a Zoo TV stadium extravaganza at Legion Field in Birmingham, Alabama, on Oct. 7, 1992, and the Elevation Tour's Houston stop on April 2, 2001 — but it was close.
The new "Joshua Tree" presentation boasts all the majesty and meaning a U2 show should, as the music and message of "The Joshua Tree" are reframed with contemporary events. Bono's message was one of inclusion, optimism and hope. And the presentation still packed all the adrenaline and emotion a great rock concert should.
If you've ever been inclined to see U2, or see them again, plan to be in the Superdome on Sept. 14. If history is a guide, you won't get another chance any time soon.
Reserved-seat prices in the Superdome bleachers range from $35 to $290 plus taxes and fees via Ticketmaster. General admission floor tickets are $70 plus fees.