KISS really was the hottest band in the world at a full Smoothie King Center. Especially drummer Eric Singer.
Singer's drums sat perilously close to a battery of stage orifices that belched forth what was, even by the none-too-subtle standards of KISS, a staggering amount of pyrotechnics.
There were multiple eruptions of fireballs, fireworks, fog, concussive detonations worthy of a howitzer — and that was just in the opening song, "Detroit Rock City," which found our made-up heroes, all but the roasting Singer, descending from the rafters aboard individual platforms.
In the early going of the two-plus-hour strafing on Feb. 22, the only song not accompanied by pyro was the one with "fire" in the title: "Heaven's on Fire." That's KISS-style irony.
Co-founders Paul Stanley and Gene Simmons, along with Singer and fellow latter-day recruit Tommy Thayer, have dubbed their current tour the End of the Road. Like other acts dating from the 1960s and '70s, KISS has embarked on a long kiss goodbye.
Nothing sells tickets like a farewell tour. In 2017, KISS played the Gretna Heritage Festival. Now they're back to filling the Smoothie King Center.
It's difficult to imagine that any fan left disappointed. Stanley, Simmons, Thayer and Singer were not a shadow of their former selves. They were KISS in all their strutting, blood-spewing, platform boot-wearing, "Love Gun"-firing glory.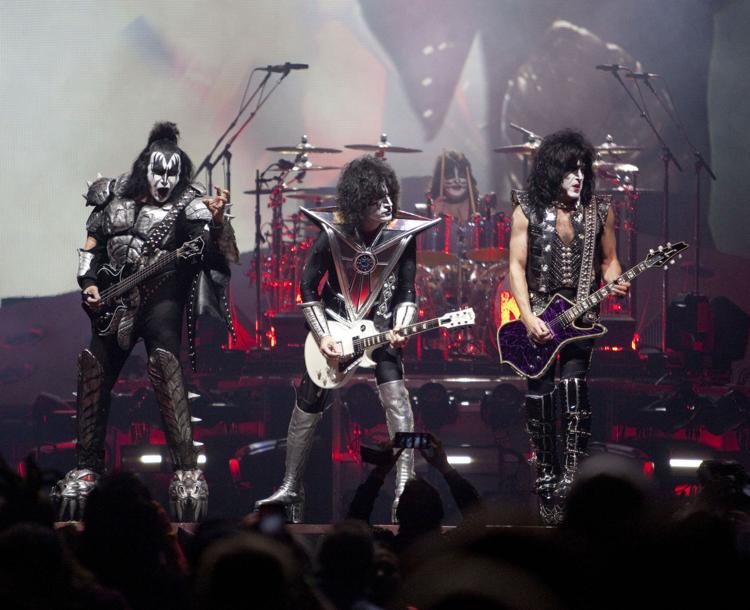 Yes, all the gimmicks were codified in Camaro culture decades ago, including Simmons' still-creepy upchucking of gooey fake blood while bathed in ominous green light (his wedding ring is of more recent vintage).
But humorless is the heart that didn't race at least a little when "Detroit Rock City" gave way to the dual guitar leads that introduced "Shout It Out Loud," as they have since Gerald Ford's presidency. And has there ever been a better coupling of cowbell and clobbering guitar riff than the first few bars of "Calling Dr. Love," a welcome addition to the farewell tour's set list?
The production was over the top, as it should be, from the lift that elevated the drum kit for no particular reason to the 17 movable mini-LED screens that at one point all flashed Simmons' bloodied cartoon face. In the latter half of the last song, "Rock and Roll All Nite," Simmons and Thayer rode out over the crowd aboard long mechanical arms — a hugely expensive and elaborate stunt reserved for the final two minutes of the show.
During his drum solo — of course there was a drum solo — Singer kept the beat with his double-kick drums while casually toweling himself off, a practiced bit of rock star nonchalance. In the encore, maybe he was and maybe he wasn't actually playing the grand piano that rose from beneath the stage for "Beth." Didn't really matter. 
Quibbling is certainly possible. "War Machine" is not a particularly good or fun song; its Armageddon imagery and message were not conducive to rocking and rolling all "nite," much less partying every day. Neither were "Psycho Circus" and a couple of other selections.
And they could have tightened up the pacing in spots. Stanley's banter sometimes rambled on too long. He has long made a habit of tossing out some of the hoariest arena-rock cliches ever uttered; it's his shtick, and the exaggerated earnestness with which he delivered it could be funny ("The KISS Army are not followers! The KISS Army are leaders!"). And his mentions of the Warehouse, the legendary, long-gone New Orleans concert hall that KISS first played in 1976, was a nice local reference.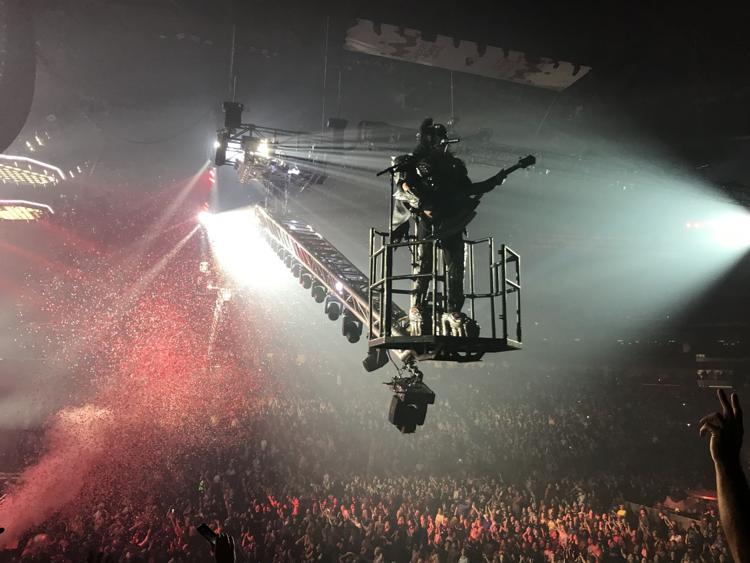 His shtick could also be a bit much, as when he extended a long tease about whether or not he should visit a small secondary stage back by the soundboard. (Spoiler alert: he did.)
But at 67, Stanley is a spry, youthful marvel. He's more than capable of still wearing a sequined vest with no shirt underneath. And during "Love Gun" — can you even write a song with that kind of title anymore? — he hopped around and shimmied in his platform boots for all of Thayer's guitar solo. 
Thayer made the guitar work look easy while handling much of the heavy lifting. Overall, this was a more musically sound show than previous KISS outings I've witnessed. During "Lick It Up," the guitars quieted down, then segued into The Who's "Won't Get Fooled Again"; Singer jumped in with a credible Keith Moon fill.
They all then pivoted back into "Lick It Up," which Stanley noted dates to 1983. "Some of you weren't born in 1983," he enthused. "But you know what this song's about."
Probably so. And after this victory lap, they know what KISS is about. "Did you get what you came for?" Stanley asked an audience marked by singed eyebrows and ringing eardrums.
Absolutely.
---