As the drummer in Peabody, the popular New Orleans modern rock band of the 1990s, Chris Bailey referenced skills learned in Brother Martin High School's marching band. Those skills were sharpened by Marty Hurley, the school's iconic band director.
For near 40 years, Hurley molded musicians at Brother Martin. An internationally renowned drummer in his own right, he composed cadences deployed by drum corps around the world. In 2011, at age 65, he died from a stroke at the start of his 37th year at Brother Martin.
"We felt so lucky to have him, when he could have been at any high school or college," said Bailey, who is now Brother Martin's assistant band director. "We still play Mr. Hurley's cadences. As long as I'm there, we always will. His legacy is important."
On Thursday night at Tipitina's, Peabody will reunite for the first time in 11 years for "Marty Gras," the annual memorial concert to benefit the Marty Hurley Band Endowment at Brother Martin.
The Brother Martin Stage Band and drum line kick off Thursday's show at 6 p.m. Galactic drummer Stanton Moore, a former Brother Martin drum line captain, will play a set with keyboardist Ivan Neville and bassist George Porter Jr. New Orleans drum legend Johnny Vidacovich, who graduated from St. Aloysius, one of the Catholic boys' high schools that merged to form Brother Martin, will make a guest appearance.
Rounding out the bill is the Peabody reunion and the Bucktown Allstars, whose saxophonist Michael Hotstream and bassist David Connick are former Brother Martin drum majors.
General admission is $25. A VIP ticket for $125 includes balcony seating, drink coupons, food and a poster. Tickets are available at the door or in advance via Brother Martin's web site. 
When Bailey was a Brother Martin student, Hurley enlisted him to perform at Battle of New Orleans reenactments at the Chalmette Battlefield. Hurley also introduced him to Drum Corps International, the worldwide, competitive alliance of marching band and drum line percussionists.
"The way he conducted himself, his knowledge and skill — he made such a huge impact on my life," Bailey said. "He was an amazing rudimental drummer. He played the cleanest rolls I've ever heard in my life. The power when he played was unbelievable. He was a force."
Bailey applied Hurley's lessons in Peabody, the melodic modern rock band fronted by his wife, vocalist Karen Bailey.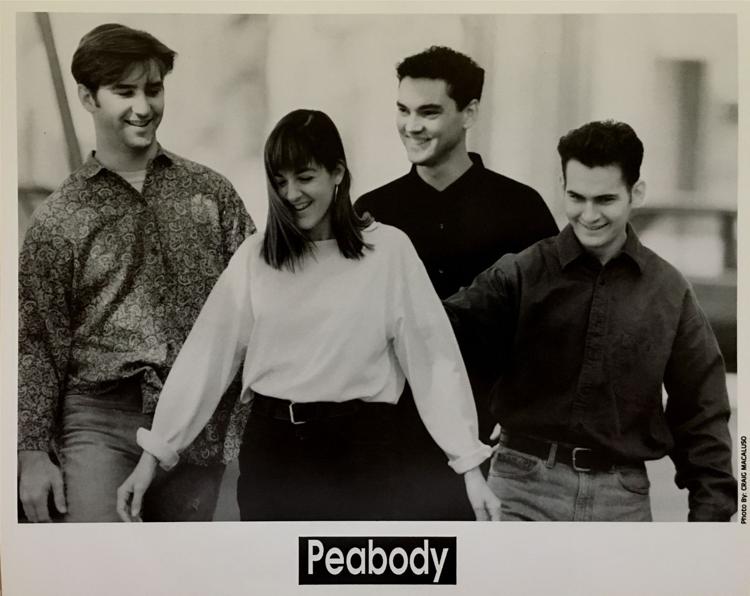 In the mid-1990s, Peabody appeared poised for a national career. Their first two independent albums sold well. They toured college towns across the southeast, building a regional following. They earned a slot on the New Orleans Jazz and Heritage Festival's main stage and played to big crowds at other festivals.
"We had a very loyal fanbase," Bailey recalled. "We were doing the southeast circuit and having a good time, touring and making money off of our (independent) CDs. We hoped that it would lead to something, but I don't know if we thought we'd have a sustained career. We liked what we were doing, so we kept doing it."
A showcase at the CMJ music conference in New York generated interest from record labels. Atlantic Records funded the recording of several songs as part of a "development deal" with Peabody, a sort of trial period that sometimes leads to a full-blown recording contract.
But the band's primary advocate at Atlantic soon left the company to manage the Smashing Pumpkins. Suddenly, Peabody was persona non grata at Atlantic.
"It was like they hadn't ever heard of us," Bailey said. "Everything just shut down. When you've gotten to that point, things look good, then just stop. ... it was a let-down for all of us."
By 1998, Peabody had stopped touring. They eventually released a third album, but by then, the musicians had all moved on with their lives. The Baileys wanted to start a family. Bassist Lou Carollo went to work full-time for the National Guard. Guitarist Steven Dennis earned a master's degree in physics.
"We'd had our fill of playing in smoky bars," Bailey said. "It looked promising, it didn't work out. But we had a great time. It was the experience of a lifetime."
As the years passed, they realized Peabody was a moment in time in their 20s, and there was no going back.
"We're still good friends, we go out and do things together," Bailey said. "But we never had any desire to fire up the band again."
Except on special occasions, the last of which was a 2007 reunion at the House of Blues. Eleven years later, Peabody will regroup once again to benefit the band program at Bailey's alma mater, a band program he helps sustain in memory of Hurley.
"All of my worlds are colliding," Bailey said of "Marty Gras." "It's really neat."