While exploring the Historic New Orleans Collection's archives several years ago, Glen Smith, a gospel enthusiast from Ohio, made a remarkable discovery: Little-known recordings of the late great Mahalia Jackson in her prime.
He quickly contacted Anthony Heilbut, a respected record producer, author and gospel expert based in New York. Heilbut was floored.
For decades, he'd been on a quest for rare Mahalia music for a long-planned album. Without warning, Smith had found exactly what he needed.
"If he hadn't alerted me, I wouldn't have known about it," Heilbut, now 76, said recently from New York. "It was all serendipity."
The old reel-to-reel tapes from the Historic New Orleans Collection supplied 11 of the 22 tracks on "Moving On Up a Little Higher," the acclaimed new CD produced by Heilbut and released by Shanachie Records. Fans can finally hear these previously unreleased gems from one of the most potent voices to ever emerge from New Orleans.
"This was a long, long project, but it was very important to me," Heilbut said. "I spent many years frustrated that so much of Mahalia had not been documented. I think these are some of her greatest performances."
****
Mahalia Jackson was born into poverty in the Black Pearl neighborhood of New Orleans, and found her rapturous voice at Mount Moriah Baptist Church.
As 16, she moved to Chicago to live with relatives, work menial jobs and join the choir at Greater Salem Baptist Church. Her passionate contralto and emotional, instinctive style – she was the gospel equivalent of blues singer Bessie Smith – soon earned her bookings in other black churches around Chicago.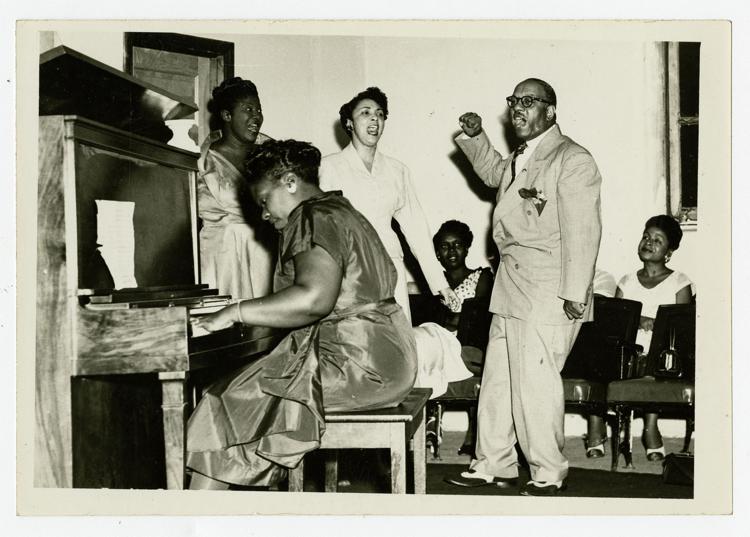 Signed to Apollo Records, she scored a huge hit in the late 1940s with "Move On Up a Little Higher." She achieved international stardom following her move to Columbia Records in the 1950s.
Along the way, she introduced gospel to major jazz and folk festivals, as well as Carnegie Hall. One of the most famous African-American women in the country, she sang at John F. Kennedy's inauguration, the March on Washington, and Martin Luther King Jr.'s funeral.
Religious music was her passion – she refused to sing secular songs – but she was not immune to more earthly impulses, including a fierce competition with other gospel singers.
"It was a blood battle," Heilbut said. "It wasn't how great you sang but how emotionally stirred the audience was. That was the prize."
As Heilbut writes in the new CD's liner notes, Jackson "loved food, loved men, occasionally liked a nip … Her bawdy sense of humor would have matched Ma Rainey's. And she was famously unlucky in love."
She died in January 1972. She was either 59 or 60, as the year of her birth is a matter of dispute (Heilbut, as well as the inscription on Jackson's tomb, say she was born in 1912).
Thousands of fans attended her funerals in Chicago and New Orleans. She was laid to rest at Providence Memorial Park & Mausoleum on Airline Highway in Metairie.
Since then, numerous reissues have documented segments of her catalog. But Heilbut, who attended Jackson's Chicago funeral as a representative of Columbia Records, thought her recorded history was incomplete.
Though he produced albums by such gospel heavyweights as Thomas A. Dorsey – the composer who helped launched Jackson's career – and Marion Williams, he never worked with Jackson directly. Thus, a posthumous collection of what he considers some of her finest moments "was the next best thing."
***
Fueled by perseverance and luck, he painstakingly assembled material over the years. While researching one of his books at the Library of Congress, he found a recording of Jackson's landmark appearance at the 1957 Newport Jazz Festival in Rhode Island. He believes it is far superior to the commercially available album drawn from her 1958 Newport show: "The audience is really nourishing her. She didn't exert herself nearly as hard" in 1958.
His quest was not without its setbacks. He learned Indiana University's Archives of Traditional Music contained recordings of Jackson singing in churches in the 1940s, the "prize of all prizes."
But the old tapes wouldn't play, even after months of restoration efforts. However, a digital copy of Jackson wailing "Move On Up a Little Higher" at Chicago's Greater Harvest Missionary Baptist Church in 1948 turned up at the last minute.
"Whoever was taping it – and it must have been a primitive tape recorder – started chatting while Mahalia was singing," Heilbut said. "But the second half of the song was complete, and that's when she really started to bear down. The church was going nuts, and she was playing to them, just killing them."
That portion of the song, titled "Getting Happy in Chicago," concludes the new CD.
Heilbut acquired a version of "Beams of Heaven" recorded in the Bronx in 1946 from disc jockey Bob Marovich. Jackson's performance was tremendous, but the audio quality was poor. Engineer Jonathan Duckett spent hours cleaning up the sound.
As on "Getting Happy In Chicago," the sound "is far from professional," Heilbut said. "But to me, these are far and away the great treasures of the collection."
Many other treasures were waiting to be discovered at the Historic New Orleans Collection.
****
In 1992, the HNOC acquired a vast, meticulously cataloged trove of memorabilia – tens of thousands of items, including sheet music, instruments, recordings, correspondence, photos, postcards and scrapbooks – from Bill Russell, a music historian and avid collector who died that same year. Russell's primary interest was early jazz pioneers such as Jelly Roll Morton, Bunk Johnson and Manuel "Fess" Manetta.
But he was also a friend and chronicler of Jackson. He recorded her at a 1951 folk concert at Chicago's Wendell Phillips High School; a 1951 symposium at the Music Inn in Lenox, Mass.; a 1955 rehearsal session at Jackson's Chicago home; and a 1956 CBS television broadcast of "There's Been a Great Change in Me."
For all his extreme historical fastidiousness, Russell harbored some unconventional ideas. He believed that reel-to-reel tapes should not be wound tightly, supposedly to prevent sound bleed.
But as HNOC curators discovered, loosely wound tapes allow the edges to curl, making playback difficult, if not impossible.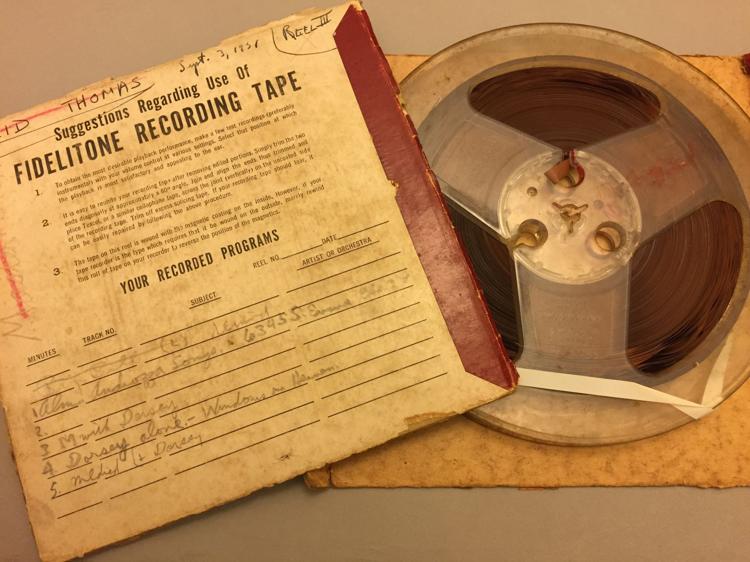 In the mid-1990s, the HNOC undertook a massive, and expensive, project to transfer Russell's reels to digital tape. More recently, audio engineer Parker Dinkins helped transfer the recordings yet again, this time to broadcast wave files that could be uploaded to the HNOC's computer servers.
Members of the public could listen to the digital files in the HNOC's high-ceilinged, second-floor reading room in the French Quarter. The very first person to ask was Glen Smith. He "got very excited" about what he heard, HNOC deputy director Daniel Hammer recalled.
Smith contacted Heilbut to tell him about these incredible "lost" Jackson recordings. Heilbut was thrilled and wanted to hear them, too.
But he had no plans to travel to New Orleans, and the HNOC wasn't willing to send him the material.
However, HNOC associate curator Aimee Everett agreed to bring an MP3 player containing the Jackson recordings with her when she attended a 2010 conference in Rochester, New York. Heilbut met her at a Rochester hotel. For several hours, they sat in the lobby, listening.
Heilbut was sold. He wanted the material for his long-planned Mahalia Jackson project.
But first he needed permission from the Mahalia Jackson Residual Family Corporation, whose four board members administer Jackson's estate and oversee the licensing and use of her recordings and likeness.
Heilbut eventually secured the estate's blessing. This fall, six years after he first heard the Russell recordings, "Moving On Up a Little Higher" was finally released.
To Hammer, the album goes right to the heart of the HNOC's mission: Preserving historical material while also making it accessible to the public.
For Heilbut, it serves an even higher purpose: offering further proof of the genius of Mahalia Jackson.
"Mahalia is hugely fascinating," he said. "It shouldn't have taken so long."