Late in Elton John's sold-out Smoothie King Center retirement party on Thursday night, the massive video wall that sloped into the stage flashed footage of his many past lives and looks: The wacky duck costume. The sequined Yankees uniform. The stunning Louis XIV 50th birthday ensemble. The unfortunate, lost-cause haircuts and comb-overs.
There was the jumping-off-pianos-in-crazy-socks Elton. The coke-addled, depressed 1980s Elton. The sober, anti-AIDS crusading Elton.
Through it all, at age 71, he is, as the song states, still standing. But he's not just standing.
Elton John brought his Farewell Yellow Brick Road tour to New Orleans on Thursday (Dec. 6). 
He's also presiding over an epic farewell tour, spending two hours and 40 minutes onstage each night, fully engaged, playing and singing like he still has something to prove.
On paper, the set list encompasses two dozen songs. But that doesn't tell the full story of the show. He also extended arrangements, told stories, reminisced and noted that the South has a higher rate of HIV infection than it should, and that he intends to do something about it.
He arrived in a sparkling ringmaster's coat with tails and announced himself by striking one instantly recognizable chord on his Yamaha piano: the opening of "Bennie and the Jets."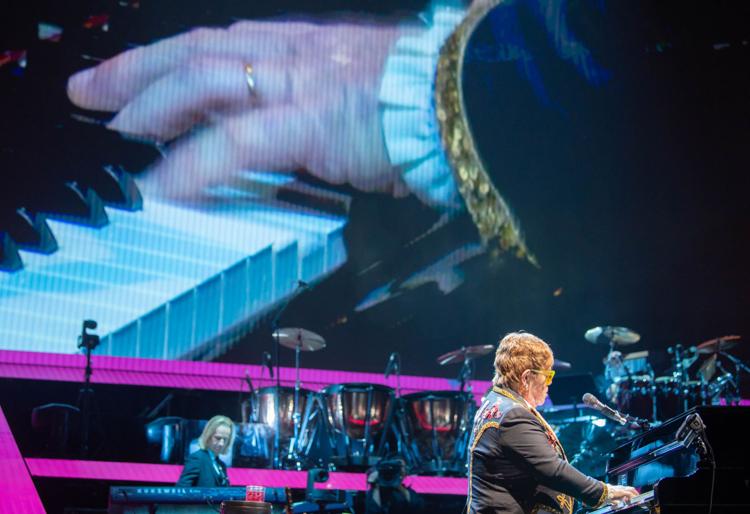 He soon described how he and lyricist Bernie Taupin wrote songs. Taupin would hand him a completed lyric sheet. John would envision the words as a movie. He'd then consider the appropriate tempo and genre, place his hands on a piano "and hope something happens."
Something often did. In their early, struggling years, he and Taupin were thrilled to learn another artist had covered their "Border Song." Who it was didn't matter to them. "It could have been the Chipmunks," John joked. "It could have been Lawrence Welk." It was Aretha Franklin. Still thrilled, he rendered "Border Song" alone on the piano.
Digging deeper into his catalog, he exhumed "Indian Sunset," the opening track on side 2 of 1971's "Madman Across the Water." Ray Cooper, a master percussionist and on- and off-again member of the Elton John Band since the 1970s, punched up the arrangement's drama.
Even by pop standards, Elton John's epic three-year farewell tour is an especially long and extravagant goodbye. But "extravagance" might as w…
Drummer Nigel Olsson has powered John's band since its inception in 1969, and he is still going strong. Bassist Matt Bissonette, the band's newest addition and a former David Lee Roth sideman, didn't necessarily benefit from a sound mix that favored the high end. But his nimble bass shadowed John's lovely exploration of the piano's upper register during a "Rocket Man" side trip.
Such side trips were where John, and the show, ignited. He didn't seem fully warmed up, and the show didn't fully catch fire until an hour and 15 minutes in, when he hammered a long, boogie-woogie extension on an already potent "Levon." Clearly into it, he stood, leered, grinned, shouted exhortations and kept pounding away. He finally handed off to guitarist Davey Johnstone, who tore off a meaty solo on a sparkling gold Les Paul guitar before tossing back to John. This was a rock band living up to its reputation.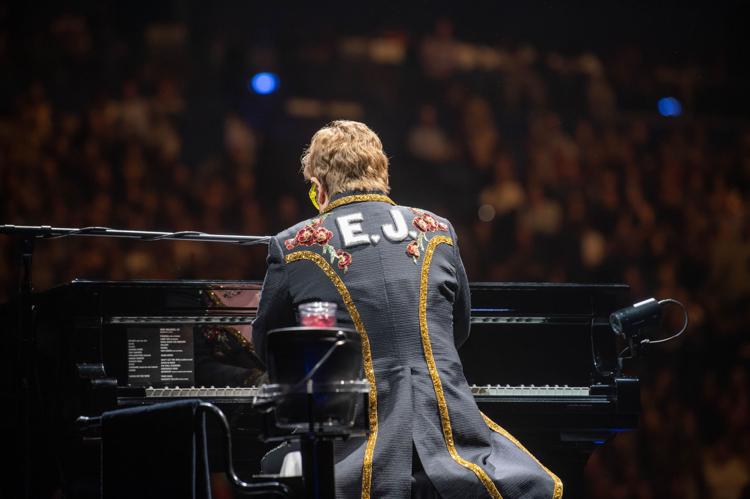 He caught his breath with a solo piano "Candle in the Wind." Onscreen, an eerily authentic Marilyn Monroe impersonator re-created the icon's famously flirtatious and sad final photo shoot.
The show's voluminous video content, a legacy, perhaps, of John's occasional Las Vegas residencies, was a mixed bag. As he demonstrated at the 2015 New Orleans Jazz & Heritage Festival, he doesn't require such enhancements.
On Thursday, the mini-movies were sometimes a distraction. "Tiny Dancer" was reduced to the background soundtrack of a stylishly shot chronicle of lives lived on the edge of Los Angeles — why exactly did that young girl pour ashes from an urn into a drainage canal? Similarly, the poolside drag-queen brawl during "The Bitch Is Back" was its own, unnecessary side show.
But elsewhere, video worked to songs' advantage. John recalled how unhappy and "disgusted with myself" he was before finally getting sober in 1990 and establishing the Elton John AIDS Foundation. "If there's one thing I've learned as I got older, it's the amazing healing power of compassion and love," he said. 
Illustrating the point, "Believe" played out against footage of John embracing children and, presumably, other AIDS patients, practicing what he preaches. Similarly, the flickering candles during "Funeral for a Friend" and the concentric neon circles that bloomed for "Don't Let the Sun Go Down On Me" framed the music in a flattering light.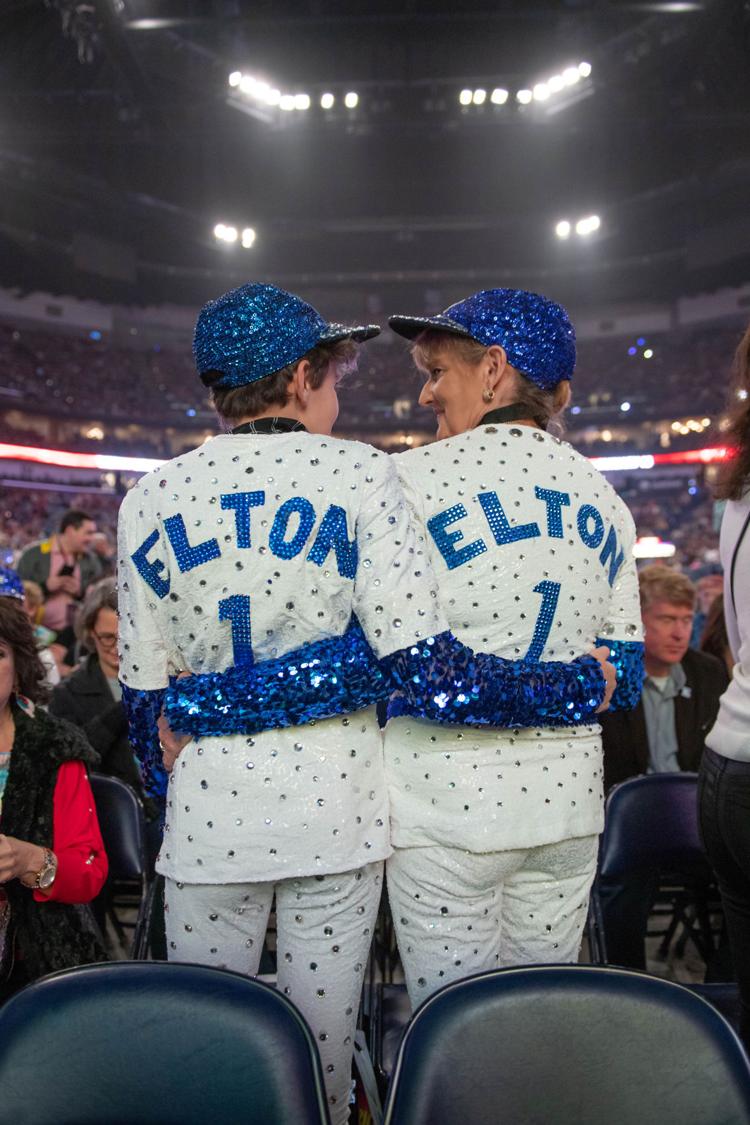 He dedicated "Don't Let the Sun Go Down On Me" to Pete Shelley, singer of the influential British punk band Buzzcocks. Shelley died Thursday of an apparent heart attack. John sang in Shelley's honor with conviction and strength.
After a charge through "Saturday Night's Alright for Fighting," he returned in a glittering pink robe for a more sedate encore of "Your Song" and "Goodbye Yellow Brick Road."
Earlier, he'd addressed the matter of his long goodbye — his 300-concert farewell tour won't wind down until 2021 — by noting, "I will miss you a lot, but I have many millions of memories." Even as he milked the crowd for more of the applause he clearly still craves, he claimed to have collected enough for a lifetime.
He collected much more applause Thursday. And he earned it.
Elton John's set list at the Smoothie King Center in New Orleans, Dec. 6, 2018:
1. "Bennie and the Jets"
2. "All the Girls Love Alice"
3. "I Guess That's Why They Call It the Blues"
4. "Border Song"
5. "Tiny Dancer"
6. "Philadelphia Freedom"
7. "Indian Sunset"
8. "Rocket Man (I Think It's Going to Be a Long, Long Time)"
9. "Take Me to the Pilot"
10. "Someone Saved My Life Tonight"
11. "Levon"
12. "Candle in the Wind"
13. "Funeral for a Friend/Love Lies Bleeding"
14. "Burn Down the Mission"
15. "Believe"
16. "Daniel"
17. "Sad Songs (Say So Much)"
18. "Don't Let the Sun Go Down on Me"
19. "The Bitch Is Back"
20. "I'm Still Standing"
21. "Crocodile Rock"
22. "Saturday Night's Alright for Fighting"
23. "Your Song"
24. "Goodbye Yellow Brick Road"