The Atlanta trio Migos is the hottest act in hip-hop. Already this year, they have hit the pop culture trifecta: a No. 1 album, the cover of Rolling Stone, and musical guest on "Saturday Night Live." They flaunt their newfound wealth in a manner that would likely embarrass even Cash Money Records founder Baby Williams.
The seven-year-old Buku Music + Art Project scored a coup by booking Migos to headline the festival's main Power Plant stage outside Mardi Gras World on Friday (March 9). Migos – they refer to themselves as "the Migos" – was scheduled to go on at 10 p.m. Several thousand fans were on hand at the appointed time, waiting, when they could have been elsewhere on the festival grounds, hearing other music.
At 10:22, an announcement was made: "Hey, Buku family! Migos has landed! They're on their way!"
How considerate of them.
Twenty minutes later, another announcement: "Thank you for being so cool! Migos has arrived!"
The trio's DJ, DJ Durel, soon took up his position. He cued up a couple of tracks before Migos — Offset, Quavo and Takeoff — trotted onstage.
As the Buku Music + Art Project grows up, growing pains are to be expected.
They glided around, mostly in silhouette — it may be time for Buku to invest in spotlights and video screens for its largest stage — trading lines on "Higher We Go." Many songs were cut off, frustratingly, after only a few bars with the annoying fake-explosion sound effect of which hip-hop DJs are so enamored. Some vocals were so auto-tuned it was impossible to tell if they were live or recorded. They offered little by way of extemporaneous commentary beyond noting that Saints running back Alvin Kamara was in attendance.
Quavo did a bit of "Ice Tray," his collaboration with Lil Yachty. They showcased "Bad and Boujee," the hit that catapulted them atop hip-hop's hierarchy. They touched on "T-Shirt," and "Motorsport."
And then, after 30 scant minutes, they split.
To recap: They spent more time being late than being onstage.
It was as if this major festival headlining appearance was just another item on their Friday night to-do list: "Alright, let's see. We gotta do this radio interview, buy milk, show up in New Orleans for a minute, chill with Alvin Kamara, put gas in the plane."
Lauryn Hill was infamously tardy at the 2014 Voodoo Experience in City Park — twice. She showed up 45 minutes late for her set; the festival's stage managers cut off her microphone at her scheduled stopping time. However, they let her finish her set later that night on a smaller stage; she was tardy for that too.
But at least Hill and her band delivered the goods once they finally got rolling.
Not Migos. Their presence added very little to the "performance." They were merely props on par with the confetti cannons.
Many rappers at the arena level have stepped up their game. The likes of Jay-Z and Chance the Rapper use flesh-and-blood musicians to make the music feel more alive and vital. Others, like Kendrick Lamar, possess sufficient charisma and skill to make rapping over tracks compelling.
Not Migos. They're in no danger of being considered great rappers or overly charismatic. They are strictly style over substance. They've caught a wave, and they're riding it.
They used a live band the previous weekend on "Saturday Night Live" but couldn't be bothered to bring the band to Buku. DJ Durel could have just as well been onstage by himself pressing "play" on his computer.
Maybe some members of the audience had such low expectations for "live" performances they didn't care. They were happy to dance to the tracks and excited to be in Migos' presence, however briefly.
But others were undoubtedly, and justifiably, disappointed in this lame, lazy showing. The only way Quavo, Offset and Takeoff could have been more disrespectful to their fans would have been to not show up at all.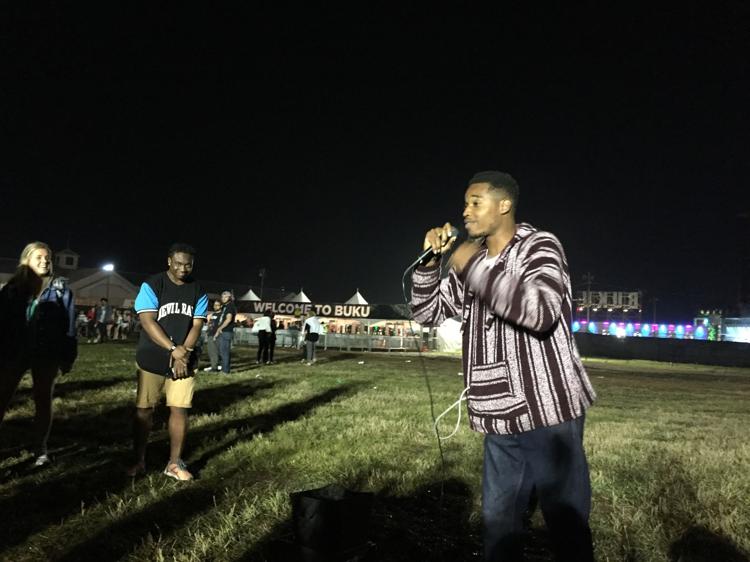 As they exited, one member of the trio addressed the audience he and his bandmates were about to abandon with, "Thank you for making us the greatest group in the world."
Greatest group in the world? The Migos weren't even the greatest rappers on the chilly Buku field Friday night.
Outside the gates, exiting fans encountered a young rapper with a microphone tethered to a small speaker. Over a beat, Ray Wimley free-styled for passers-by. He was fully engaged in his craft, firing on all cylinders, working hard, causing people who didn't know his name to stop and listen.
In short, he gave a damn far more than Migos did.