As Blaine Kern Sr. eyed the gaggle of tourists filing into Mardi Gras World's gift shop, he flipped on his Mr. Mardi Gras grin, his calling card for nine decades and counting.
"I'm the guy who started this whole joint 70 years ago!" he announced, the opening line of his sales pitch for "A Tree in the Sea," the new children's book he created with his fourth wife, Holly.
The tourists smiled, listened politely, and moved on to the next attraction. Mardi Gras, it seems, is bigger than Blaine Kern.
Once upon a time, he might have disagreed.
What Popeyes kingpin Al Copeland was to chicken, Kern is to Carnival: a brash character who came from nothing, launched an unconventional empire in New Orleans, and lived large as a result.
Wrestle anacondas in Peru? Buy an aircraft carrier in Spain? Build a gondola over the Mississippi River? Marry a woman nearly 50 years his junior?
Kern has done that. He also almost single-handedly ushered in the modern era of Mardi Gras.
Can't see video below? Click here. 
--
Blaine Kern Artists, the studio he founded in 1947, crafts the floats for more than a dozen of Carnival's most prominent parades, including Rex, Endymion, Muses, Bacchus, Orpheus and Zulu. Kern pioneered such parade razzle-dazzle as giant prop figures, double-decker floats, multi-unit floats, splashy lighting and animatronics. Inclusivity was another of his innovations.
Now 90, he is no longer directly involved with the studio's operation. But he still keeps tabs on the company and is still the legendary figurehead. Tourist buses still park beneath his name, spelled out with imposing, 6-foot-tall black letters on the exterior of Mardi Gras World's massive riverfront studio/warehouse.
In decades past, his ego was just as imposing. But age has mellowed him. So, too, did several brushes with mortality, and a legal battle, resolved in 2015, that transferred full control of the studio to his son Barry Kern.
But in his reluctant retirement — and thanks in part to his wife's gentle prodding — Blaine Kern has rediscovered who he was long ago: an artist.
Growing up poor
On Wednesday afternoon, Kern shuffled past Orpheus floats inside the Mardi Gras World warehouse, his jacket discreetly emblazoned with "Mr. Mardi Gras." He exchanged warm greetings with artisans, tour guides and gift shop employees.
"This little girl ... she's a helluva sculptor," he said, introducing a young woman flecked with Styrofoam dust.
"Coming from you, that means a lot," gushed Alexandria McCrosky, whose mother, Tina, has painted Kern floats for more than 20 years.
In a chamber near the gift shop stood a different breed of Styrofoam sculptor: Pixie, a robot named for longtime, much-loved Kern Studios administrator Jerelyn "Pixie" Naquin, who died in 2010. A similar high-tech robot sculpts Space X rocket fuselages; Pixie sculpts Muses' float-sized rubber duckies.
Imagine if Kern had possessed such a robot when he started out.
"He was the robot," Holly Kern said.
He grew up poor on Algiers Point with three sisters, now deceased. Their father, Roy, was a painter who liked to fish and drink. Blaine still remembers watching his dad fashion a primitive float atop a garbage wagon in 1932 for the inaugural Krewe of Alla parade on the West Bank.
Drafted into the Army in 1945, Blaine was shipped out to Korea at the end of World War II. He returned home to Algiers nearly two years later.
In exchange for medical services for his mother, he painted a mural for Dr. Henry LaRocca, the captain of Alla. LaRocca was so impressed that he invited Kern, then 19, to decorate Alla's floats.
Recognizing a potentially lucrative business, Kern founded Blaine Kern Artists Inc. in 1947. Alla was his first steady client; he became the krewe's captain in 1957, a position he held for five decades.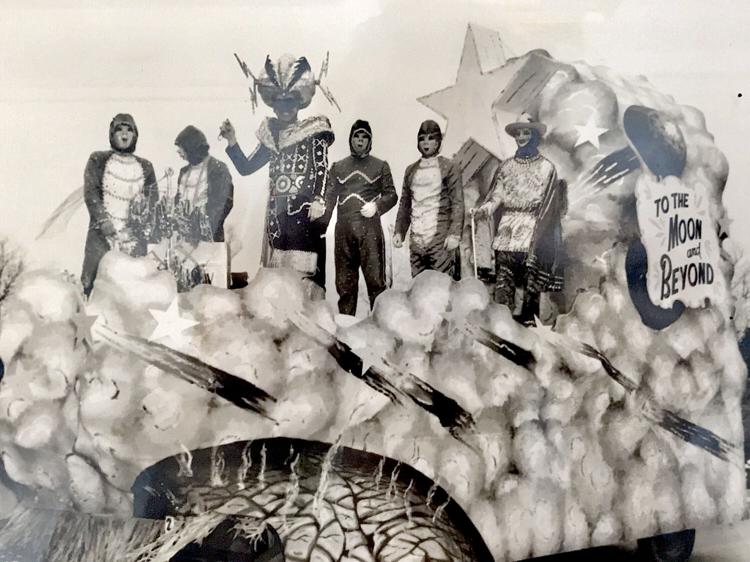 For the 1960 Alla ball, he created a 19-foot movable King Kong, a forerunner of the various Kongs he'd later build for Bacchus. Walt Disney saw it and offered Kern a job in California.
Kern, who considered Disney a "god," nearly accepted. But Rex captain Darwin S. Fenner advised against the move.
"He said, 'Son, you go out there, you're going to be a little bitty fish in a big pond. You stay here and grow Mardi Gras, you'll be a big fish in a little pond,' " Kern recalled. "And he was right. I stayed."
It was the pivotal decision of his career. Fenner became his patron, sending him to Italy, Spain and France to study art, to learn how to mix pigments and make molds and outlandish figures with moving parts. Kern returned and acquired Rex as a client, sprucing up the venerable parade. 
Making a difference
Carnival was traditionally a production of the city's Uptown elite. The correct parents could get you into the old-line krewes; the wrong ethnicity could keep you out.
Kern, of German and Italian extraction, had been born on the wrong side of the river.
"When I started out, if you were Jewish, black, Irish, Italian, you couldn't get in these clubs," he said. "You had to be a WASP. It was crazy. It was a different world."
His artistic and sales skills afforded him access. Once he arrived, he aimed to make a difference.
In the late 1960s, he helped Endymion and Bacchus, the original super-krewes, get rolling. In Endymion founder and captain Ed Muniz, Kern found a like-minded, equally ambitious outsider bent on remaking Mardi Gras.
"Ed had a vision to be the biggest and best, and Blaine fed that vision, because he wanted to build it," said Endymion vice president Darryl d'Aquin, Muniz's son-in-law. "So they fed off each other."
Kern's willingness to rent floats to young krewes, including Endymion, made parading more affordable, and thus more inclusive, forever altering the Carnival landscape.
"It would not be an exaggeration to declare Blaine Kern as one of the most significant individuals in the entire history of the celebration of Mardi Gras," said Arthur Hardy, publisher of the definitive "Mardi Gras Guide."
"Everyone credits him — correctly — with the concept of super-krewes. But just as important was his creation of rental floats that allowed less affluent citizens to participate in Carnival by forming their own krewes. By making parades more affordable, he really opened Mardi Gras up."
Operating out of Mardi Gras World's original West Bank headquarters, and later from a much larger east bank facility just upriver from the Crescent City Connection, he fueled an arms race among super-krewes that exponentially expanded the business of Mardi Gras.
"Besides building a great parade," Barry Kern said, "my father could sell it to the customer."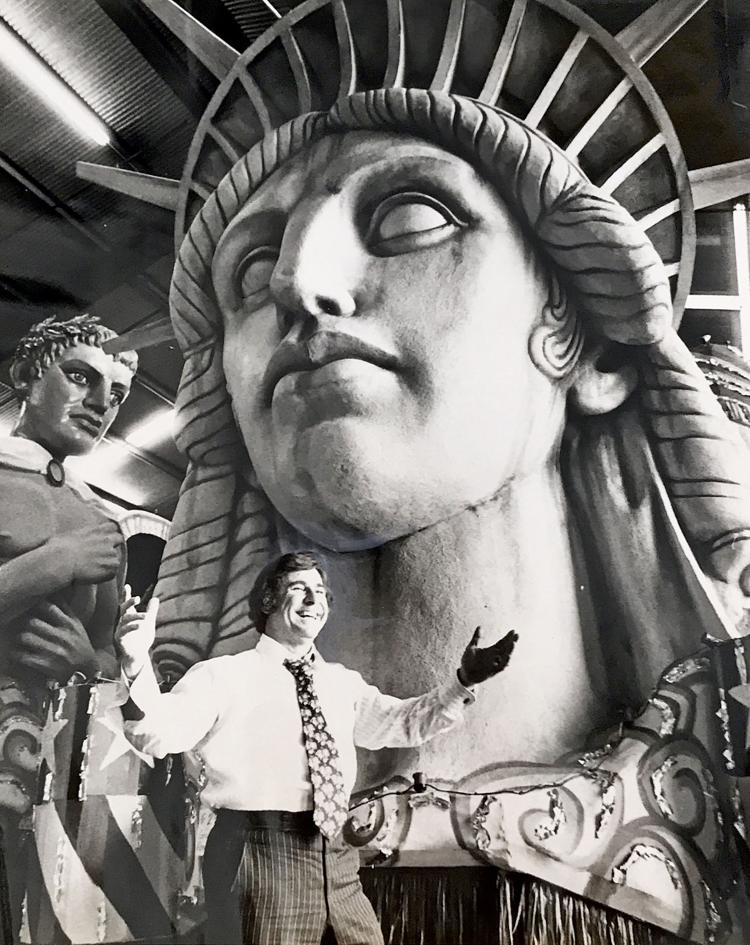 At the dawn of the super-krewe era 50 years ago, Blaine charged $5,000 per float. In 2013, Endymion's dazzling, 370-foot-long, nine-part re-creation of the Pontchartrain Beach amusement park made its debut. The price tag? $1.5 million.
Mardi Gras floats account for only half of the Kern company's tens of millions of dollars in annual revenue. Under Barry Kern's stewardship, Kern Studios has expanded globally, constructing elaborate props and parades for such clients as Disney, Six Flags and Universal Studios. This weekend, Universal Studios in Orlando kicks off a 68-day Mardi Gras celebration featuring Kern floats.
Those three-dimensional, black-and-white-spotted cows that populate Chick-fil-A billboards across the country? All were born at the Kern Studios complex in New Orleans.
Opening Mardi Gras World to visitors created a major tourist destination. The facility is also leased for private functions, such as the Buku Music + Art Project each March.
Grand visionary
In the early days, Blaine got his hands dirty, drawing and painting floats. He eventually ceded such tasks to the company's growing stable of artisans, assuming the role of grand visionary.
Being Blaine Kern was its own full-time job. He started referring to himself as "Mr. Mardi Gras" after a trip to Portugal. In 1988, the Rex organization issued a proclamation making it official. "I'm not going to fight that," Kern said. Instead, he trademarked the term.
He could be loud and boisterous, and he rubbed some people the wrong way. More showman than businessman, administration was never his forte.
Not all his schemes panned out. He built much of the 1984 world's fair in New Orleans — including the famous bare-breasted mermaids at the entrance — only to get stiffed by the fair's financial failure.
The gondola he strung across the river for the fair never attracted enough riders to be viable. He lost money on the failed Jazzland amusement park in New Orleans East. In the 1980s, he partnered with a New York real estate tycoon named Donald Trump to develop property on the West Bank; the project fizzled.
And then there was the aircraft carrier.
The light carrier USS Cabot, known as the "Iron Woman," saw heavy action in World War II, surviving kamikaze hits. It was transferred to the Spanish navy in the 1960s and rechristened Dédalo.
In the 1980s, Kern bought the decommissioned ship for $1. He planned to turn it into a museum and casino docked at Mardi Gras World; investors included his pal Harry Lee, the longtime Jefferson Parish sheriff.
It cost $344,000 in fuel to sail the ship to New Orleans; Kern also had to fly nearly 400 sailors home to Spain. The Cabot lingered on the Mississippi riverfront for years. But, Kern said, he and former Gov. Edwin Edwards couldn't cut a deal on a casino license. In 1999, the carrier was sold at auction for scrap.
Kern fathered five kids during the first two of his four marriages. But in his own estimation, "I was young, filthy rich, and an (expletive) of the first magnitude where women were concerned."
But very late in life, he finally found what he was looking for.
Two 'old souls'
He and the former Holly Brown have been a couple for 16 years; they were married in 2010 in Hawaii. Now 41, she knows his stories by heart and tries to edit his more impolitic utterances.
Their conspicuous 49-year age gap, they say, is no impediment. "We're both old souls," Holly said.
"She was raised by her grandparents," Blaine noted.
They met in 2002 after being seated across from each other during a Bacchus event at Brennan's. Young and pretty, she owned a dance studio, Planet Dance, in Metairie, and was going through a divorce.
Blaine was drawn to her blue eyes and creativity. "She's a choreographer, she dances, she sings — she's a genius," he said. "She's exceptional."
After she and Blaine started dating, he lobbied her to give up her dance studio to focus on him. For two years, she refused. "That would be like me asking him to give up art," she said.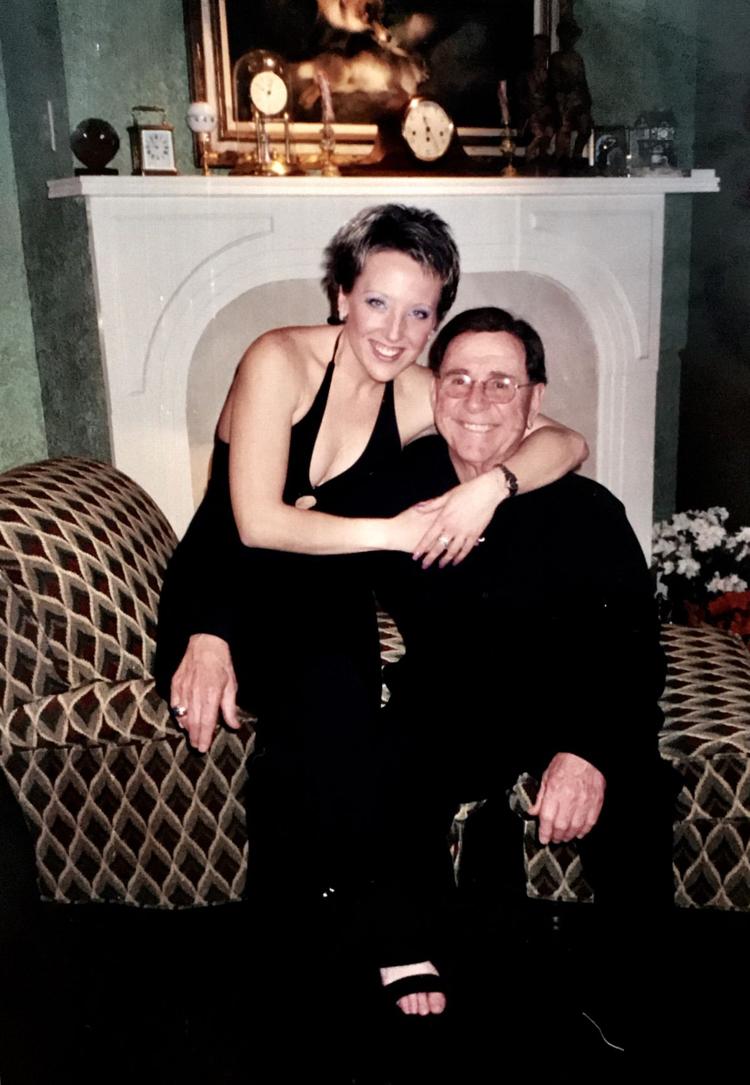 She finally relented on the condition that he take her along on his globetrotting. He's always loved travel and adventure. He once ventured deep into the Peruvian jungle with Arthur Jones, the multi-millionaire inventor of the Nautilus exercise machine, to collect tropical creatures. There was a nighttime encounter with escaped snakes and spider monkeys, and a plunge into a river to capture a large anaconda.
Together, Blaine and Holly have visited more than 50 countries and all seven continents. They'd travel for weeks at a time. For her 40th birthday, he took her to Antarctica.
The cost of all those trips came up in the legal dispute between Blaine and Barry that first flared in 2010. Just as Tom Benson's family battled over control of the Saints, the Kerns clashed over Carnival. Their power struggle was major news in New Orleans.
"Unfortunately, what was a family issue became a very public issue," Barry Kern said. "Everybody in New Orleans feels that they own a piece of Mardi Gras. Because of that, a lot of things that happened to us, which in other families and businesses would have been private, were public."
The leaders of Bacchus, Rex and Endymion, not wanting the production of their parades to be disrupted, brokered a temporary truce between father and son.
In 2015, the conflict was finally resolved for good. Blaine sold his 50.1 percent stake in Blaine Kern Artists to Barry, putting the son he'd groomed as his successor firmly in charge.
More than two years later, Blaine and Barry insist, all is well.
"My relationship with my father and Holly is much better than it was when all that negativity was happening," Barry Kern said. "We've all had time to let things go.
"I think she cares for him, and he cares for her. When a relationship like that starts, people will be circumspect. But it's different than what I thought it initially was. From my perspective now, they have a really good relationship."
Creative juices revived
Case in point: The couple's collaboration on "A Tree in the Sea."
Holly had wanted to author a children's book ever since a first-grade teacher at St. Catherine of Siena School praised her writing. But Blaine initially dismissed her proposed storyline — about a friendly tree in the sea that saves fish from sharks — as "ridiculous."
She was hurt, and indignant: "The king of whimsy is telling me there'd never be a tree in the sea? This is a children's book!"
He thought the project was beneath him: "I didn't feel like illustrating a book. My company's worldwide. This was, like, nothing."
Holly conceded that "it was not the time. He was busy traveling the world and being Mr. Mardi Gras."
He'd also fallen out of the habit of drawing. "I'd lost confidence in myself," he said.
In 2016, they realized one of Kern's dreams by attending Carnival in Rio de Janeiro, Brazil. The trip reignited his creativity. "He was like a kid in a candy store," Holly said.
Back home in Harvey, she encouraged him to paint an undersea scene in a guest bathroom. (He eventually agreed to cover the mermaid's prominent breasts with a seashell bikini top.)
With his creative juices flowing, she resurrected her book idea. For months, they debated the content. Finally, Kern put colored pencils to paper, conjuring up an undersea world with an older Neptune and a younger, buxom mermaid.
River Road Press published "A Tree in the Sea" last fall. The couple is already planning their next book.
Not that they lack for activities. Kern still needs to stay busy. "He hates the 'r' word," Holly said. "Retired."
His father "is a lot more low-key than 10 or 15 years ago, but he's not like many other 90-year-olds," Barry Kern said. "His age never had anything to do with the way he thinks and feels and lives. He's not a person that was acting his age, ever. He's been referred to as Peter Pan many times."
Last fall, Kern reigned over the Krewe of Boo Halloween parade. Also in 2017, he and Holly traveled to Cuba, where, in 1960, he had staged a mini-parade for Fidel Castro.
He hopes to ride in a car in several Carnival parades this week, depending on the weather.
"He's going to want to mingle with the crowd," Holly said. "For him to sit in a car and not interact with people, that's torture."
The couple realizes that time is not on their side. Before he got a pacemaker in 2008, Holly resuscitated him with CPR at least three times. "Breathing life into somebody, that really strengthens your bond," she said.
These days, they spend time at home with their five small dogs and three cats. At the gym, Blaine pedals a stationary bike for 40 minutes. He draws. Holly is teaching tap dancing again. They post wacky videos of themselves on Facebook and Instagram.
"We have fun," Holly said. "We're creative people, and goofy people. But we're on a social media break right now. Our time together is limited. We need to spend time face to face."
Still looking ahead, Blaine doesn't spend much time on reflection. But does his Mardi Gras legacy make him proud?
"It does and it doesn't," he said. "Let me tell you why. People walk up to me and hug me and congratulate me. Somehow, I don't feel like I deserve it. I'm very Catholic. God's given me this talent, but it's embarrassing a little bit."
This is the new Blaine Kern talking. Ten years ago, he still craved attention.
"He's a totally different person now," Holly said. "I like this Blaine Kern a lot better. That (court case) changed both of us. It's made us better people, more spiritual."
Kern used to strut into church hoping to be noticed. Now he's more likely to keep his head bowed.
"So many people know me and they're waving at me … it's disconcerting," he said. "I don't like it. I'd hate to be a movie star."
But being Mr. Mardi Gras? That he still enjoys.
Holly and Blaine Kern will sign "A Tree in the Sea" at three area Barnes & Noble locations in February: Feb. 16 from 2 to 4 p.m. in Mandeville; Feb. 17 from noon to 2 p.m. on the West Bank; and Feb. 18 from 2 to 4 p.m. in Metairie.