Centuries before the advent of fluorescent green plastic "hand grenade" receptacles, New Orleanians discarded different debris in the French Quarter.
Porcelain plates and cups. Clay smoking pipes. And, in one courtyard at least, dozens of goat skulls.
As a Tuesday presentation by the Historic New Orleans Collection made clear, one generation's trash is a later generation's archaeological treasure.
"What Lies Beneath: Archaeology in the French Quarter" was part of a lecture series related to the Historic Collection's exhibit, "New Orleans, the Founding Era."
A trio of archaeologists focused on four main dig sites in the French Quarter: the 800 block of Royal Street, the 900 block of St. Peter Street, a massive underground cemetery near Toulouse and North Rampart streets, and a property fronting the 500 block of Royal that, conveniently enough, the collection is developing as an expansion of its campus.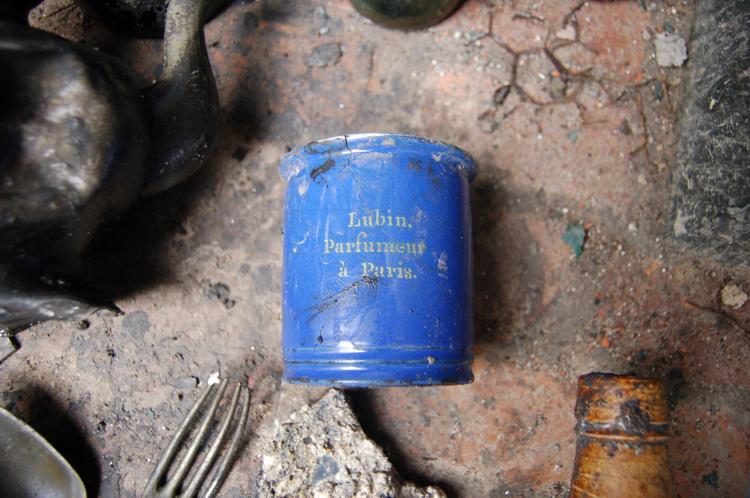 Telling the story of New Orleans "from its underside" mostly depends on the good graces of interested private property owners, said Ryan Gray, an assistant professor of anthropology at the University of New Orleans.
Archaeological opportunities and discoveries often result from "happenstance and luck. Sometimes that luck is bad. And sometimes it is downright catastrophic," he said. 
Case in point: the sudden collapse and subsequent demolition in October 2014 of a three-story building that had stood at 810 Royal since the early 1800s. The owner of the still-vacant lot has allowed Gray and a team from the University of New Orleans to conduct a series of digs there.
Because the same building had stood there for more than 200 years, the ground below was largely undisturbed since the colonial era. Excavations have turned up pieces of Native American pottery, Chinese porcelain (a popular import in the city's infancy), French gun flints, clay smoking pipes and a coin dated 1722.
Such sites, Gray said, allow for a fuller appreciation of the early Native American and African influences on the city.
Another property owner allowed archaeologists to excavate a courtyard at 936 St. Peter Street. They discovered an old privy, a shaft used as a toilet and for waste disposal. Privies "are one of the basic things that archaeologists love," Gray said. "They're like little time capsules."
This particular outhouse turned up hundreds of goat bones. The goats appeared to have been slaughtered "messily" in a quest to extract their brains, Gray said. Tanning skins, he continued, "is one of the handy things you can do with animal brains."
Much of the city's first cemetery, St. Peter Cemetery, lies near the former home of Mama Rosa's pizzeria, 616 N. Rampart. Thousands of the city's inhabitants were buried there from 1723 until the 1780s.
Over the decades, graves there are periodically rediscovered. In 2010, Gray was hired to explore the ground where a swimming pool was to be installed near Toulouse and Rampart. Fifteen coffins and skeletons from the 1700s were removed for study and reburial.
Many more remain. As many as 12,000 bodies may be buried there, Gray said, "white, black, Native American or sometimes all three."
In 2013, the Historic Collection contracted with Earth Search Inc. to explore the grounds of the Seignouret-Brulatour House, a sprawling property that cuts through the block bounded by Royal, St. Louis, Chartres and Toulouse streets. Once home to the WDSU-TV studios, the redeveloped property is slated to reopen later this year as a new exhibition space.
At Tuesday's presentation, Earth Search's Michael Godzinski and Elizabeth Williams narrated a history of the extensive Brulatour project.
Digging down 7 feet exposed strata corresponding with every era of New Orleans' development. A layer of ash from the devastating 1788 fire still smelled smoky, Williams said. Below that was the "French Colonial" stratum, dated via tableware shards to 1720-60, followed by the "French Horizon" layer, the oldest.
One ancient glass bottle, she said, was filled with 300 small lead pellets, which made for "a really exciting day at the lab."
Wine bottles and drinking glasses, Williams noted to laughs from the audience, were "disproportionately represented," an indication that letting the good times roll is not a recent innovation in New Orleans.
Gray would like to see at least minimal archaeological protections instituted for historic areas of the city. Development along the edges of the French Quarter and in the South Market District has permanently altered the archaeological record, he said. Artifacts are of diminished historical value once removed from their original context, which can reveal as much as the object itself.
He credits private property owners who have voluntarily granted archaeologists permission to dig on their land with advancing an understanding of New Orleans' colorful past.
"People don't like being told what they can do with their property," he said. "But historic resources should be taken into account."
Historical resources make up much of the "New Orleans, the Founding Era" exhibit.
Inspired by New Orleans' tricentennial, the exhibit examines the various cultures that interacted in and around a young New Orleans in the early colonial era. It includes artifacts, early maps, archaeological finds and art from the Historic Collection's own holding as well as items loaned by other institutions.
Artifacts range from a pair of Native American moccasins fashioned from bear paws to baptismal records of enslaved people to an early 1700s French wine bottle dug up at 400 Chartres.
Housed at 533 Royal, the exhibit runs through May 27. Admission is free.
The collection has also published a companion book, "New Orleans, the Founding Era," in English and French.