Michael Cerveris knows firsthand that a successful acting career is a mixed blessing when it comes to launching a secondary music career.
A Tony Award-winning Broadway, television and film actor who lives in Treme when not working in New York City or elsewhere, Cerveris also fronts the country/Americana band Loose Cattle with vocalist Kimberly Kaye.
His extensive acting resume — ranging from the title character of the 2005 "Sweeney Todd" Broadway revival to recurring roles in the TV series "Gotham," "Fringe," "The Good Wife" and "Treme" — gave his band a measure of immediate notoriety. One of Loose Cattle's first gigs was at Lincoln Center for the prestigious American Songbook series.
Promotional benefits aside, his day job also "brings along as many prejudices — and sometimes well-warranted ones," he said during a recent phone interview from New York. "Every time I hear about some actor who's got a music project, my first thought is, 'No.'
"And the kinds of things that people know me for in acting doesn't necessarily make them fans of the kind of music that we do."
Or as Kaye put it: "'Sweeney Todd sings country!' is a rough sell in a social media, pull-quote kind of world."
But Cerveris has been a musician as long as he's been an actor. He toured as a member of Husker Du frontman Bob Mould's solo band and has led Loose Cattle for six years.
The band's latest release is a decidedly nontraditional Christmas album, "Seasonal Affective Disorder." Cerveris, Kaye, their bandmates and special guests trot out songs, mostly from the country canon, that explore the flip side of the merry holiday season, including Robert Earl Keen's "Merry Christmas From the Family," Merle Haggard's "If We Make It Through December," Willie Nelson's "Pretty Paper" and Tom Waits' "Christmas Card From a Hooker in Minneapolis."
Loose Cattle will celebrate "Seasonal Affective Disorder" on Tuesday, Dec. 19, at Chickie Wah Wah, starting at 8 p.m. The band's New York-based core will be augmented by local pianist Tom McDermott, Paul Sanchez, John Boutte, trombonist Craig Klein, and members of contemporary Cajun band the Lost Bayou Ramblers.
"It'll be a pretty big posse in Chickie Wah Wah's living room," Kaye said. "Even though we've failed to be a living room band, we've definitely kept the living room band feel."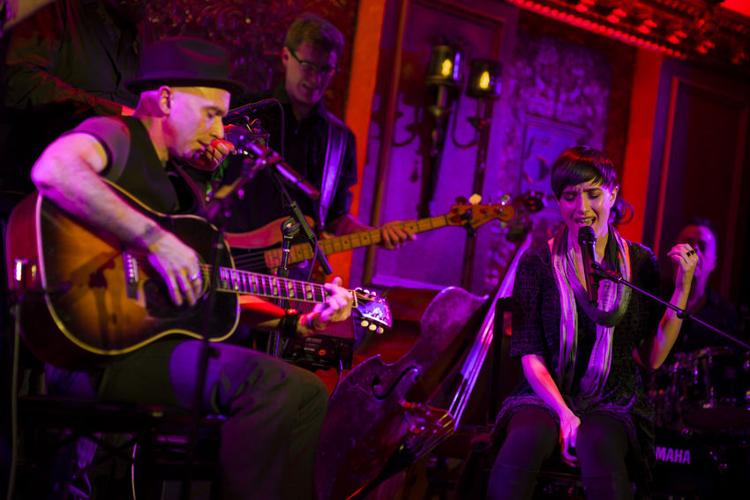 Cerveris grew up in West Virginia and majored in theater studies at Yale. He earned his first Tony nomination in 1993 as the title character in the Broadway production of "The Who's Tommy." He won his first Tony as John Wilkes Booth in the 2004 revival of Stephen Sondheim's "Assassins." He scored his second, for best leading actor in a musical, in 2015 for "Fun Home"; he punctuated his acceptance speech with "Who Dat!"
Kaye first met Cerveris as a reporter covering the New York theater scene; they ended up dating. He encouraged her to start singing, a pastime that came in handy as their romantic relationship deteriorated.
"We were at a place where we were looking for things to do that weren't arguing with each other," he said. "Singing kept our voices busy in a more positive way."
His appreciation for rootsy music rubbed off on Kaye.
"I thought I hated Americana and country music," she said. "I was a Jersey punk girl from Freehold, where you come up with metal and arena rock and punk and ska. My relationship to folkier music came with other people's prejudices on it."
They formed Loose Cattle intending to play informal shows in living rooms. It quickly evolved into something more.
So did Cerveris' flirtation with New Orleans. He didn't really discover the city until the 2007 shoot for the movie "Cirque du Freak: The Vampire's Assistant." To the soundtrack of community radio station WWOZ-FM, he "fell deeply in love" with New Orleans. "I felt very connected, and devoured it the way only the converted can."
He brought Kaye down for her first visit in 2009. She was initially reluctant to embrace "this place where my boyfriend kept disappearing to. I felt like New Orleans was the other woman. I didn't know if I was ready to meet her."
She wound up returning 10 times over the next 13 months and now calls New Orleans home. She and her husband, Ray, got married at Kajun's Pub on St. Claude Avenue. "I get it now," she said. "I totally drank the Kool-Aid."
New Orleans proved to be fertile creative ground. Cerveris and Kaye worked with Paul Sanchez to develop his songs into "Nine Lives," a musical based on the post-Katrina struggles and triumphs of a cross-section of local characters. Sanchez in turn introduced them to the local music community.
"We owe our individual and collective connections to the music of New Orleans to Paul," Cerveris said.
"Seasonal Affective Disorder" initially took shape when Kaye wasn't in any condition to contribute. She spent much of 2016 in hospitals battling a litany of chronic, debilitating ailments, including Crohn's disease, interstitial cystitis, shingles, a drug-resistant kidney infection and ruptured ovarian cysts. Thus, she mostly left the song selection to Cerveris, thinking the record would never get made: "I thought, 'This is his way of helping me focus on something that's not the hospital.'"
His selections "kindly and generously took into account" her state of mind and body. Thus, holiday songs about "joy and kids and all the food you eat — I don't eat solid food any more — had been carefully and lovingly weaned out."
Instead, the songs had "a slightly more bent, or humanist, approach to the holidays," Kaye said. "I needed that."
By contrast, Cerveris is a huge fan of Christmas tradition. He hoped to "marry that with a not entirely bleak, but clear-eyed, look at the way the holidays are for all of us. Even if we're having a good time, they're still hard. If there was a sense of humor in the telling, even better."
He asked the Lost Bayou Ramblers to help find a suitable holiday song from the Cajun canon. Instead, the Ramblers wrote the fiddle- and accordion-laced "Don't Make Your Mama Cry on Christmas Day" with him.
Kaye did suggest one song, Joni Mitchell's "River." The album concludes with Alex Chilton's "Jesus Christ," a subtle nod to New Orleans, where Chilton lived the last years of his life.
Cerveris hopes new fans continue to discover Loose Cattle regardless of his acting resume.
"When people take a chance and come, they realize there's a reason why we like this kind of music. There's storytelling and characters and real narrative stuff going on. When I can get people in the room, they're really glad to be there."