Such was Cash Money Records' cachet 20 years ago that even label co-founder Bryan "Baby" Williams and producer Mannie Fresh sold millions of records as a duo called the Big Tymers. That neither of them was a rapper by trade was no impediment.
"It wasn't really about the raps," Fresh recalled recently. "It was more about the Jedi mind trick that everything was going to be over the top. That was the premise.
"If somebody else is talking about a Cadillac, we're talking about a space shuttle. We wanted to go bigger and better on every subject. It had to be overkill. That's what we were thinking: We can't play with this. It's got to be out of this world."
On Friday, Fresh and Williams will temporarily reunite the Big Tymers at the Maison on Frenchmen Street for the eighth annual Baller's Ball. Tickets start at $45, available via eventbrite.com.
The reunion coincides with the 20th anniversary of "How You Luv That," the Big Tymers' debut album.
"I can still play those records when I'm deejaying," Fresh said. "When I posted that it was 20 years (old), it was a wake-up for a lot of people — they didn't realize it was 20 years later. That right there in itself is a blessing, for something to still be around 20 years and it's fresh to a lot of people."
Fresh himself was born 48 years ago as Byron Thomas. He honed his musical skills at Joseph S. Clark High School, where he was a few years behind jazz trumpeter Kermit Ruffins. "We didn't have a band but we always messed around at school," Fresh said of Ruffins. "That's how I got to understand how records work."
Deejaying led to producing albums for pioneering local rapper Gregory D in the late '80s and early '90s. Williams then recruited Fresh to be Cash Money's in-house producer, building the tracks that the Hot Boys, Juvenile, Lil Wayne, B.G. and other artists rapped over.
Fresh's biggest success as a producer was Juvenile's 1998 album "400 Degreez," which sold more than 4 million copies. It boasted "Back That Azz Up," a distinctly Big Easy ode to posteriors in motion that Fresh counts as his signature production.
"That's the one where it was like, 'OK, it's real,'" he said. "You can play that anytime, anywhere, and it gets the crowd."
Given his golden touch, the Big Tymers were all but assured success. Having the likes of Lil Wayne and Juvenile available to jump on tracks didn't hurt.
"It wasn't decided — it was more who wanted to jump on," Fresh said. "A lot of it had Bun B. Bun's just a natural emcee. He was ready for anything.
"I'd play a track and some people were like, 'Nah, I can't rock with that one.' It was more who could do it, and who wanted to be a part of it. And we had a room full of people at the time, so that's what made it so good. We had that friendly competition."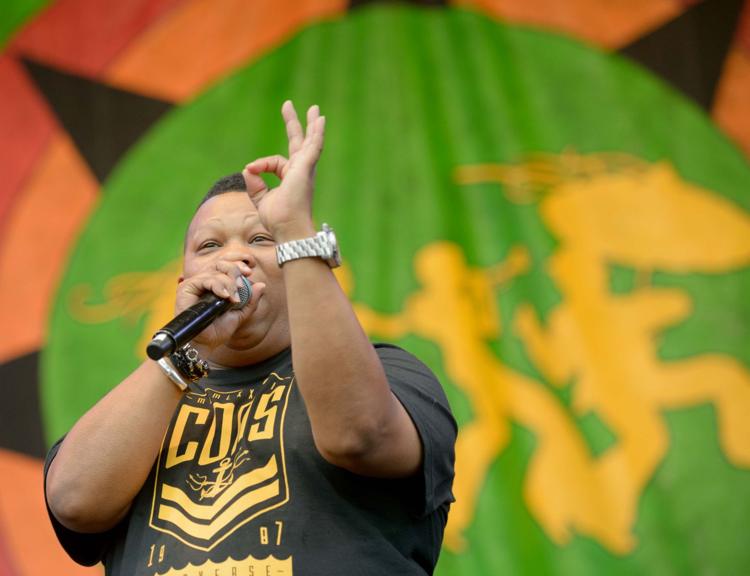 The second Big Tymers album, "I Got That Work," sold a million copies and yielded the singles "Get Your Roll On" and "Number One Stunna." In 2002, the duo's "Hood Rich" entered Billboard's mainstream album chart at No. 1, thanks in part to the hit "Still Fly."
The Big Tymers, Fresh remembered, felt empowered to be bigger than anybody. "It was more of, 'OK, are we really saying this? Are we really doing it? Are we really going to represent it?'"
They did. Album covers draped in bling — diamonds, Champagne bottles, flashy cars — became Cash Money's signature.
"The first generation was bounce music. After that, the Big Tymers was the beginning of something big and blinged out," Fresh said. "It pretty much shaped what the label represented."
That legacy is "a gift and a curse. I don't regret doing it. I just regret that a lot of people didn't get that that was just our style. It was just one category of what hip-hop is. Now hip-hop is defined that way. It's kind of the blueprint of what hip-hop is right now. Ninety percent of the songs are blinged out about money and cars. Everything is based on that Cash Money philosophy."
By the mid-2000s, Cash Money's heyday was over. Financial disputes prompted Fresh, Juvenile and other artists to cut ties with the label. Lil Wayne, one of the company's last loyalists, eventually had his own falling out. He is engaged in a bitter lawsuit with Cash Money, alleging a litany of financial misdeeds. The litigation has delayed Wayne's much-anticipated album "Tha Carter V."
Fresh produced tracks on "Tha Carter V" and remains close with Wayne. Does sharing a stage with Williams, Wayne's mentor-turned-courtroom-nemesis, put Fresh in an uncomfortable position between the two warring camps?
"I've learned this: Let your lawyers sort all of that out."
Fresh says he and Williams are "cool. There are some things that are unresolved. But at this point, it's kind of like, 'Will it get resolved?' I don't really think so."
That said, "it doesn't make sense not to make money."
Fresh still rakes in six-figure annual royalties for his old Cash Money productions. "These songs are still playing all over the world," he said. "It's amazing to me."
That affords him the luxury of working at whatever he wants. Mostly that's deejaying.
"That's my passion. That's what I came into this as. That's where I'm at right now. I still produce music and write a few songs. I did a couple country songs with (hitmaking songwriter) Dallas Davidson. For the right people, I'm there."
He also co-produced local funk-rock band Flow Tribe's most recent album, "Boss," a project he described as "easy breezy. They sought me out — they know I'm an old soul. It felt good doing that."
Reuniting the Big Tymers every now and then also feels good.
"Our show hasn't changed," Fresh said. "It's kind of like Run DMC — we give you what you want, and that's what it is."
Following the spring release of "Boss," a collaboration with New Orleans hip-hop producer Ma…