Kristin Danflous' first major decision as captain of the Krewe of Iris was a disaster.
Three weeks before the 2011 parade, her grandmother, Joy Oswald, anointed her the new Iris captain. As parade day approached, forecasters predicted heavy rain and thunderstorms.
Danflous, all of 32 years old at the time, considered rescheduling to an earlier start. But her grandparents, who still wielded considerable influence, objected. She backed down as her grandfather assured her that rain never falls on Iris.
It did that year. Hard.
As the drenched riders disembarked at the Hilton New Orleans Riverside, Danflous apologized to them.
The 2011 deluge "was the best and worst thing that could have happened to me," she said recently. "I learned a lot that year."
And going forward, she resolved to make her own decisions.
For 2019, she made a huge one: After decades with another float-builder, Iris switched to Kern Studios, the company that builds the Endymion, Muses, Bacchus, Orpheus, Zulu, Hermes and Tucks processions, among others.
Thanks to a new, larger fleet of tandem floats crafted by Kern, Iris was able to dramatically increase its membership. On Saturday, Danflous is slated to lead more than 3,400 riders, the most of any Carnival parade.
She has infused the 102-year-old Iris, Carnival's oldest all-female krewe, with fresh energy and enthusiasm. Symbolizing this rebirth is one of the parade's new, Kern-built signature floats. The prop that tops the lavish float is a 17-foot-tall, intricately detailed, animatronic Butterfly Fairy.
Just like Danflous, the Butterfly Fairy bounced back from disaster — specifically, an accidental decapitation just four days before the parade.
And also like Danflous, it came back even stronger.
****
In 1917, Aminthe Laudumiey, who'd already founded the Krewe of Venus, launched Iris. At the time, female Carnival organizations staged only balls, not parades.
Venus made history in 1941 as the first female krewe to parade. Eleven years later, Laudumiey, whose married name was Nungesser, essentially gave the struggling Iris to that year's Venus queen, Irma Mellaney Strode.
According to the krewe's official history, written by Jimmy Clark and published as a coffeetable book in 2017 by Arthur Hardy Enterprises, Iris was on the brink of extinction, with only 12 members.
But under Strode's steady leadership, the organization rebounded. In 1959, the first Iris parade rolled down St. Charles Avenue with 150 riders aboard floats rented from the Krewe of Okeanos.
Strode sustained Iris for three decades. Barry Kern, now president and CEO of Kern Studios, remembers hearing stories about Strode as a boy: "She was a Mardi Gras legend."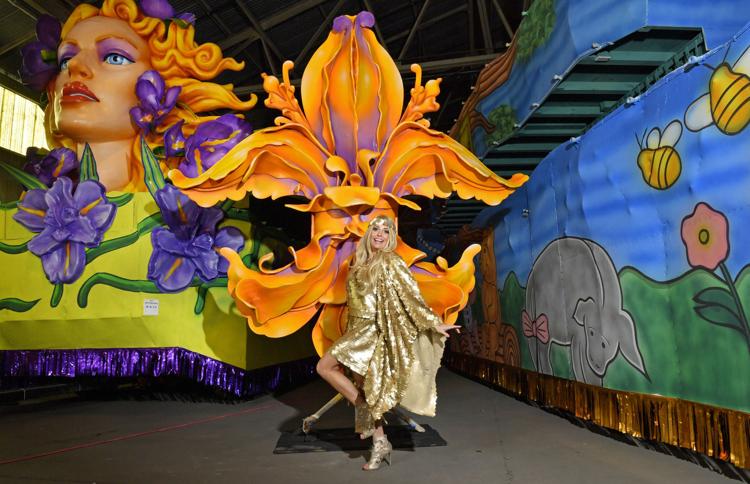 In 1985, she finally passed the plumed captain's fan to her niece, Joy Brechtel Oswald, whom Strode had groomed for the role. For the next quarter-century, Iris was Oswald's baby.
Danflous grew up around Iris. She was a page at the historic ball where Strode, her great-aunt, transferred power to Oswald, Danflous' grandmother.
She went away to college but returned each year for the Iris ball. Oswald wanted her granddaughter to eventually take over. Instead, Danflous got married and had three children.
By 2010, Oswald, a.k.a. "Mama Joy," was ready to step down. Danflous, whose youngest child, a son, was 2, was finally ready to step in.
"It's our legacy," she said. "I have two girls, and I hope to pass it down to them."
On Feb. 11, 2011, during the Iris ball at the Pontchartrain Center in Kenner, Danflous was introduced as Oswald's surprise choice to take over as captain.
****
Her trial by rain, not fire, arrived three weeks later.
Days before Iris rolled, Danflous was in the carpool line at her daughters' school when her phone rang. It was Mardi Gras guru Arthur Hardy, wanting to know what she planned to do with her parade, given the weekend's dire forecast.
Her first reaction? "'Oh my God. Arthur Hardy has my number!' I felt so special."
Given Iris' long, rain-free history, Danflous, an optimist, put her faith in precedent: Iris would roll at 11 a.m. on the Saturday before Fat Tuesday, as always.
As parade day drew closer, the chance of midday thunderstorms increased to 70 percent. Danflous started having second thoughts.
"Me being new and kind of afraid, I didn't know what to do. I lived it my entire life, but I didn't know what actually went on behind the scenes. I didn't know who I needed to know or who I needed to talk to."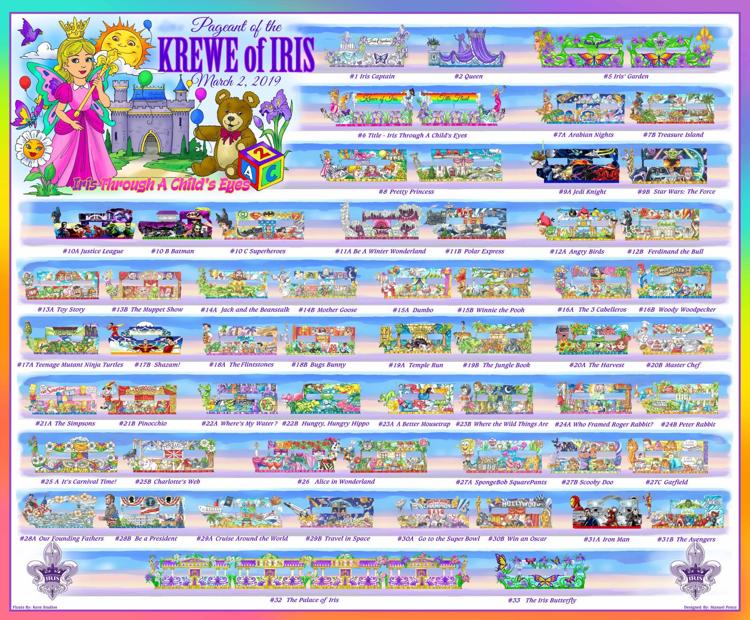 A friend on the police force put her in touch with Joe Valiente, the NOPD officer who coordinated parades. Valiente gave the green light for Iris to move up to 10 a.m.
But Mama Joy wasn't having it. Neither was her husband, Johnny Oswald, a.k.a. "Mr. Iris."
For decades, Johnny Oswald handled the logistics of Iris. He also ordered the throws and coordinated the ball. One year, he even filled in for an intoxicated king during the ball's "grand march."
His experience told him Iris should roll as scheduled at 11 a.m., not earlier.
"My grandpa and grandma weren't really ready for that," Danflous said. "For 50 years, they'd been parading at 11 a.m. When I said, 'Let's move this parade,' being a newbie and a baby in their eyes, they thought I was insane. I had very little say-so."
That Saturday, Iris got soaked.
"I took the fall," Danflous said. "A new captain comes in and that's the first time it's ever rained on Iris to the point that people had to get off the floats? I was a curse in all my members' eyes.
"I lived and learned. The Mardi Gras gods gave me a second chance."
The next year, the forecast for Iris Saturday was just as bad. Danflous considered the possibility she really was a curse. "But this girl wasn't going to be fooled again," she said.
Parade captains met with city officials to reschedule around the weather. They chose their new time slots based on the parades' seniority.
As the captain of the oldest krewe at the meeting, Danflous went first. Iris, she said, would move to Sunday at 10 a.m.
Her grandparents didn't object.
"It took them a while to let go," Danflous said. "My grandma's been in it for 60 years. She was captain for 24 years. It's our life.
"People think Mardi Gras is only two weeks of the year. For us, it's year-round. To do something every day for 60 years and all of a sudden your little baby granddaughter comes in and takes over and makes changes, it takes a little while to get used to. Now they sit back and watch, and they're proud."
****
Fully in charge, Danflous set out to shake things up a bit while still respecting Iris tradition.
Over the past two decades, Muses and Nyx emerged as the pre-eminent female krewes. She wanted a signature throw like the Muses shoe or the Nyx purse.
A krewe member, Barbara Winters, suggested sunglasses, since Iris is a day parade. Danflous loved the idea; her members now decorate custom Iris sunglasses.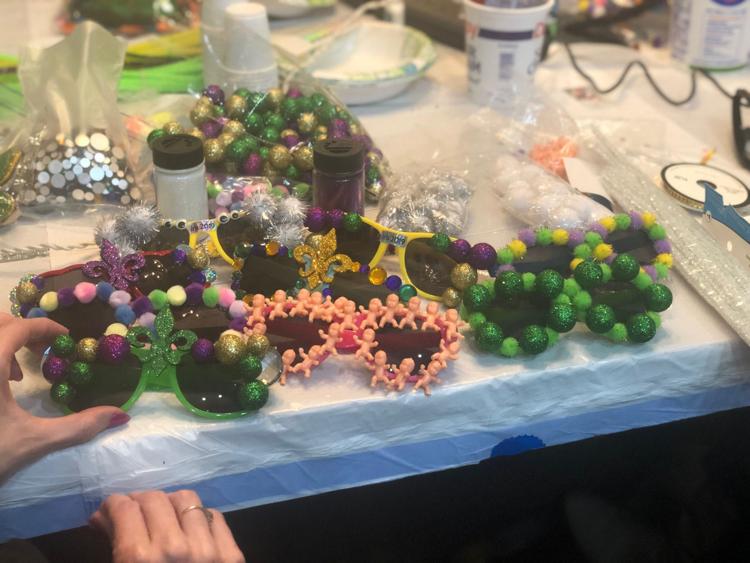 After Hurricane Katrina shuttered the Municipal Auditorium, the Iris ball moved to the Pontchartrain Center. Afterward, chartered buses transported guests to the Hilton Riverside for a late-night supper dance.
"That made no sense to me," Danflous said. "We needed to have everything at one spot."
So she moved the ball to the Hilton, and attendance surged. "It's been the best thing we could have done. It's convenient for everyone," she said. 
Even though she was now clearly in control, she still informed her grandparents about impending innovations.
"I would always prep them with, 'It's just a little change.' After all my 'little changes,' when big changes came, they really didn't say anything. They knew I kind of had it figured out, and it was my baby now."
She initiated her biggest change this year.
From 1974 to 2018, Iris floats were built exclusively by the Cantrell family. McKinley "Mac" Cantrell Jr., son of the founder of McKinley Cantrell Floats, runs the Kenner-based company, which specializes in papier-mâché creations.
But Danflous came to believe a change was needed. Her lieutenants wanted bigger floats to accommodate dozens of riders on their waiting lists.
"There were so many people that wanted to ride in Iris, and we weren't giving them an opportunity," Danflous said.
Over the years, Barry Kern had approached her about considering Kern Studios. He finally gave her a tour of the company's vast Mardi Gras World facility "and I was blown away," Danflous said. "I thought that if anybody was going to be able to handle my ladies, it was going to be him."
So she made the "difficult" decision to leave Cantrell and sign a multi-year contract with Kern.
"I asked Barry, 'You sure can handle this? You're pretty busy on that Saturday' (with Endymion and Tucks). And he has."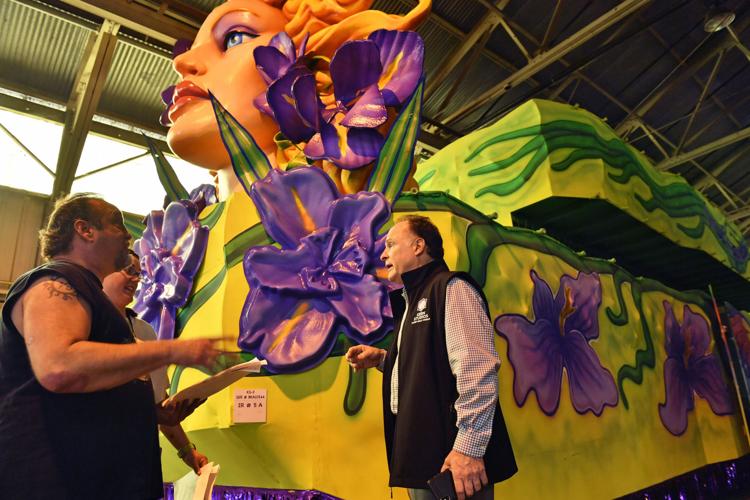 This year's captain and queen floats are holdovers from the Cantrell years. But the rest of the Iris fleet is newly built by Kern. All 33 units consist of at least two floats, each equipped with a built-in sound system. One quadruple unit holds 250 riders, more than some krewes' entire membership.
Iris added more than 1,000 riders this year, surpassing Nyx and Endymion as Carnival's biggest krewe.
"That's a big leap," Kern said. "For a Carnival club to grow that much in one year is phenomenal.
"Since the advent of Muses, the female krewes have really started to push the envelope. Females krewes have proven to be some of the more progressive groups in Carnival. And Iris is going to make a big splash this year."
****
One of the traits that impressed Danflous about Kern was his ability to handle pressure. That ability was tested this week.
On Tuesday, workers stood Iris' "absolutely gorgeous" new Butterfly Fairy prop atop a flatbed trailer at Kern's fabrication facility on the west bank. They set out for the Warehouse District den where the prop would be mounted on its float.
En route, a low-hanging tree branch knocked the fairy's fiberglass head clean off.
Kern was not happy. Neither was Danflous: "I said, 'Tell me you're joking.' He said, 'I'm not joking.' Then a bunch of f-words came out. And then I had to laugh to keep from crying."
Kern promised to resurrect the Butterfly Fairy in time for the parade. Back at the fabrication plant, workers repaired it and reinforced the head with a steel rod.
"Thank God we were finished with everything else," Kern said.
The fairy's new name? Marie. As in Marie Antoinette, the French monarch who was beheaded.
On Wednesday, Danflous inspected the rest of her parade's new floats at the massive Kern Studios warehouse/workshop. "If something else breaks," she said to Barry Kern, "fix it and tell me about it afterward."
Overall, she pronounced herself "very pleased. He made up for the decapitated fairy.
"We're a great partnership. He sees what I want, and he makes it even better. And he never says no."
****
For Danflous, a 40-year-old divorced mother of three, running Iris is a full-time, every-day, all-day job. "And it's the best thing I possibly could have ever done," she said. "I'm enjoying every moment of it. I couldn't design something more suited to myself than to run this club."
She loves to dress up. Loves parties. Loves networking. Loves camaraderie. Running Iris "is so me. I love seeing the happiness that Iris and Mardi Gras put on people's faces. I'll see cars with the Iris sunglasses magnet and I'm like, 'Oh my God, that's my parade.'"
She is quick to cite the extensive contributions of the parade's officers and members. But this new Iris has clearly been made in her image.
Dorian Stone, an assistant Iris float lieutenant who attended Mount Carmel Academy with Danflous, credits the captain with sparking the krewe's rebirth.
"She brought in the new and the old and mixed them together," Stone said. "She has built an empire. She has built something that people want to be in."
Indicative of Iris' new attitude, Danflous signs off her emails with "Keep Iris Blooming."
"After the rainy year, one of the members said we should 'keep Iris blooming,' and it stuck. Every year, we want to keep Iris blooming. I think we've done it.
"We're blooming right now, that's for sure."