Kid Rock in the Hall of Fame? The notion seems ludicrous.
The self-made rock/rap star and honorary redneck from Detroit is in no danger of being inducted into the Rock & Roll Hall of Fame any time soon.
But on Friday at the Smoothie King Center, Kid Rock will be enshrined in the "celebrity wing" of the WWE Hall of Fame during the festivities leading up to Sunday's main event, WrestleMania 34, in the Mercedes-Benz Superdome.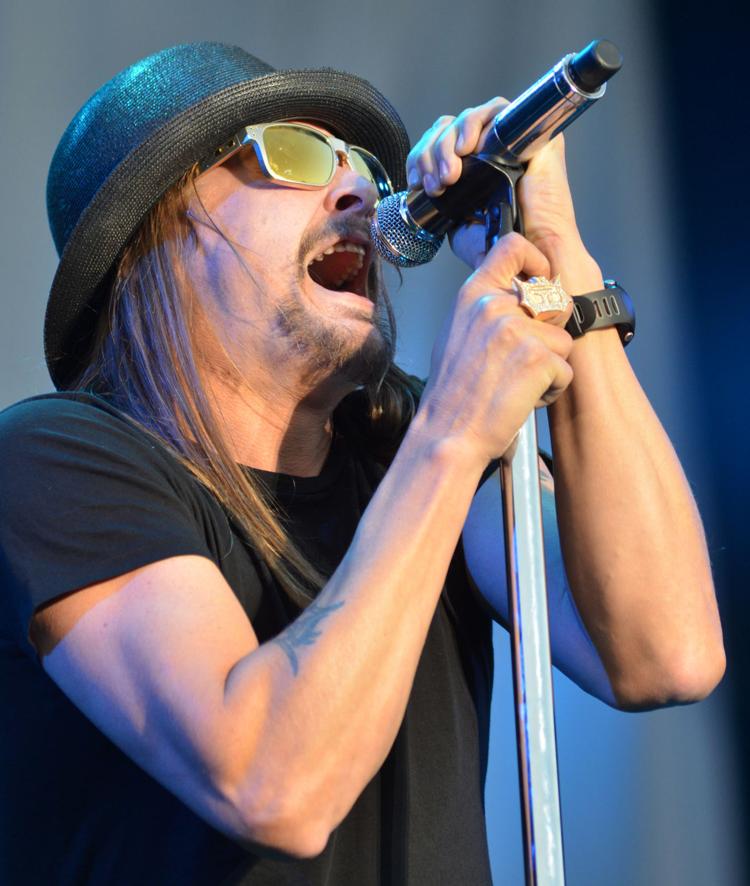 Just as many music fans would likely be horrified if Kid Rock were voted into the Rock & Roll Hall of Fame, plenty of wrestling fans are also having a hard time accepting that he'll soon receive the WWE's highest honor.
One Twitter commentator suggested that "a steel chair" — a favorite wrestling weapon — or wrestler Stone Cold Steve Austin's knee brace would make for more worthy inductees than Kid Rock.
Friday night's less controversial WWE Hall of Fame honorees include wrestlers Goldberg, the Dudley Boyz, Ivory, Jeff Jarrett and Hillbilly Jim.
Additionally, sports super-fan Jarrius "J.J." Robertson, the charismatic 15-year-old Reserve native whose fight against a chronic, growth-stunting liver disease involved a double liver transplant, will receive the Warrior Award. Named for the late wrestling icon the Ultimate Warrior, it is presented to a recipient "who has exhibited unwavering strength and perseverance and who lives life with the courage and compassion that embodies the indomitable spirit of Ultimate Warrior."
With his induction, Kid Rock joins such previous WWE "celebrity" inductees as Mr. T, Snoop Dogg, Mike Tyson, Arnold Schwarzenegger and the current president of the United States, Donald J. Trump, who memorably shaved the head of WWE kingpin Vince McMahon in the ring during WrestleMania 23 after prevailing in the "Battle of the Billionaires."
Some opposition to Kid Rock is clearly based on his perceived shortcomings as a musician and/or human.
But the bigger beef among hardcore wrestling fans seems to be that other celebrities have done far more for the WWE than Kid Rock and therefore deserved to be inducted before him.
The most glaring omission, according to this line of thought? Cyndi Lauper.
To be sure, Kid Rock's anthems are part of the WWE soundtrack. His "Cocky" and "All Summer Long" — which, with its clever use of Lynyrd Skynyrd and Warren Zevon samples, is a nifty bit of songcraft — have served as the theme music for WWE pay-per-view events.
The Undertaker, one of WWE's most memorable characters, rode his motorcycle to the ring to the tune of Kid Rock's "American Bad Ass." Female wrestling star Stacy Keibler used his cover of "Legs" as her theme music (why she didn't choose ZZ Top's far superior original version isn't clear).
He performed at WrestleMania's 25th anniversary, at a 2000 edition of the weekly Monday Night Raw event, and at the WWE's 2012 Tribute to the Troops.
And his future short-term wife, Pamela Anderson, made a memorable appearance on the arm of wrestling stud Diesel during WrestleMania XI in 1995.
Stylistically, Kid Rock and the WWE have much in common. Both are fond of spectacle. Both engage in outrageous behavior that is often calculated. Both are far more shrewd than they sometimes appear. Both groove to a soundtrack that alternates hard rock, rap and country.
And Kid Rock has engaged in a number of WWE-worthy smackdowns, including a yearslong feud with Motley Crue drummer Tommy Lee and an infamous late-night Waffle House brawl.
So his WWE Hall of Fame nod isn't completely out of left field.
And after the WWE selected New Orleans as the setting for WrestleMania 34, the selection made even more sense.
He has a long history with the city. He appeared in a commercial for his pal Sidney D. Torres' former trash company, SDT Waste & Debris. He shot the video for "Only God Knows Why" here.
And for his 2007 album "Rock N Roll Jesus," he wrote a tribute called "New Orleans." Sample lyric: "I'm gonna party like the devil if the Neville Brothers play tonight/Jambalaya and a crawfish pie gonna make my day/Down on the bayou singing Hey Pocky Way." When he played "New Orleans" during the encore of a 2008 concert at what was then the New Orleans Arena, the Rebirth Brass Band joined in.
A decade later, the WWE selected "New Orleans" as the official theme song for WrestleMania 34.
Which is all fine and good.
But were it not for Cyndi Lauper, WrestleMania and professional wrestling, might not be such a big deal.
As wrestling and MTV came of age as cultural forces in the mid-'80s, Lauper served as a mutually beneficial bridge between the two. She was the original rock 'n' wrestling connection.
After meeting wrestler Captain Lou Albano on a flight, Lauper recruited him to play her father in the hugely popular music video for her breakout 1983 hit "Girls Just Want To Have Fun." He later reprised the role in her "She Bop" video.
That evolved into an ongoing collaboration. Lauper eventually engaged in a "feud" with Albano. During an appearance alongside loudmouth Rowdy Roddy Piper, she clobbered Albano with her purse. Later, she "coached" a female wrestler who battled an Albano proxy on a pair of MTV-aired events, "The War to Settle The Score" and the sequel, "The Brawl to End it All."
She was a catalyst in storylines that played out at the very first WrestleMania, in New York's Madison Square Garden. She talked up wrestling on "The Tonight Show Starring Johnny Carson" and guested on a wrestling compilation album.
She looked back with apparent fondness on her wrestling association in her 2012 memoir. That same year, she appeared at a Raw event. For old time's sake, she smashed a gold record over somebody's head.
In a March 2017 article for Bleacherreport.com, Ryan Dilbert, who covers the WWE extensively, wrote, "Lauper deserves credit for helping get WWE noticed in the early stages of its expansion. The singer was a key figure in the cross-promotion."
And yet it is Kid Rock who will be inducted into the WWE Hall of Fame on Friday.
"Every time I go to a WWE event, I always have a good time; there is nothing like it and no better fans in the world," Kid Rock told Billboard magazine recently. "The Hall of Fame ceremony will be a fun night, and it will be great to see everyone again. I have so much respect for what those guys and girls do. I'm grateful to WWE for letting me be a part of WrestleMania weekend."
Whether wrestling fans will be as welcoming remains to be seen.