Even before it started, Katy Perry's performance at New Orleans' Smoothie King Center on Friday was literally eye-popping.
In the minutes between opening act Carly Rae Jepsen's exit to a spunky "I Really Like You" and Perry's entrance aboard a satellite-style star, a close-up of an eyeball, its blue-green iris ablaze, filled the enormous, eye-shaped LED screen that stretched the width of the stage. The eyeball wasn't static: It twitched and turned, staring at the audience staring back at it.
The eye made for a striking visual. A similarly arresting aesthetic and attention to detail informed the whole of Perry's extravagant production.
Nearly every song featured a wow-factor gimmick: Acrobatic dancers popping in and out of room-size dice. A pair of 10-foot-tall, prancing flamingo puppets. Oversized salt shakers dispensing silver glitter. Confetti made from reproductions of a receipt and playing card suits. Eyeball beach balls. A male contortionist twirling on the stem of a jumbo-size metallic rose. A huge pair of inflatable lips that swallowed Perry during "I Kissed a Girl."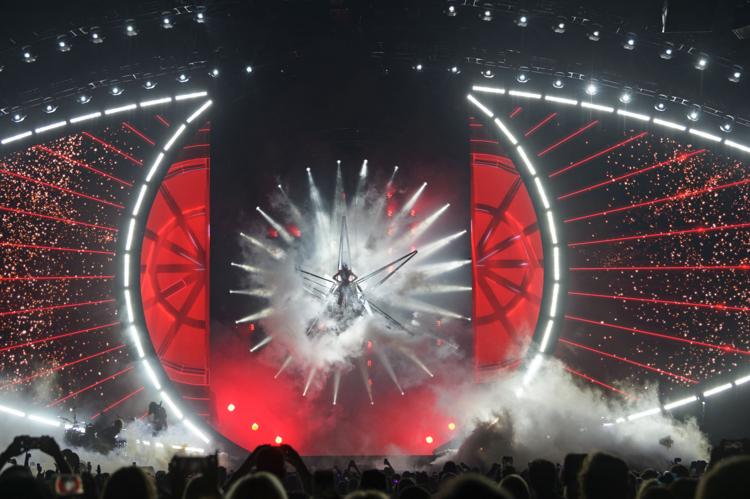 She changed costumes frequently, as did her troupe of eight female dancers; for "Chained to the Rhythm," the dancers sported surreal, TV-shaped helmets.
Perry first emerged wearing a glittering red hooded ensemble that one of the high-end casino patrons from "The Last Jedi" might have sported. With a buzz cut and her eyes hidden behind sunglasses, she presented herself as a stern, unsmiling enigma, in direct contrast to her more playful personas of the past.
Not that she was averse to having fun. Over the course of a two-hour show, she floated over the crowd atop Saturn, strumming an acoustic guitar on "Thinking of You." She broadcast a live, at times awkward phone call with her mother, who earned a big cheer by suggesting the Saints are again bound for the Super Bowl.
She chatted about her sunburned back and jellyfish sting, likely acquired while in sunny Dubai for a New Year's Eve concert. She joked that, at age 300, New Orleans "looks great. You're barely sinking."
Frolicking in form-fitting, shiny-blue athletic gear, she challenged a dad from the audience — he turned out to be former LSU men's basketball coach John Brady, the father of one of Perry's dancers — to a shooting contest on an oversized basketball goal (he won, 1-0).
She summoned a pair of sisters, ages 10 and 7, from way back in section 104 and invited them to join her on a teardrop-shaped satellite stage to discuss their dreams. The plucky 7-year-old expressed her distaste for bullies, which Perry seconded. The sweet encounter ended with Perry, still as approachable as a pop star can be, orchestrating a selfie with the girls.
Left Shark, the infamously out-of-sync dancing prop from her 2015 Super Bowl halftime show, even joined her on a long, curving runway for "California Gurls," an indication that Perry's sense of humor is still intact.
But despite all this effort and the overall artful curation, the show didn't connect like previous Perry tours, most notably her sugary and slightly salty 2011 California Dreams romp.
Now 33, a decade into her career, she steered her current album, "Witness," away from her bold, primary-colored pop anthems of the past in favor of a denser, more severe sound. Monochromatic melodies aren't nearly as memorable.
That the set list featured more songs from "Witness" than any other album meant the production was often more interesting, and more vibrant, than the music itself.
Her five-piece band and two backing vocalists worked hard, but their individual contributions, especially those of the guitarists, were blunted by a mix compressed into the middle ranges.
In this presentation, even surefire anthems from Perry's catalog didn't crackle. "Roar" was once a show-stopper, an empowerment anthem with undeniable strength. It concluded the regular set on Friday but was underwhelming.
So, too, was the final "Firework," which Perry sang in an evening gown atop a giant hand. The arrangement opened as a ballad, slow and drawn out; it never caught fire. Like much of the show, this "Firework" was pretty, but it didn't quite pop.