The similarities between smart, socially aware, multifaceted indie rock band Portugal. The Man and swaggering '80s arena rockers Van Halen are not immediately apparent.
But according to Portugal. The Man drummer Jason Sechrist, Van Halen is essential to his band's existence.
"I probably wouldn't be here today, in a weird way, if it wasn't for Van Halen," Sechrist said during a recent phone interview. "I loved Van Halen as a kid. When the '1984' record came out, I was 4 years old, jumping off the furniture. It was really influential to me."
No one is likely to confuse Portugal. The Man with Van Halen and not just because of the former's lack of David Lee Roth's fringed leather chaps.
Based in Portland, Oregon, Portugal. The Man occupies its own corner of the musical cosmos, drawing on progressive indie rock, classic hard rock and everything in between. After years of touring and membership changes, the band, fronted by singer John Gourley, scored a commercial breakthrough with its 2017 album "Woodstock."
The single "Feel It Still" blew up as the group's biggest hit to date and won a Grammy for best pop duo/group performance. "Feel It Still" achieved a measure of pop culture ubiquity, turning up in iPad and Vitamin Water commercials and endorsed to a national morning show audience by Hoda Kotb. The follow-up single, "Live in the Moment," also was omnipresent.
Portugal. The Man will complete its "Woodstock" touring cycle with a brief run that includes Friday's show at the Sugar Mill, 1021 Convention Center Blvd. in the Warehouse District, with Chicano Batman and Valerie Sassyfras. Show time is 9 p.m.; tickets are $40 general admission, $125 VIP.
Gourley and bassist Zach Carothers co-founded the group in Wasilla, Alaska, in 2004, before moving to Portland. Members have come and gone over the years. Guitarist Eric Howk, a fellow Wasilla native who was paralyzed from the sternum down in a fall 11 years ago, joined in 2015, just in time for the "Woodstock" breakthrough.
After all the touring of the past year, "everyone's playing tighter; everyone's playing smarter," Sechrist said. "That comes from being comfortable onstage and repetition. A lot of it is muscle memory. But achieving muscle memory is brain work."
Muscle memory aside, avoiding clichés is a priority with Portugal. The Man.
"You don't want to get in that spot in your head where you're like, 'Oh geez, if I don't wear my same black leather jacket with that same red guitar, this show is going to be a giant mess,'" Sechrist said. "You can't psyche yourself like that. We're able to roll with the punches pretty well.
"A hard thing to do would be to have a 4 o'clock show in the blazing sun and your only look is to have black leather jackets on and chug away on your guitar riff in perfect tone. You've got to know how to be able to rock in shorts and a T-shirt when it's 90 degrees and the sun is in your face. You have to be able to put on different costumes and have fun with it."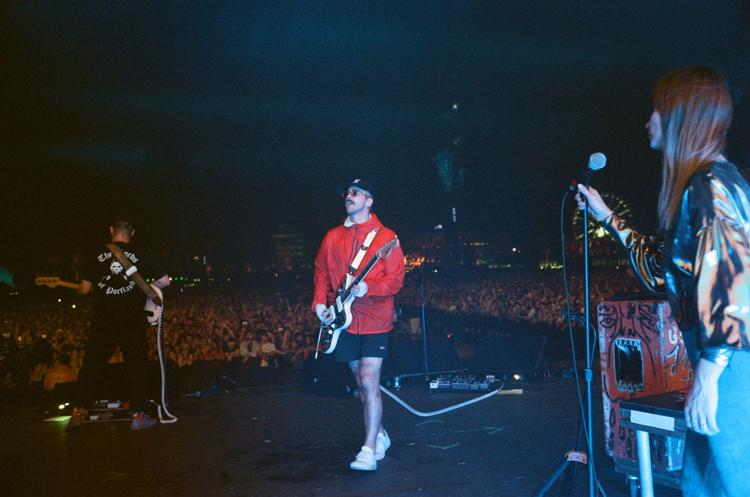 Their collective sense of humor and self-awareness is obvious. Onstage, the screen behind the band has flashed such messages as, "We are Portugal. The Man. Just making sure you're at the right concert."
After the current tour wraps up with an appearance on "Late Night with Seth Meyers," Sechrist and his bandmates will spend much of October and November in a Portland studio, working on new material.
"I can't really give you any specifics. But with how many gigs we played this year, the band has been really tight in the right ways and loose in the right ways. We understand simplicity and we understand busy-ness. I think we're in a good place right now. It just feels like it's going to move really well once we get going.
"You'll still have those issues where one song for some reason takes three or four months to figure out, and another song you can have practically finished that day. It's good to know when to stop beating a dead horse and/or when to enjoy a simple groove or simple beat. We still like to attempt shredding, but we're a sucker for basic pop music as well."
Which, in a way, isn't all that different from Van Halen.
"There's a severe difference," Sechrist said, "between Van Halen's 'Hot For Teacher' and 'Panama,' which demand some serious musicianship and shredding, versus big pop singalongs like 'I'll Wait' or 'Jump.'
"It truly does feel weird to just commit to one thing. It's weird to only be a guitar rock band. We don't want to be considered radio pop necessarily; we don't want to be considered a rock band. We're trying to dabble in everything because we like everything."
Given that, does Sechrist have a sense of fans' — or detractors' — perception of the group?
"That's sort of the ultimate question. We're too in the middle of the hurricane to see it from an outside perspective. It's hard to be like, 'What kind of group is this?'
"I think it's going in the right direction. I feel like we're a group of dudes that can mess around with synthesizers. We're a group of dudes that can strum some guitars. We're a group of dudes that can play some drum sets. We're a group of dudes that sing — or attempt some singing.
"We might not be the best singers; we may not be the best drummers. But we've got some good taste and we're traveling to the right spot and we're playing the right notes.
"I feel like I'm in a good spot. I feel alternative enough. I feel pop enough. I feel rocking enough. I feel gritty enough. I feel relevant enough. Everything feels good. In the end, I'm a rocker, a rock kid. But we all dabble in wild stuff."