Panic At the Disco is a case study in modern rock extremism and evolution, having experienced extreme highs and lows across a compact timeline.
The bandmembers were still in high school in Las Vegas, and had not played a single show, when bassist Pete Wentz, of Fall Out Boy, signed them to his record label.
Wentz's early support helped sell more than a million copies of Panic At the Disco's 2005 debut, "A Fever You Can't Sweat Out."
But the ties that bound the young musicians frayed quickly. Members departed; their replacements departed. Fourteen years in, only singer Brendon Urie remains from the original Panic roster. He has reshaped the band in his image, even as he has evolved and matured.
As a result, Panic At the Disco is more popular than ever. The winter leg of the band's "Pray for the Wicked" tour stops at the Smoothie King Center on Saturday. It is officially sold out, though tickets are available on the secondary market.
Saturday will be Panic's largest ever headlining show in New Orleans, with more than 12,000 in attendance.
By contrast, in October 2011 Panic headlined Tipitina's, with a capacity of less than 1,000.
The opening act at Tipitina's? Fall Out Boy singer Patrick Stump, estranged at the time from his former bandmates.
Fall Out Boy would eventually reunite and return to arena headlining status. And Panic At the Disco, under Urie's stewardship, would continue its steady, if drama-filled, ascent, as various musicians quit or were dismissed.
That ascent was in part fueled by killer live shows. In summer 2016, Panic co-headlined an amphitheater tour with veteran alt-rock act Weezer. That tour stopped at Bold Sphere Music at Champions Square.
And Panic At the Disco essentially blew Weezer away.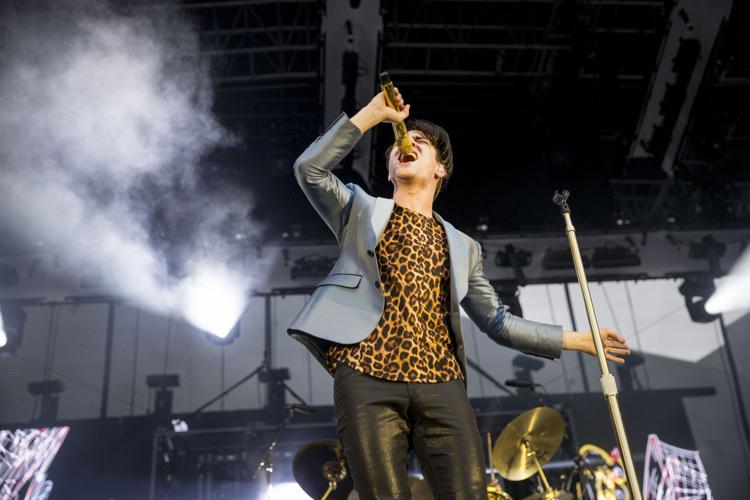 Panic presented itself as a decidedly contemporary, polished rock band that understood the value of showmanship and sweat.
The energy onstage and in the audience, which skewed heavily millennial and younger, during Panic At the Disco's frenetic set was electric. Sweating profusely in a leopard-print shirt, blue-gray sharkskin jacket and black leather pants, Urie was a dervish, a force of nature chewing up the stage, more than capable of carrying the show himself.
With the rest of the band serving as a visual backdrop in black suits and/or ties — despite the night's crushing humidity — Urie blazed across them like a shooting star.
In its normal range, his voice recalled that of Brandon Flowers, the singer in another Vegas-born band, the Killers. The similarities were especially apparent on "Ready To Go (Get Me Out of My Mind)," which Urie concluded with an un-Flowers-like falsetto.
Not content to simply sing, he took a turn on a piano for "Nine in the Afternoon." He flipped his golden microphone. During "Crazy=Genius," with its cheeky big band swing and references to the Beach Boys' Brian Wilson and Mike Love, he engaged the band's drummer in a battle, more than holding his own on a second drum kit. During "Miss Jackson," he executed a backflip off the drum riser. He crooned like a Vegas showman, backed just by three horns, in the early going of "Death of a Bachelor."
That show took place barely 24 hours after a gunman killed dozens of patrons at Pulse, a gay nightclub in Orlando, Florida. Urie made indirect reference to the tragedy in a defiant prelude to "Girls/Girls/Boys." Who anyone wants to love, he asserted in more frank terms, is not the business of those who seek to "strike fear." To them, Urie continued, "I say, 'F*** you, come at me.'"
He even had the gumption and skill to pull off a faithful "Bohemian Rhapsody" — Panic covered the Queen classic on the soundtrack of the film "Suicide Squad" — channeling the late Freddie Mercury, one of the greatest frontmen of all time.
Just to attempt "Bohemian Rhapsody" requires a certain amount of moxie. But Urie went full-on Freddie Mercury, working a piano during the opening segments, preening and prancing. He prefaced "Bohemian Rhapsody" with a disclaimer: "I wish I could have written this song. I never could, and I never did. But we're doing it anyway."
He didn't write it, but he and his bandmates more than did it justice. Grandiosity suits present-day Panic At the Disco, a band that evolution and upheaval have served well.