In the newest episode of Anthony Bourdain's CNN series "Parts Unknown," the late chef, world traveler, adventurer and television personality documented a visit to south Louisiana last February to immerse himself in Cajun Mardi Gras.
Bourdain, who was found dead in a French hotel room on June 8 after committing suicide, ventured to places like Opelousas, Mamou and Grand Coteau to find what makes Cajun Mardi Gras -- and the area's culture -- truly one-of-a-kind.
"There are parts of America that are special, unique, unlike anywhere else. Cultures all their own, kept close, much loved but largely misunderstood," Bourdain's voice-over for the episode begins. "The vast patchwork of saltwater marshes, bayous and prairie land that make up Cajun country is one of those places."
Here are a few notable moments from the highly entertaining show (but, first, if you need a quick lesson what Cajun Mardi Gras -- in which costumed and masked runners on horseback, foot or trailer race through neighborhoods begging for chickens to put in the communal gumbo pot that evening -- is exactly, click here):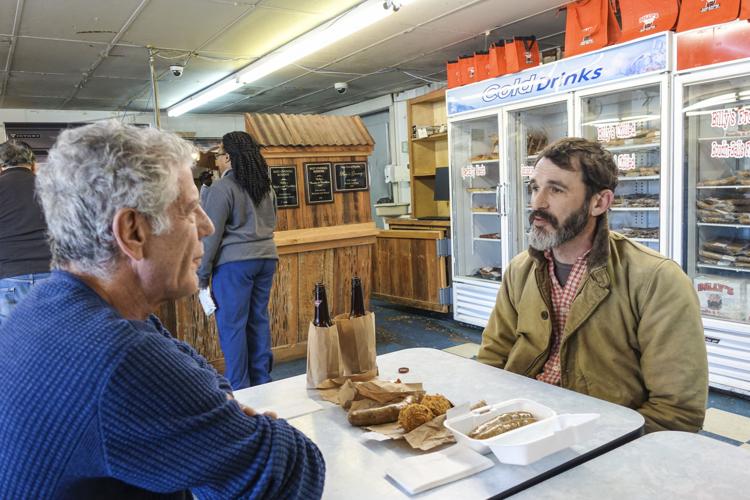 Cajun Mardi Gras is 'insane'
Almost 10 years after his first trip to Acadiana, when he learned the ins and outs of a boucherie, Bourdain reconnects with with the musical Savoy family. He finds them in their backyard playing. Patriarch Marc Savoy is on the accordion, wife Ann plays guitar, and sons Joel and Wilson fiddle away. Together, they're the Savoy Family Band. What does Ann think of Cajun Mardi Gras? It's become "insane," she cracks. 
A fais do-do to remember
-- A fais do-do in Grand Coteau is the next stop for Bourdain. The chilly rain doesn't let up, but neither does the pre-Carnival partying under a tent. Bourdain asks party-goers some interesting questions about women's roles in Cajun Mardi Gras. "It's backwards here," remarks a woman. Cajun Mardi Gras is almost exclusively an all-male event. There's a separate run, though, in which women can participate. At the fais do-do there's boiled crawfish (*NOT* crawdads or mudbugs, Bourdain learns).
The music cranks up too, and, though the ground is muddy (think Jazz Fest-style muddy), that doesn't stop folks from dancing. Some people decide to actually sling mud and jump in the mud. Did we mention alcohol was served at the fais do-do?
Pig hunting, of course
Bourdain also goes pig hunting in the episode. He joins the Miller family in a marshland on an air boat. On this day, though, the boys leave empty handed, but the day's not lost. Bourdain joins Jackie and Larry Miller's family for dinner on Lundi Gras. "Grandma Jackie" gifts Bourdain his Mardi Gras costume. Jackie Miller works year-round on the colorful costumes, she says. She's a traditionalist too. Some people ask for Saints and LSU-themed costumes, but that's not her style. Bourdain is thoroughly impressed with his costume.
Finally, Mardi Gras arrives
Mardi Gras arrives, and Boudain feels 'like he should warn people." The revelers gather in costume -- and with plenty of beer.  The group first stops at a retirement home to dance a bit. After that kind gesture, and before 9 a.m., Bourdain observes everyone is quite, say, full of beer. For a few minutes, viewers see Cajun Mardi Gras for what it is -- grown (drunk) men chasing chickens as they parade from home to home. "Kind of like trick-or-treating ... if everyone was drunk and competing for the last peanut butter cup," Bourdain notes.
When the paradegoers return to the town of Mamou, the expressions on people's faces are priceless. A couple of men appear to pass out from the day of partying. On-lookers giggle and take pictures. "Gonna be hurting tomorrow," Bourdain said.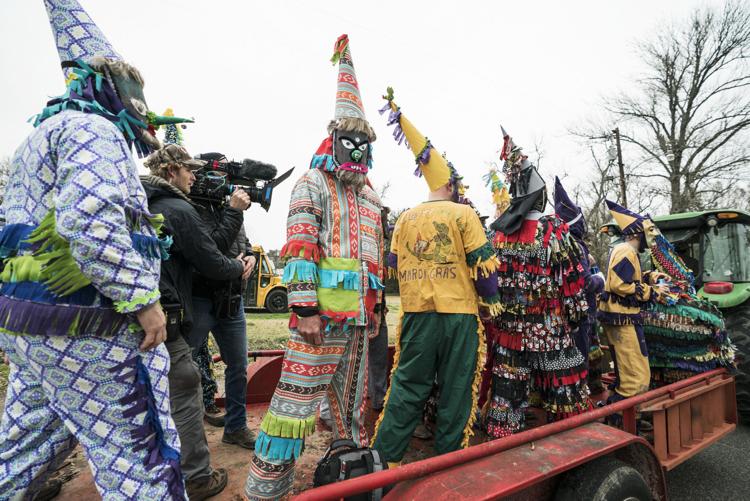 'Memorable if nothing else'
Bourdain takes the drive-through line at First Lutheran Church in Lafayette to receive ashes on Ash Wednesday. Then he heads to Suire's in Kaplan. No frills here. The restaurant and grocery has its menu written on the wall outside. Bourdain polishes off an oyster po-boy, crawfish étouffée and a slice of pecan pie. After his Cajun Mardi Gras experience Bourdain notes he has a few bruises, a minimal hangover but is feeling pretty good. "Memorable if nothing else," he says, as the show winds down, "...through the parting clouds of cruel winter there is light and hope and the onset of spring."
Advocate staff writer Judy Bergeron contributed to this report.