A New Orleans activist group is threatening to pull down the city's most recognizable statue in response to what members claim are unreasonable delays in removing four other monuments honoring Confederate leaders and a 19th century white supremacist militia.
Take 'Em Down NOLA says it will attempt to topple the statue of Andrew Jackson during a protest later this month in Jackson Square. Legal delays have kept the other statues -- honoring Confederate President Jefferson Davis, Confederate generals Robert E. Lee and P.G.T. Beauregard, and a militia known as the White League -- standing nine months after the City Council authorized their removal.  
"We're going to go to Jackson Square. We're going to put ropes around Andrew Jackson and we're going to take him down off his pedestal," Take 'Em Down organizer and longtime civil rights activist Malcolm Suber said during a forum the group held Thursday.
The demonstration, scheduled for Sept. 24, will come a few days before judges on the U.S. 5th Circuit Court of Appeals are scheduled to hear arguments over whether to lift an order that halted the removal of the monuments.
"The key is we're not going to wait," Take 'Em Down organizer Angela Kinlaw said. "The city has taken plenty of time to make a decision. But the people are ready to move."
It's not clear how serious or successful any attempt to remove the Andrew Jackson statue would be.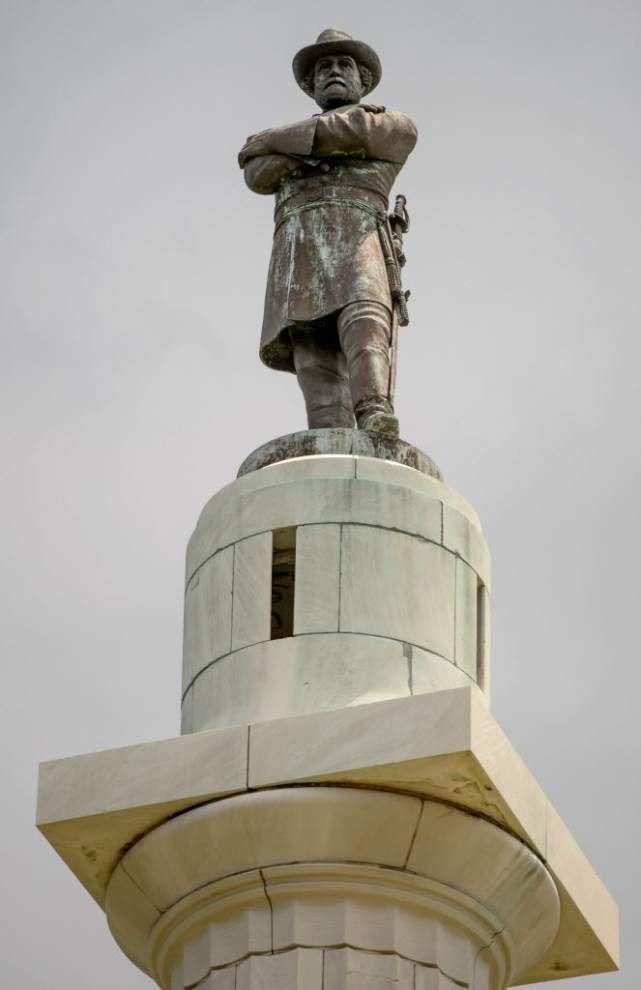 Asked whether protesters would actually try to wrestle the statue to the ground, Kinlaw said it was largely a symbolic effort, but that "anything can happen during a demonstration."
Suber said after the meeting that the effort would succeed "if we've got enough people and we've got enough rope."
Hayne Rainey, spokesman for Mayor Mitch Landrieu, said in an email, "We understand that there are strong emotions surrounding this subject and we ask that any public demonstrations remain peaceful and respectful as they have since we began this process. As a reminder, vandalism of any public property is strictly prohibited."
The equestrian Jackson statue is one of numerous monuments, streets and buildings that Take 'Em Down organizers believe promotes the idea of white supremacy by honoring slave owners and others who contributed to the oppression of minorities.
Although Jackson was the hero of the Battle of New Orleans in 1815, he not only owned slaves but, as president, was responsible for the removal of Native American groups living in the Southeast.
The City Council has not seriously considered pushing for the removal of the Jackson statue.
"Why would we want to continue to honor this person?" asked Suber, who said removing a statue so associated with New Orleans would send a wider message and serve as a "shot heard 'round the world."
Landrieu called for the removal of the Confederate monuments last summer after a young man who espoused white supremacist views killed nine parishioners at an African-American church in Charleston, S.C. The City Council agreed in December, voting 6-1 to authorize the statues' removal from city property.
However, several groups quickly filed suit to block the plan, and the case has been tied up in the courts ever since.
A panel of 5th Circuit judges is expected to hear arguments Sept. 28 on whether to extend a court order that would keep the monuments in place while the suit challenging their removal goes to a full trial.
Plans to take down the monuments weren't helped after the original contractor hired to remove them dropped out after its owner said he received death threats. Interest from other companies was lukewarm when the city later asked for public bids.
Take 'Em Down organizers blamed the delay on both the courts — the 5th Circuit is considered one of the most conservative federal appeals courts in the nation — and a lack of aggressive action by the city. They said the city should have denounced or ignored the court order.
"I'm saying we should defy that order. That order should have no standing with us at all," Suber said. "We have no respect for the 5th Circuit because they're all (expletive) racists anyway."
Take 'Em Down is also planning a protest at next week's City Council meeting and is encouraging supporters to attend the court hearing on Sept. 28.
While the City Council and Landrieu have made few public comments in recent months about the case, it's not clear there's much more it could be doing while the suit is being reviewed by the courts.
"We remain committed to taking down these monuments," Rainey said. "At this time, we respect the court's order to not remove them while the matter is pending. We understand the public's frustration with this process and ask for continued patience as we move forward."
Citing the city's success in previous phases of the case, and in a similar one filed in state court, Rainey said "we are confident the court will continue to rule in our favor."
Rainey did not comment on whether the city would be making any plans for increased security around the Jackson statue during the protest.
Its attorneys have repeatedly argued that the city should have the right to do what it wishes with public statues on city land, and they have made specific arguments about why each of the Confederate monuments should come down.
Two federal agencies have said they have no reason to try to keep a monument to an 1874 whit…
In addition, the city has used the case as a way to seek federal permission to remove the White League monument, which commemorates the Battle of Liberty Place — fought in New Orleans in 1874 — and which is protected by a federal court order dating back to a previous attempt by city officials to remove it.
The stone obelisk, which now sits behind the Canal Place parking garage on Iberville Street near the river, commemorates an attempt to overthrow the state's biracial Reconstruction-era government by a group of mostly former Confederate soldiers seeking to restore all-white "home rule." Dozens of people, including black and white police officers fighting against the militia, were killed.
But Suber and others said those actions by the city were not enough.
"If the city doesn't fulfill this promise, if the administration won't fulfill this promise, if the councilmen won't fulfill their promise, it's imperative that we act on behalf of the good citizens of this city," Suber said.