It would have been hard to imagine that the foul layer of muck coating much of New Orleans after Hurricane Katrina would have done anyone any good, but it seems that all that mud may ultimately have improved public health. 
The infusion of new sediment, combined with the extra dirt brought in later to help raise homes throughout the city, appears to have contributed to a dramatic decline in the amount of lead found in both soil and blood samples, according to a new study published in the journal Environment International. 
Children tested before the 2005 storm were 4.5 times as likely as those tested over the past few years to have unusually high levels of lead in their blood, the study found. And the average amount of lead in the soil tested by researchers has been cut in half.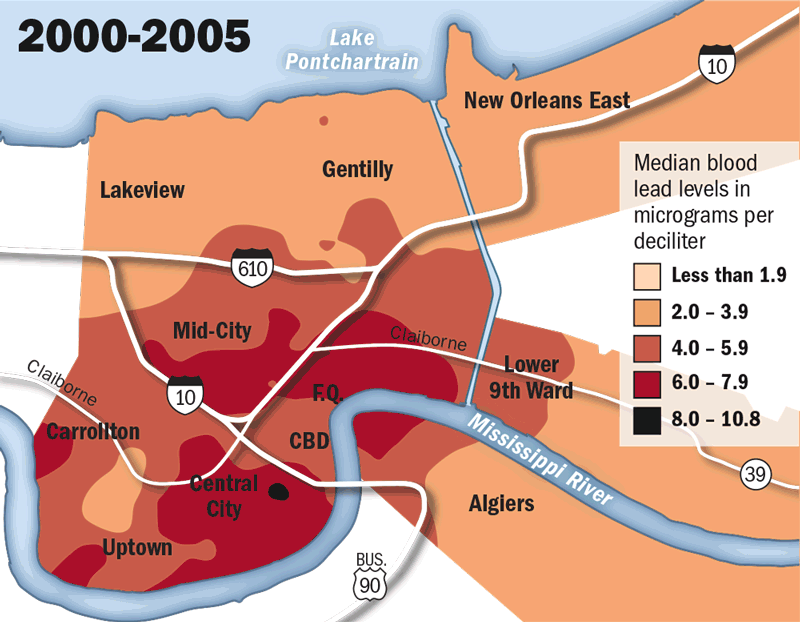 The report suggests both that contaminated soil is a key source of lead ingested by children and that widespread efforts to cover that soil with clean dirt can have a major impact, said Howard Mielke, a Tulane School of Medicine pharmacology professor and one of the authors of the study.
"Apparently, just small changes in the amount of lead in the soil will make a big difference in that whole process," said Mielke, who has studied lead levels in New Orleans for many years.
Researchers have long warned about the effects of lead exposure, linking it to developmental problems in children that have been tied to a range of behavioral problems, from learning disabilities to violent behavior and crime.
Those concerns have been ramped up lately in the wake of a crisis in Flint, Michigan, where the drinking water became contaminated with lead in 2014. 
Those concerns were also on display in New Orleans on Friday, as members of the group known as A Community Voice called on the Orleans Parish School Board to speed up efforts to test and filter water in the city's schools.
The new study from Tulane focused on soil, one of the major sources of lead. The widespread impact of the flooding during Katrina provided the first opportunity to test how much of an influence lead in soil could play on a citywide scale, Mielke said.
The study suggests the reductions in local lead levels were due to a handful of factors. The storm's floodwaters brought with them sediment that covered over contaminated soil. Post-Katrina renovations removed lead paint from many old homes. And some people brought in new soil to help elevate their homes.
Lead can get into the soil from a variety of sources. Some is from fumes from leaded gasoline, which was fully phased out in the 1980s, or from incinerators that were later shut down, Mielke said.
In some places, there are more direct causes, such as a lead smelting plant that used to operate in Algiers or a paint manufacturer on Tchoupitoulas Street.
The fact that most of those sources have been eliminated suggests that lead levels will continue to decrease, Mielke said.
"I think once you stop the flow, there's a downward trend," he said. "There's a lot of ways in which lead particles were moved into the soil." 
Previous research by Mielke has shown that it doesn't take much to reduce the amount of lead in the soil. A covering of 6 inches of clean dirt is enough to stop children from getting to the contaminated soil underneath it and to prevent the toxins from getting kicked up and inhaled, he said.
While the new study is largely positive, it notes that both blood tests and soil samples still show higher levels of lead in the historic core of the city.
"It's a discouraging kind of pattern to see in the city, but we see it in every city we look at: Children living in the interior of the city have higher lead levels, learning disabilities, violent tendencies and impulse control problems. Higher lead levels will do that," Mielke said.
Meanwhile, some local activists are worrying about whether the city's schools might be exposing children to lead.
At a news conference Friday, Jo Ann Jackson, an organizer with A Community Voice, called on the school system to begin testing for lead in the water in its facilities and to install water filters.
The School Board is already moving toward such a plan, and it has been working with a consultant since April to determine how and when to do those tests, said board member Nolan Marshall, who met with Jackson and other members of her group Friday.
The board is expected to seek bids for the work this fall, though it is not clear what the timeline would be for performing it.
Jackson said the School Board should speed up the process and remove red tape to get the testing done as soon as possible.