Officials released more details Tuesday on the plans of the two groups vying to redevelop the former Charity Hospital building on Tulane Avenue, shedding additional light on their competing visions for the long-shuttered site and the surrounding area.
Both proposals conjure up visions of the massive Art Deco hospital tower and smaller nearby buildings buzzing with an economic cross-section of workers and residents and lifting the fortunes of the surrounding neighborhood.
But while the general outlines of the plans from HRI Properties and 1532 Tulane Partners both call for mixed-use developments, the mix of businesses and government entities detailed within the proposals, as well as their requirements for public funding, paint competing pictures for an area of downtown New Orleans that remains a prime target for redevelopment.
The two developers pitching plans to redevelop the former Charity Hospital building on Tulane Avenue both envision creating lots of housing un…
HRI envisions a relocated City Hall as an anchor tenant for a complex that would also feature apartments and retail development, primarily funded by public money. It also aims to stretch the city's tourism footprint well beyond the French Quarter.
Tulane Partners sees a mix of housing, medical research and retail development, two-thirds of which would be privately funded. 
Tulane Partners said its plan would cost an estimated $245 million, while HRI said the three possible scenarios it put forward would cost between $349 million and $380 million.
Summaries of both proposals were made available last week, before the LSU Real Estate Facilities Foundation heard in-person pitches from the developers.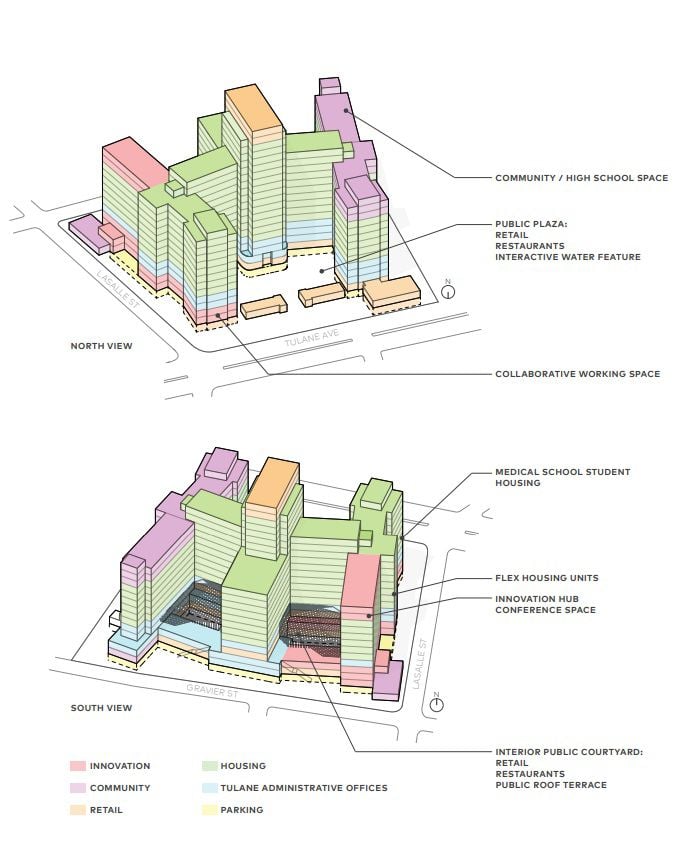 HRI's team, led by longtime local developer Pres Kabacoff, said the first phase would be 152 mixed-income apartment units, followed by the renovation of 440,000 square feet for a new City Hall. That phase would also include neighborhood retail and restaurant development and basement parking.
The final phase would be an additional 155 mixed-income apartments.
In the event that the city is not interested in locating its offices at Charity — something that is quite possible, given Mayor LaToya Cantrell's public statements on such a move — the second phase would be 246 mixed-income apartments and retail development.
The third phase would be to renovate space for either 300,000 square feet of administrative and research space for Tulane University, 250,000 square feet for the United Way, or an unspecified amount of space for potential biomedical research tenants. Another alternative is an additional 239 units of residential development.
HRI's proposal also includes a $110 million retail development across Tulane Avenue from Charity, with about 382,000 square feet of offices, a retail anchor, boutiques, eateries and various services, such as a fitness center. It would also have 82 residential units and parking for 1,400 vehicles.
This development would need to be subsidized to the tune of about $40 million, though HRI touted the potential increase in employment and sales tax revenue as a benefit to the city.
Tulane Partners, a partnership between local developer CCNO and the Israel-based El Ad Group, is pitching a renovated Charity with Tulane University as its anchor tenant, along with 462 mixed-income residential units, medical training programs, an innovation hub, shops and restaurants.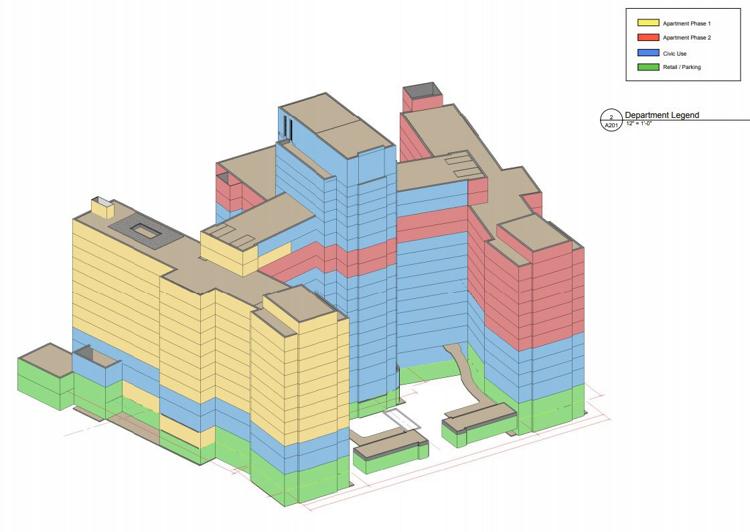 The building's old laundry and power plant facilities would be converted into a mixed-use development including conference rooms, meeting space and medical research facilities.
In the second phase, the nearby Dibert Building would become permanent low-income housing with mental health support services, while the L&M Building would include apartments ranging from those for very low-income people to market-rate.
The third phase would see a new YMCA community center to offer programs for seniors and youth.
Tulane Partners said the building would promote entrepreneurship by providing spaces for collaboration among students, researchers and private industry.
Its proposal said part of the revenue from a special taxing district to be created for the property would fund a grant program for disadvantaged businesses, and there have been discussions with local high schools and universities about creating internship opportunities for students.
The development also would include public green space and pocket parks, and Charity's rooftop would be outfitted with systems designed to capture and reuse stormwater.
The Greater New Orleans Foundation is currently working on a plan for a large tax increment financing district around the Charity site, and both proposals have factored the creation of such a district into their plans.
A committee assembled by the LSU Real Estate Facilities Foundation will make a recommendation in the coming weeks, and the LSU Board of Supervisors is expected to vote on that plan at a meeting next month.
Both groups have said the projects could be built out by 2021.
The list of firms vying to redevelop the vacant former Charity Hospital building is down to two, with one of three firms in the running opting…
The HRI proposal can be viewed in full here.
The 1532 Tulane Partners proposal can be viewed in full here.