As Hurricane Nate bears down on the Gulf Coast, New Orleans Mayor Mitch Landrieu has ordered a mandatory curfew for the city. 
Here are the important times and details to know for the shelter in place order: 
• The curfew will begin at 7 p.m. Saturday evening — an hour later than was initially stated. The order will last until Sunday morning, when the severe weather has passed.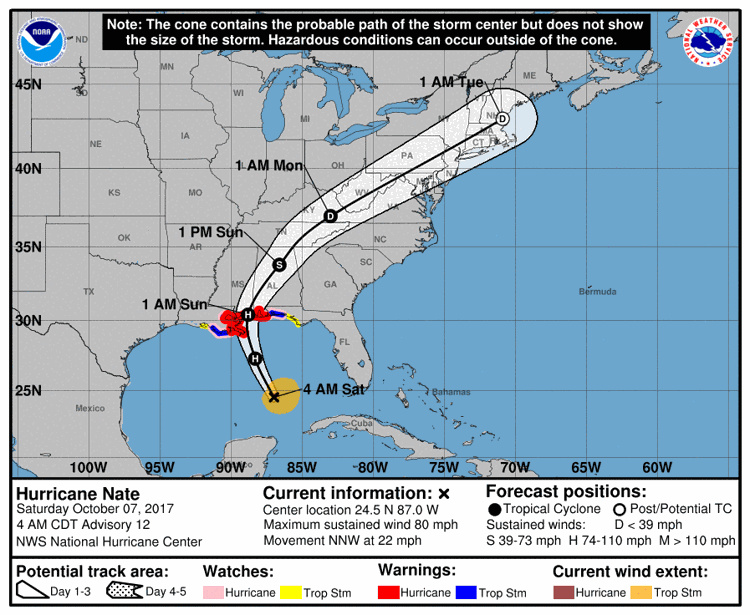 • People travelling to and from work, as well as safety workers will be allowed to pass streets that are safe.
• Underpasses will be barricaded throughout the curfew, and will remain closed until roads are safe to pass.  
• Cars are allowed to be parked on neutral grounds and sidewalks, provided they do not block intersections. 
• No parking is allowed on both sides of Canal Street from Rendon Street to Clark Street and on Jefferson Davis Parkway on both sides from Cleveland Avenue to Iberville Street. Cars parked in these areas will be towed.
• RTA services will be suspended at 7 p.m. Saturday; streetcar service was replaced by bus service on Saturday. There is no service on the riverfront line. 
• There are no ferry services on both the Algiers Point/Canal St. Ferry as well as the Lower Algiers/Chalmette Ferry. Ferry services will remain closed until the city's curfew has been lifted.
• Regular garbage and recycling service will continue as scheduled until further notice as weather permits. Residents are reminded to secure all garbage and recycling carts after collection.
• Officials expect the weather to make emergency calls difficult to respond to at certain points.
• The NOPD has said they will take "strong enforcement action" against anyone violating the curfew or going around barricades. 
• Sandbags can be located at: 987 Robert E. Lee Boulevard; 2000 Martin Luther King Boulevard; 4115 Woodland Avenue; 2118 Elysian Fields Avenue; 5403 Read Road
• Updates can be found here. 
Evacuations were ordered in vulnerable parts of the New Orleans region Friday as Hurricane N…
Can't see the video below? Click here. 
Hurricane Nate was nearing Category 2 strength on Saturday with winds of up to 90 mph. 
The National Hurricane Center projected that Nate would brush by the southeast tip of Louisiana, near the mouth of the Mississippi River, around 7 p.m. A late Saturday landfall projected for the Mississippi Gulf Coast posed a multitude of threats, including heavy rain, high tides and strong winds.
As new Hurricane Nate forecast tracks are released every six hours, forecasters are paying c…
Continuing to strengthen as it nears the central gulf coast, Hurricane Nate is expected to m…
States of emergency have been declared in Louisiana, Mississippi and Alabama; officials announced evacuation orders in low-lying areas and the opening of shelters for anyone who needs them.
Landrieu said Friday 109 of the city's 120 pumps are functioning. Some 26 backup generators are also in place, with three of the city's five power generating turbines currently active. Efforts to clean thousands of street catch basins have been stepped up, with vacuum trucks dispatched to various areas to suck out thick mud and debris.
"Right now this storm should not bring us anything that we're not prepared to handle," Landrieu said Saturday.
Nate could dump 3 to 6 inches (7 to 15 centimeters) of rain on the region — with isolated totals of up to 10 inches (25 centimeters).
Gov. John Bel Edwards said he spoke with President Trump on Saturday morning. "He assured me that LA would have all the assistance we need as we prepare for #Nate," the governor posted on Twitter.
Nate was located at 10 a.m. CDT Saturday about 180 miles (285 kilometers) south-southeast of the mouth of the Mississippi River. 
Nate has already killed at least 21 people in Central America.
A hurricane warning is in effect from Grand Isle, Louisiana, to the Alabama-Florida border and also for metropolitan New Orleans and nearby Lake Pontchartrain. Tropical storm warnings extended west of Grand Isle to Morgan City, Louisiana, and around Lake Maurepas and east of the Alabama-Florida border to the Okaloosa-Walton County line in the Florida Panhandle.