The controversy over chloroprene emissions at the Denka Performance Elastomer chemical plant in LaPlace rarely provokes much discussion at St. John the Baptist Parish Council meetings.
But Tuesday was different, and members slammed state environmental regulators for not communicating with them about the plant's failure to comply with new emissions limits.
Councilman Lennix "Tweet" Madere, who represents the Reserve area, said he invited Louisiana Department of Environmental Quality Secretary Chuck Carr Brown to appear at a council meeting after reading media reports in May that Denka had failed to lower its emissions by a promised 85%.
That's the amount Denka and LDEQ agreed upon in a 2017 consent order, with Denka spending over $35 million since that time on equipment to lessen the emissions.
But Brown refused, Madere said, citing pending legal action by Councilman Larry Sorapuru against the agency over its handling of the Denka issue.
Concern about exposure to chloroprene — which is used to produce the synthetic rubber neoprene — has led to a series of lawsuits in both state and federal courts, after it was found that levels of the chemical in the atmosphere in parts of St. John were hundreds of times higher than the threshold the EPA said represented safe exposure.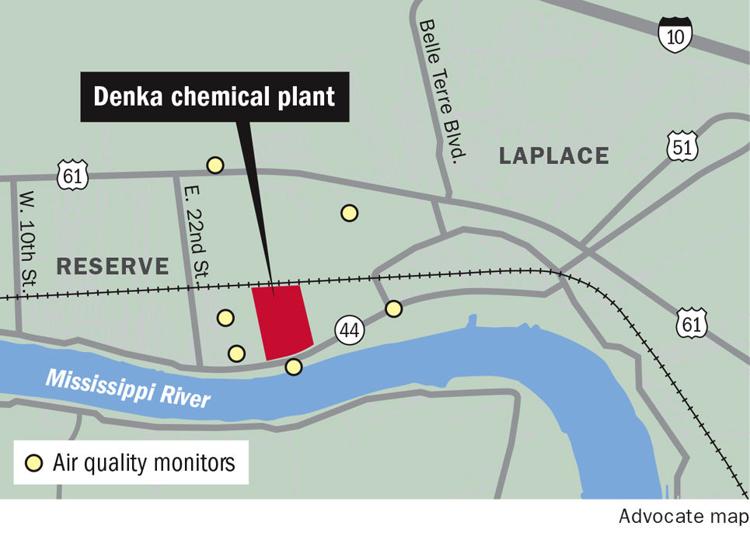 Sorapuru is the lead plaintiff in one of those lawsuits, which has thousands of residents signed on seeking damages from Denka.
At the council meeting Tuesday, instead of having a representative there, a letter that LDEQ sent to the council last week was read aloud. That letter promised that the state would continue to work with Denka to reduce emissions and would seek feedback from the St. John Parish community through "occasional public meetings and regular visits to the area."
Council members quickly jumped on that line, saying they remember only one public meeting Brown held in the community — in 2016.
"It's evident LDEQ isn't going to come here," Council Chairman Thomas Malik said.
Council members said they shouldn't have been caught off-guard that Denka had failed to meet its emissions-reduction threshold. LDEQ informed the company of its failure in a letter last month, giving the plant 30 days to reach the 85% reduction or possibly face fines.
Denka officials have said the plant reduced emissions by around 70% over the past four years and would have been further along by now if it hadn't run into some unexpected problems, such as issues starting up a key apparatus to burn chemicals. A company spokesman said Denka will meet its reduction goal.
But council members want to be involved in reviewing the plant's performance in the future, even though Madere acknowledged that the council has no power to regulate Denka's emissions. That's up to LDEQ.
"The belief is the parish knows a lot more than we're saying, but we really don't," he said.
Travis Perrilloux, interim director of public safety for St. John Parish, also said he doesn't recall ever being contacted by LDEQ or Denka over chloroprene emissions.
"Don't you think you should be contacted instead of having Mr. Madere track this man down?" Sorapuru asked.
"Yes," Perrilloux replied.
Baileigh Rebowe Helm, a spokeswoman for Parish President Natalie Robottom, said a potential solution is to have the EPA's David Gray regularly come to council meetings.
Gray, the acting administrator for EPA Region 6 — which includes Louisiana — has attended meetings of the environmental activist group Concerned Citizens of St. John, occasionally providing updates regarding Denka.
Council members agreed that seems like the best option right now.
"I don't want to see any plant closed, you know," said Councilman Larry Snyder. "But if they can't do what we ask them to do, or what the DEQ and EPA ask them to do, then we've got to figure out something else to protect our people."