Update: Monday, 12:45 p.m. — The intersection at Canal Boulevard and City Park Avenue will open to vehicular traffic at 3 p.m. Monday, the RTA said.
We are almost there #nola #midcity #lakeview #metairie pic.twitter.com/hjoak0mmie

— Dan Swenson (@NolaGraphicsGuy) December 4, 2017
Update: Friday — The RTA said the opening of the intersection at Canal Boulevard and City Park Avenue could be delayed by a day or so due to weather conditions or technical issues.
A spokeswoman said Thursday that even if the date changes, the intersection will be opened at some point next week.
Motorists are urged to check in at www.norta.com in the coming days to stay up-to-date on the opening.
Original story: The intersection at Canal Boulevard and City Park Avenue will reopen Monday after a four-month streetcar construction project, and it's not a moment too soon for nearby businesses and thousands of motorists.
The $10 million project, which began July 31, is wrapping up a week behind schedule. It will move the drop-off and boarding spot for riders of the Regional Transit Authority's Cemeteries streetcar line from the south side of City Park Avenue to a new streetcar and bus transfer terminal on the north side.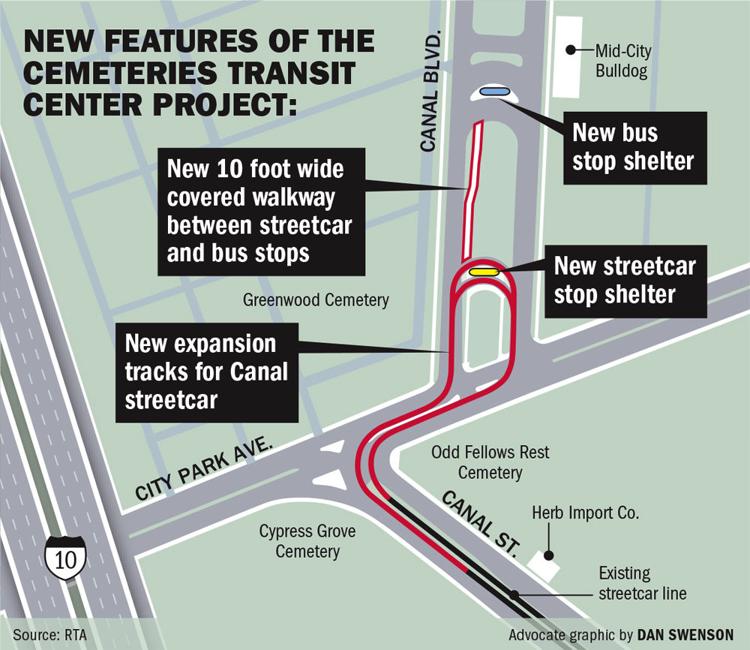 That's music to the ears of local merchants, who have been dealing with lost business because of the shutdown of the busy intersection, which draws in traffic from Interstate 10, Mid-City and Old Metairie.
Tyler Coats, manager of the Herb Import Co., on Canal Street just south of City Park Avenue, said his store probably lost about a third of the revenue it would normally have earned over the past four months.
"It's been difficult for us," he said. "We've definitely noticed a decrease in business.
"There's been periods of time where we're just dusting the same thing over and over again, whereas before, the day would fly by because there were so many people coming in and out. Time has slowed down."
To cope, Herb Import has reduced its staff's hours and relied on its loyal customers for support.
"They've really gone above and beyond to try to continue to patronize us," Coats said, noting that this was particularly the case with Herb Import's coffee shop because there are many alternatives in town.
"The regulars have really pulled us through it," he said. "(The construction) has definitely been a topic of conversation for everyone who has come through the door."
The New Orleans Regional Transit Authority has released a list of suggested detours for motorists and pedestrians to use when it shuts down th…
The Regional Transit Authority acknowledged before the project began that it could hurt nearby businesses, but it said shutting down the intersection was necessary to get the job done quickly enough to comply with the federal grant that funded the work.
The RTA also made a last-minute adjustment that kept two downtown-bound lanes of City Park Avenue and Canal Street open for the first month of the work.
"The project continues to maintain its progress to achieve on-time and under-budget completion," the authority said in a news release Wednesday. "The RTA's general contractor and subcontractors have been working tirelessly to complete the construction as quickly as possible."
Coats said he can't complain about the extra week.
"We're all familiar with how construction projects go and the Bourbon Street fiasco," he said. "We're just happy that it's relatively on-time."
He did have some suggestions for future projects, saying that grant money should include funds to offset the loss of business and that some form of lighting should have been brought in to make up for the loss of electricity to street lights in the area.
"It's pitch black out here at night," he said. "We have no street lights whatsoever, and that's a danger for us. They should have made an effort to keep some lighting."
Coats said he does think the project, which is designed to make things safer for the streetcar riders who previously had to walk across busy City Park Avenue to catch the bus, or vice versa, was necessary.
"The truth is something needed to happen there," he said. "I've been working here eight years, and I've seen a handful of people get run over (out) there."
The new terminal will include covered seating and waiting areas, new street crossings and traffic signals.