Officials with New Orleans Mayor LaToya Cantrell's administration confirmed Tuesday that they lowered the speeds that trigger traffic camera tickets two months ago without notifying motorists.
The city's network of speed-measuring cameras now snag drivers in school zones if they go 4 miles over the 20-mph limit. Previously, the cameras were set to snap a picture and issue a violation notice only when a driver hit 26 mph.
New Orleans officials have lowered the speeds that trigger traffic camera tickets, ensnaring an unknown number of drivers who thought they wer…
In other areas of the city, motorists can now expect to get photographed if they are going 8 mph over the advertised speed limits. Until a month ago, drivers were given a 10-mph leeway.
A heads-up about the new thresholds was supposed to be included in a January announcement about sweeping changes to the camera program, but it was removed, said Beau Tidwell, a spokesman for Cantrell.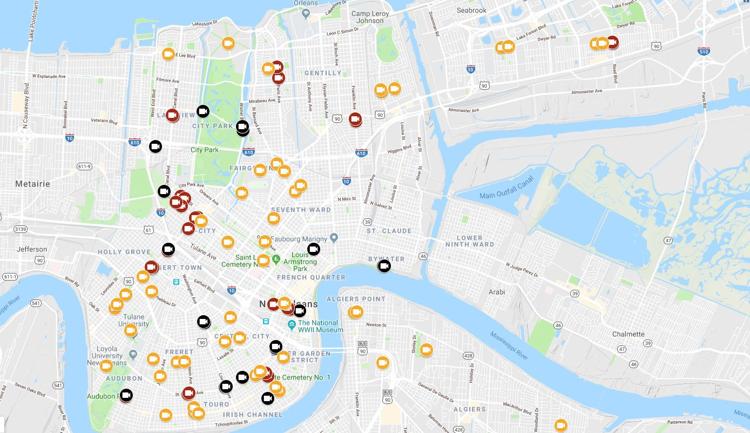 "I'm not aware at this time of any plans to change that threshold" again, he added. 
The quiet policy change has stained a revised camera program Cantrell had said would ease drivers' financial burdens.
She pledged to pull down all the cameras as she campaigned for mayor in 2017 but switched course after some residents said they saw the value of the devices in school zones.
The city eventually removed 20 of the 31 cameras outside of school zones, leaving up those that pulled in the most revenue for the city. And it adjusted the school cameras to operate only during school-zone hours, 7 a.m. to 9 a.m. and 2:45 p.m. to 4:45 p.m. Monday through Friday.
Before that change, school-zone cameras worked continually to ticket drivers exceeding regular posted speed limits.
Though the law does not require the city to give motorists any sort of speeding cushion, the city can create one as a matter of policy. Mayor Mitch Landrieu's administration set that bar in 2012 at 6 miles over the limit in school zones and 10 miles over the posted limit everywhere else. 
But Cantrell lowered that threshold on Feb. 4. That was around the same time that officials discovered that removing some of the cameras had caused fewer tickets to be issued in January than they expected. The city had projected a 13 percent drop in issued tickets but cameras in fact caught 18 percent less drivers speeding.
The officials said then it was too soon to tell whether the unexpected drop would widen an estimated $4 million gap in city revenue the cameras' removal had been expected to cause. They said that gap already had been filled by other sources.
It was not clear whether officials had planned to move forward with the lower thresholds after removing the warning about them from the January news release or if they were spurred to action later because fewer tickets were issued than expected.
In March — a month after an unknown number of unsuspecting drivers began receiving tickets under the lower threshold — the camera program was suddenly flush with cash, officials told the City Council's Budget Committee.
When Councilman Joe Giarrusso asked how the cameras could be bringing in $2 million more than last year if there were fewer of them, Chief Financial Officer Norman White said the higher revenue figure could reflect older tickets and that the figure would likely go down once staffers properly counted the tickets.
At least some council members said they had not been briefed of the change. "If there is a threshold, then I don't think we should change that without notifying the public," Councilwoman Cyndi Nguyen said.
A spokeswoman for Giarrusso said his office has been getting calls on the matter from surprised drivers. So has Councilman Jay H. Banks, who said he was told recently that the thresholds were lowered after requesting clarity.
Only on Tuesday did Cantrell's team state what the new thresholds actually are, a day after it acknowledged that the thresholds had been lowered. It made the admission after dozens of residents decried the changes on social media and in emails to media outlets.
At least one of those drivers, Margaret Albert, 64, was snapped while going 25 mph in a school zone near St. George's Episcopal School on Napoleon Avenue.
The $75 ticket she got in the mail later was her only notification about the change. 
"Nobody more than me wants the safety of children," said Albert, a grandparent and retired teacher. "But because this was done so underhandedly, I think there ought to be more of a grace period."