If the 2016 French Quarter Festival felt much more crowded than last year's edition, that's because it was.
Total attendance this year was an estimated 760,000, according to the festival's producers — the largest total in the festival's 33-year history.
It was nearly double the estimated attendance of 386,000 for the 2015 French Quarter Fest, which was hit by heavy rain on three of its four days.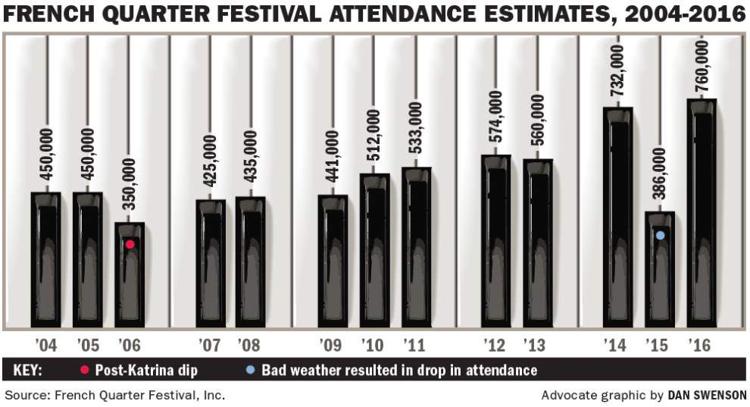 The weather for this year's event, which concluded Sunday, was consistently flawless: clear blue skies, low humidity, mild temperatures and plenty of sunshine.
As a result, enormous throngs descended on the French Quarter. The Saturday crowd was especially dense throughout Woldenberg Riverfront Park, home to some of the festival's major stages.
Because the French Quarter Festival is free and no tickets are required, attendance figures are not exact.
Executive Director Marci Schramm and her team at the nonprofit French Quarter Festivals Inc. base their estimates on clicker counts at the entrances and exits to various areas of the festival, as well as other factors and formulas.
And the 760,000 figure does not mean that many different individuals were in the crowds. Many people attend the festival more than one day and are counted more than once.
Overall attendance dipped in 2006, the first year after Hurricane Katrina, but it has risen steadily over the past decade.
The festival enjoyed a considerable jump in attendance between 2013 and 2014. The 732,000 figure for 2014 was the biggest in the festival's history, until 2016.
One indication that crowds were especially huge this year: the amount of food and beverage consumed.
According to the festival, Rouses sold more than 50,000 pounds of boiled crawfish on the festival grounds, the most ever. Attendees drained 675 kegs and 1,400 cases of Abita beer. They also sipped more than 42,000 daiquiris, courtesy of New Orleans Original Daiquiris. More than 128 tons of ice were required to keep beverages cool.
In addition to eating and drinking, attendees saw more than 300 musical acts, the vast majority of which are indigenous to south Louisiana, perform on as many as 23 stages simultaneously.
The dates for the 2017 French Quarter Festival are April 6-9.