First came the hometown shout-outs from President Donald Trump — to the "exciting" New Orleans Saints, to Drew Brees, who "is one hell of a quarterback," and to Louisiana's Republican senators and congressmen.
Then, during his speech to the American Farm Bureau Federation at the Ernest N. Morial Convention Center on Monday, Trump moved on to a full-throated defense of his demand that Congress provide $5.7 billion to extend a wall on the United States' southern border, a position that has stalemated Washington in recent weeks and has resulted in a partial government shutdown that is the longest in history.
With a crowd of protesters outside the Convention Center and a friendly crowd within, Trump showed no public signs of backing down from his position.
"We're going to have a wall," he said. "We're going to have a barrier."
The farmers and ranchers who packed Hall F at the Convention Center roared in approval.
The warm welcome from Trump's rural base of supporters comes as congressional Democrats — led by House Speaker Nancy Pelosi and Senate Minority Leader Chuck Schumer — have refused to authorize more spending on the wall and have argued that their Republican colleagues should help them reopen the government while both sides negotiate on border security.
Democrats have offered to spend $1.3 billion to strengthen border security by hiring more border agents and deploying more sensors and drones to detect those trying to cross.
Monday marked the 24th day of the shutdown that has impacted roughly 800,000 federal workers.
The closed government offices have hit farmers who cannot obtain federally backed loans from the U.S. Department of Agriculture to buy seeds for spring planting or to feed their animals. Farmers also cannot access government data on the prices of beef, soybeans and other crops that they use to decide what to plant or when to bring products to market.
"Mr. President: If you want to help farmers, re-open the government," tweeted Schumer on Monday.
In New Orleans, Trump put the blame on Democrats for not agreeing to his demands and called on his audience to contact the offices of congressional Democrats to pressure them to cave.
"They're only doing this because of the 2020 election," he said.
Trump made his case for the wall and the use of a shutdown to get it during a nationally televised address from the Oval Office last week. On Thursday he visited the border town of McAllen, Texas, to further press his case. But as the shutdown continues, polls suggest that Americans may be holding Trump responsible for any fallout.
Two polls released in recent days show that about 55 percent of the public blames the shutdown on Trump, with about 30 percent pointing to Democrats.
In New Orleans, Trump said the reinforced wall will deter illegal border crossings and drug smuggling, including crossings by foreign nationals from Pakistan and China in addition to those from Central and South American countries.
"If you don't have a strong steel or concrete border, you won't be able to stop these people," Trump said. "We don't want the wrong ones coming into our country."
At one point during his address, the president said an Arizona rancher named Jim Chilton, who lives near the border with Mexico, had suffered because of illegal immigration. Trump then invited Chilton to make a few remarks.
"Mr. President, we need a wall!" the rancher said, prompting a standing ovation.
Convention-goers laughed when Trump ridiculed Democrats and applauded when he tossed off his red-meat lines, including an attack on "the fake media," which he said wouldn't report that the crowd stood and cheered him several times.
Making his first visit to New Orleans as president — it lasted about 2½ hours — Trump said he had enjoyed a lot of good luck in Louisiana.
He won the state in 2016 with 58 percent of the vote, though as a businessman, he failed to win state approval in 1993 to operate a riverboat casino — the vessel would have docked at the Julia Street Wharf, next to the Convention Center — and was unable to develop a Trump condo tower on what remains a parking lot at Poydras and Camp streets.
The president arrived at Louis Armstrong New Orleans International Airport just before noon and was greeted by Louisiana's Republican congressional delegation. U.S. Rep. Garret Graves offered him a cream cheese-filled king cake from Rouses Markets.
President Donald Trump barely had a chance to step off Air Force One before being greeted with a king cake -- it is Carnival time in New Orlea…
"Wanted to make sure POTUS knew where he was when he landed," Graves later tweeted.
Trump spent several minutes greeting Louisiana Republican officials who had been shivering for more than two hours awaiting his arrival. Among those in attendance were businessmen and longtime Republican fundraisers Joe Canizaro and Boysie Bollinger, as well as Louis Gurvich, the current state Republican Party chairman, and his predecessor, Roger Villere Jr.
"He was quite animated," Canizaro said in a later interview. "It was exciting."
Canizaro and Bollinger served as co-chairs of the president's campaign finance committee in Louisiana in 2016 and will reprise their roles in 2020, Canizaro said.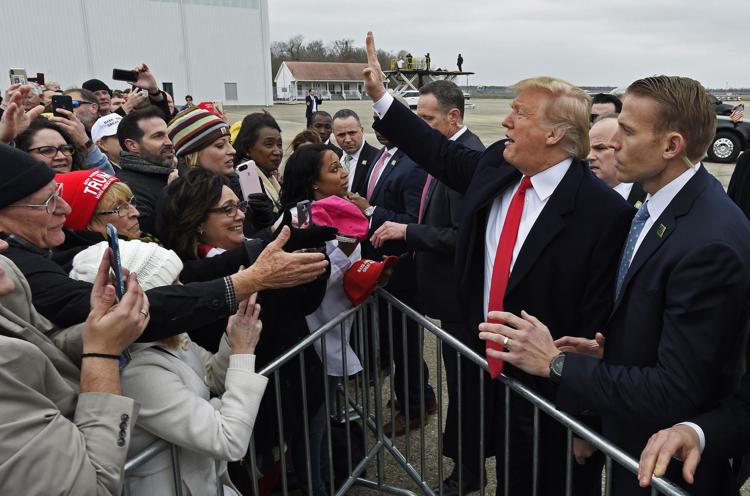 To exit the airport, Trump and his motorcade drove down the runways and then snarled traffic as police blocked off portions of Interstate 10 and a portion of Convention Center Boulevard.
More than 350 protesters arrived outside the Convention Center ahead of Trump's arrival, holding signs demanding an end to the administration's current border policy and calling for the president's impeachment, including one reading "Impeach Dat."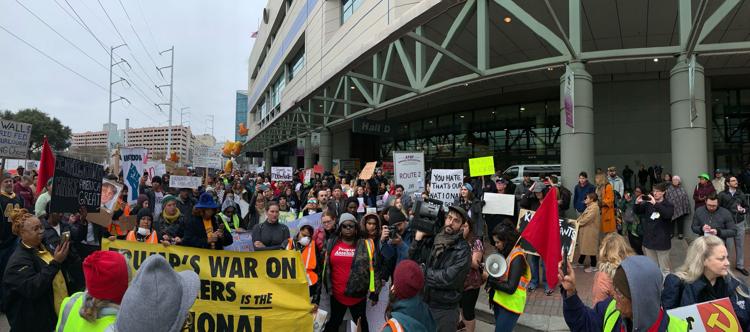 During his hour-long remarks, Trump thanked Gov. John Bel Edwards for attending the event. Edwards, a Democrat, has established a good working relationship with the Republican president. Sitting next to Edwards was Rep. Ralph Abraham, who is challenging the governor's re-election bid. Rep. Cedric Richmond, Louisiana's lone Democratic congressman, did not attend.
Besides Brees, Trump also gave shout-outs to "Oxford John" Kennedy, a reference to the U.S. senator's university studies in England; to Sen. Bill Cassidy, a medical doctor, who "knows more about health care than anybody"; and to Graves, who is "young, strong, smart."
Also recognized by the president was Rep. Steve Scalise, who was shot two years ago by a crazed gunman, nearly died but recovered after months in the hospital.
"He got hit hard," Trump said. "He never even thought about quitting."
While he focused on the wall, Trump also promised that his tariffs on exports from China and other countries would help U.S. farmers, even though retaliatory tariffs by those countries have hurt farm exports in the short term.
However, Edwards has been warning since July that perhaps no state will lose more from a trade war than Louisiana. In a July letter, he noted that the Port of New Orleans accounts for 15 percent of the nation's exports and is the third largest importer of steel.
In all, Edwards wrote, one in six jobs in the state depends on international commerce.
Staff writer Bryn Stole contributed to this report.
Acadiana Business Today: Former Knight Oil employees form new group of oilfield businesses; Former Broussard chamber leader takes position at city hall