Felipe's Mexican Taqueria moved Tuesday to temper criticism that erupted after an Immigration and Customs Enforcement audit of its workers' employment eligibility prompted the restaurant chain to "part ways" with a number of its staffers in New Orleans.
In a statement, the popular burrito and taco chain said it was "deeply saddened to have to part ways with some of the very people that have contributed to the authentic Felipe's experience (that) New Orleanians have come to know and love."
But, the chain added, it was necessary after ICE notified Felipe's "that some … employees had inadequate documentation" to work legally in the U.S. The employees who split with the company had turned in the required documentation for employment but couldn't correct discrepancies that ICE identified in that paperwork during the audit, Felipe's said.
Felipe's fell under scrutiny from some community members when a screenshot of a text message recounting how the chain had been recently audited by ICE began circulating widely on social media.
According to the text message, ICE had audited Felipe's employment files and called into question the paperwork of roughly 40 employees, who would either have to turn in updated documents or face dismissal and possible referral to the federal agency.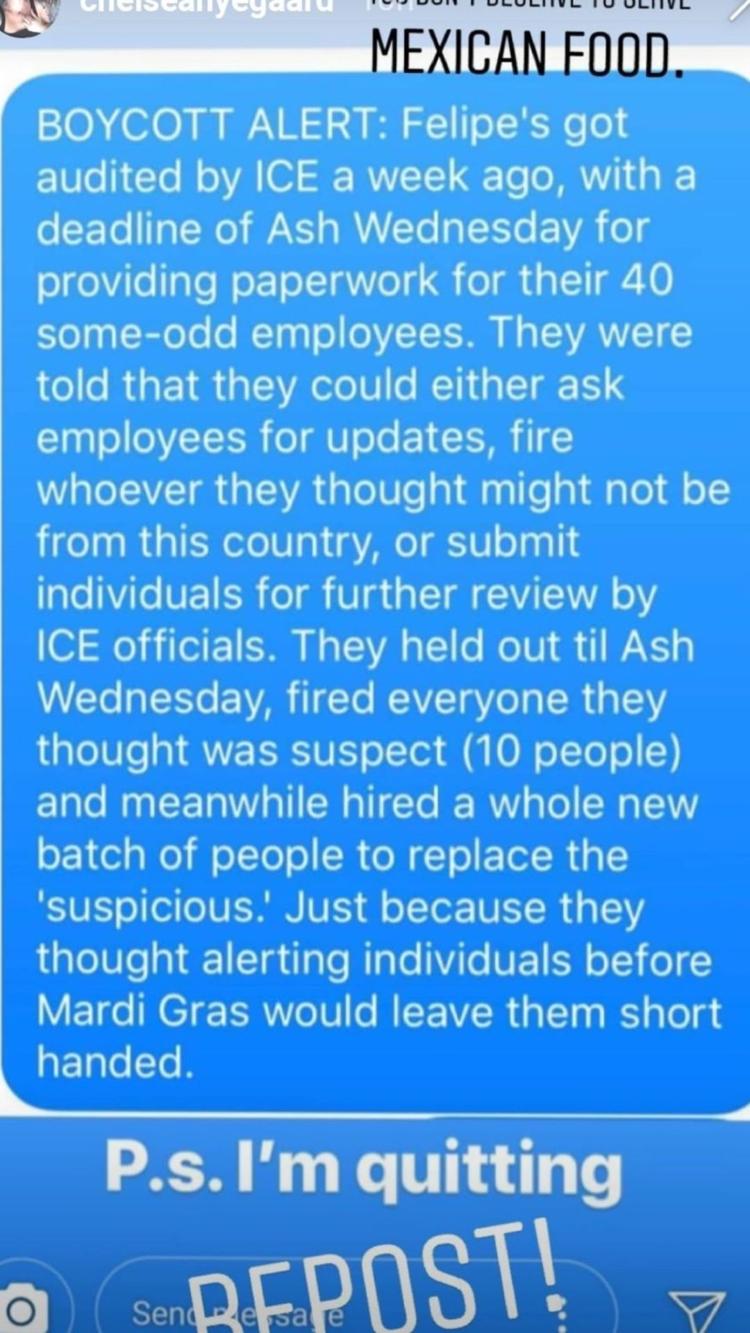 The message said that the chain ultimately fired 10 people and hired "a whole new batch of people" to replace them. The text's author accused Felipe's of waiting until Ash Wednesday to notify employees of paperwork issues and conducting the firings, fearing that taking action earlier would leave the restaurants short-handed for the busy days leading up to Mardi Gras.
Felipe's spokespeople on Tuesday wouldn't concede that the chain fired anyone, either on Ash Wednesday or subsequently. The chain said some employees resigned and others later stopped reporting to work after being given five days — until Monday — to correct discrepancies in their paperwork. 
ICE spokesman Bryan Cox on Tuesday didn't dispute that his agency recently checked whether employees of Felipe's New Orleans locations had adequate I-9 forms, which require certain forms of identification establishing that a person can legally work in the United States. But he said he couldn't elaborate because no one had been arrested or fined in connection with the audit at this stage.
Felipe's statement said the chain welcomed all — "especially those representing (its) culture and Hispanic heritage" — while adding that it was bound by "all local and federal regulations."
The statement said ICE had alerted the chain that some employees in New Orleans "had inadequate documentation and ... we provided those team members with the opportunity to provide the appropriate documentation in a timely manner. If they were unable to do so, it deeply saddened us to have to part ways" with them.
The statement confirmed that replacements had been hired and were receiving training. Like their predecessors, those replacements were required to turn in I-9s that will be subject to auditing, the chain's spokespeople said. 
On Ash Wednesday, at least one Felipe's location, on North Carrollton Avenue in Mid-City, was closed, with a sign explaining that the staff was receiving training. It had reopened by the weekend. A location Uptown, near Tulane University, was only serving drinks from the bar.
Generally, ICE can carry out I-9 audits at random or follow up on tips provided to the agency. Red flags that investigators watch out for include Social Security numbers that belong to someone other than the employee named or that are shared by multiple employees.
Businesses can face fines and other penalties if they knowingly employ illegal workers after being served notice of suspicious I-9 paperwork.
Nonetheless, criticism of Felipe's from some on social media persisted for several days. One Twitter user accused the chain of treating "undocumented people without respect, dignity or care," and another implored diners to patronize a rival taqueria.
It was unclear whether the makeup of Felipe's workforce in New Orleans helped trigger the feds' interest. Many of the workers who have staffed the kitchens, counters and bars at Felipe's eateries are Hispanic people who speak Spanish with Mexican accents.
The investigation of Felipe's employment paperwork also occurred as President Donald Trump's administration — marked by anti-immigrant rhetoric and its goal of building a multibillion-dollar wall on the United States' southern border — has stepped up the pace of I-9 audits at businesses across the country.
Co-founded by a man from the Mexican state of Oaxaca, Felipe's Taqueria got its start in Cambridge, Massachusetts, catering to Harvard University students.
In 2006, it expanded to New Orleans, opening the Uptown location. It was part of a wave of new taquerias to open around the city after Hurricane Katrina, when New Orleans saw a large influx of Latin American workers helping to rebuild the city.
Felipe's fast-casual concept and cantina atmosphere caught on, and soon the brand opened its French Quarter outpost. In 2013, it expanded again to Mid-City. A later expansion in Slidell subsequently closed.
Staff writer Ian McNulty contributed to this report. 
Note: This post was updated to reflect additional remarks made by Felipe's spokespeople later on Tuesday evening, March 12.