Photographer Scott Threlkeld was standing on a 5-foot ladder near the corner of Orleans and North Carrollton avenues for the Endymion parade Saturday night when the gray pickup came barreling into the crowd near him.
After hearing "a huge, explosive crash" behind him, Threlkeld turned to his right and saw the truck speeding through the crowd, like a boat through water.
"It was like a water's wake, the bodies being mowed out of the way," said Threlkeld, 59, who has been a regular contributor to The New Orleans Advocate since late 2012.
The seasoned New Orleans photographer ended up snapping crucial images of the crash scene, despite being punched so hard that his eyeglasses flew away, making it nearly impossible for him to check the focus on his cameras.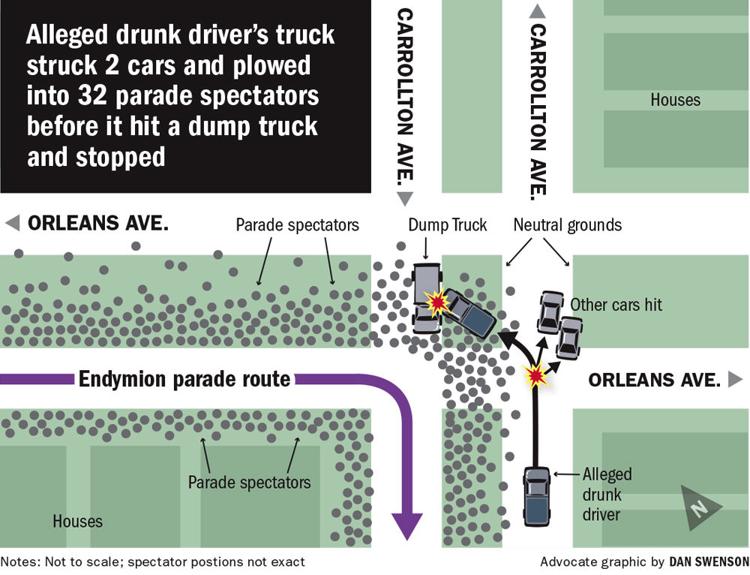 Immediately after the runaway pickup slammed into a dump truck parked in the neutral ground, it was a melee, he said. Many people in the crowd were simply trying to flee. Threlkeld scrambled down the ladder and tried to assess the chaotic scene around him.
As he walked toward the crash, he heard sirens approaching and saw police officers who had rushed up to assess injuries. He snapped a shot of an officer in front of a father who just gotten up from the ground and was clutching his toddler with a terrified look on his face.
Because it was nearly 7 p.m. and the street was dark, Threlkeld set his shutter to a slow speed, to allow more light into his lens. He didn't want to use a flash because he didn't want to disrupt what he was photographing around him.
No paramedics had yet arrived, but injured people were scattered around him. "I'd shoot one group of people, move onto a different group and then move on again," he said.
Usually, friends would be gathered around a motionless person. Some were bleeding from their heads or limbs, though it was difficult to tell who was badly injured, given the low light, he said. He heard people asking, "Are you OK?" and "Where does it hurt?"
At one of the groups, he shot first from above, then knelt down to shoot at the victim's level. A person lying on the ground said, "Don't take my picture" and swatted a hand at him, he said.
In situations like this, Threlkeld normally just walks away, he said.
But before he could react, a man uttered some profanity and punched Threlkeld on the side of his head. Threlkeld fell over from the blow, felt light-headed and thought he might black out. Worst of all, his glasses had flown off his head. He looked around a little but realized there was no way he'd find them among all the debris on the ground.
So he decided to keep shooting without them, though he couldn't tell whether his shots were in focus. He got up, walked over next to the pickup and got pictures of the driver, Neilson Rizzuto, on the ground being arrested, though he didn't realize what he'd gotten. "At the time I was shooting, it looked like the cops were helping him," he said.
Later, Threlkeld would use a telephoto lens to get a photo of police leading Rizzuto away.
He took multiple shots of everything he saw, hoping that some images would be in focus. Then, with the newspaper's evening deadline looming, he started to walk about 10 blocks to the house of photographer Eliot Kamenitz, who he hoped could help him look through his photos. Since he couldn't read street signs, Kamenitz guided him by telephone and helpful passersby read signs for him and pointed the way.
Then Threlkeld opened his laptop and asked Kamenitz to scan the 200-plus images from the accident scene to see if any of them were sharp. "It was tough. Eliot wasn't familiar with my computer, and I couldn't see the images," he said.
Threlkeld is still disappointed to see images with tremendous potential that were too out-of-focus to use. "I wish I could've done a better job with what I was seeing in front of me," said Threlkeld, who has been injured on the job before, by a group of muggers who coldcocked him while he was covering a hurricane in Florida, by a football player running out of the end zone and by police officers feeling territorial at crime scenes or sports events.
"That's just part of the territory," Threlkeld said. "As a photographer, you're often in somebody else's space, so things are bound to happen."
He's also helped another man drag two people out of a burning car and, after arriving first at a fire, dragged to safety a woman who'd fallen out of her wheelchair trying to escape the flames.
On Saturday, Kamenitz scanned the images and soon realized that the guy photographed on the ground near the truck was Rizzuto, the driver. He chose the best shots and cropped them.
Altogether, they sent 17 images to The Advocate's photo editors, who realized that they were seeing the best images of the evening, taken almost blindly by Threlkeld.
"I was basically his backup plan. I was his eyes," said Kamenitz, who worked alongside Threlkeld for decades at The Times-Picayune, before they were both laid off in 2012.
So Kamenitz knew that this set of photos was rare for Threlkeld. "Scott doesn't get things out of focus," Kamenitz said.
"In the end, it was Scott's talent and my eyes," Kamenitz said. "He was shooting by instinct. And he made some killer pictures."