If there is a case to be made for Gen. P.G.T. Beauregard, it is probably this: At least he accepted defeat.
First, case against him, according to his detractors: He was an important Confederate general, ordered the first shots of the Civil War at Fort Sumter and did not think highly of the slaves he grew up with on his family's sugar cane plantation in St. Bernard Parish.
The activists who have been insisting Mayor Mitch Landrieu get rid of Confederate monuments and other allegedly offensive public symbols — including the equestrian statue of Beauregard set to be hoisted from its pedestal outside City Park on Tuesday evening — had plenty of evidence to indict Beauregard on charges of racism and disloyalty to the Union.
Nor would Beauregard's other accomplishments seem to redeem his moral standing. A civil engineer trained at the U.S. Military Academy, he spent the postwar years as a successful railroad executive and then helped run the notorious Louisiana Lottery. He held several patents, including one for a type of excavator used by ships and a cable car that ran in New Orleans.
But to modern eyes, Beauregard's most admirable public contribution, and the one cited most by his defenders, was probably a failed one: a brief experiment after the war in trying to reconcile his home state's black and white residents through something called the Louisiana Unification Movement.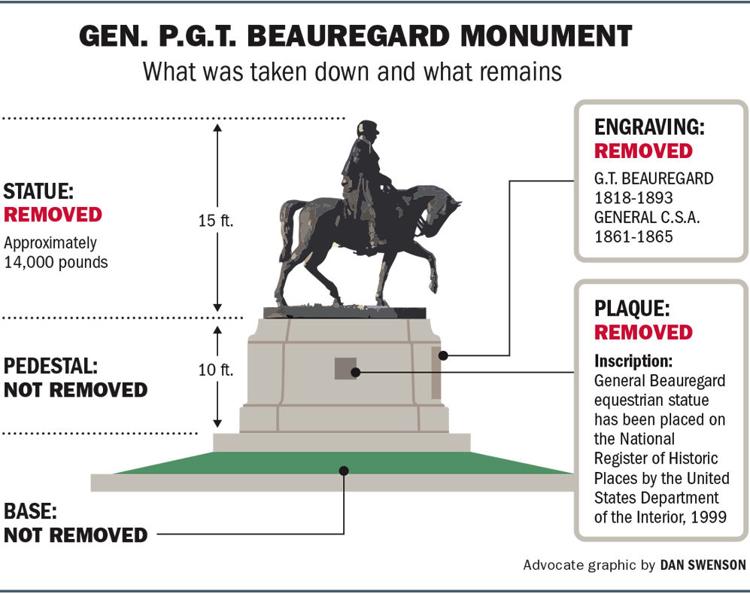 The historian T. Harry Williams — famous for his massive biography of Huey P. Long — wrote in his much shorter volume on Beauregard that the movement was "one of the most unusual and important phenomena of the Reconstruction period."
In the war's aftermath, Louisiana was run for several years by politicians of the Republican Party — the party of Abraham Lincoln, abolition and black voting rights. When the Unification Movement was formed, in 1873, the governor was William Pitt Kellogg, a former Union colonel. White residents seethed as the state hiked taxes and black politicians took over public offices.
Beauregard had been a lifelong Democrat, like most people in Louisiana. At first, stripped of the right to vote or hold public office, he contemplated going overseas. He negotiated with foreign powers for military positions as far afield as Egypt, Japan and Argentina. Nothing came of it.
In the meantime, he had reluctantly applied to President Andrew Johnson for amnesty. In his letter to the president he wrote, "Having appealed to the arbitration of the sword, which has gone against us, I accept the decision as settling finally the question of secession & slavery."
In 1868, he was pardoned along with other former Confederate generals, opening the way for a more active public life in Louisiana.
The Unification Movement, in which Beauregard took a leading role, does seem like an extraordinary development in hindsight. In the years to follow, the federal government would pull out Union troops from the South, and local Democrats would lead a successful campaign of violence and intimidation in order to wipe out black and Republican political power.
But in 1873, a group of 100 local leaders, half white and half black, drew up a plan that seemed for a short time to offer a different way forward.
Among the white members, Williams writes, were "the presidents of practically every corporation and bank in the city," while the black contingent was made up largely of the "wealthy, cultured aristocracy of the race," many of whom had been free people of color living in New Orleans before the war.
On June 16, they presented their proposal at a public meeting. It included political equality for black residents, the equal division of state offices between the races and "a plan whereby Negroes would become landowners." Public transportation and schools would be integrated.
The idea won considerable backing in New Orleans. Conservative newspapers that had been railing against the "Carpetbagger" state government endorsed it. So did Louis Charles Roudanez, founder of the New Orleans Tribune, the country's first black-owned daily.
A month later, it was dead.
As historian Joe Gray Taylor relates the story, it was torn apart from both sides. Conservatives outside New Orleans were not as interested in attracting the black vote in order to win control of local government from the Carpetbaggers. The Shreveport Times declared, "Let our people realize that the salvation of Louisiana does not depend on the negro, but on railroads and white immigration."
At the same time, many former slaves were not as willing as upper-class black people in New Orleans to accept promises from white politicians. They insisted that political rights had to actually materialize before they would offer their support. In the meantime, they would stick with the Republican Party.
"There was a vast difference between the granting of rights by patriarchal whites and the demanding of those same rights by black politicians," Taylor wrote.
After a disastrous public meeting July 15, the Unification Movement was over.
In any case, the white leaders involved had not pursued the movement out of benign feelings toward black residents, or at least not entirely. They calculated that the simplest means of removing Republican office holders was to convince newly enfranchised black voters to help them.
As Williams explained, "Negro votes had imposed the tax burden, Negro votes could lift it."
Beauregard himself certainly felt this way. He believed the "Negroes were naturally inferior, ignorant and indolent," Williams writes, but he also thought they could be persuaded to vote his way.
"The negro is southern born," Beauregard wrote in a public letter. "With a little education and some property qualifications he can be made to take sufficient interest in the affairs and prosperity of the South to insure an intelligent vote."
Of course, whatever the merits of the movement, those calling for Beauregard's monument to come down have often pointed out that the statue makes no mention of Unification. He is pictured as a Confederate general, not a politician — and for the foreseeable future, he can only be glimpsed that way inside of a warehouse somewhere.