The German airline Condor plans to begin seasonal nonstop service from New Orleans to Frankfurt starting next summer, a big win for local airport officials who have spent years trying to lure international carriers to add transatlantic service to Louis Armstrong New Orleans International Airport.
The news was disclosed Wednesday by Condor and will be discussed by local officials and business leaders at a news conference at the airport Thursday.
"We're certainly always very interested in getting those flights," said John Williams, dean of the University of New Orleans' College of Business Administration, who closely follows the local tourism industry. "We know there's a demand to be here from the international marketplace, and any flights along those lines, we're very interested in."
Although New Orleans' airport offers nonstop service to a handful of foreign locales, including several Caribbean cities and Toronto, most international carriers since the 1970s have bypassed the Crescent City in favor of larger regional hubs like Houston and Atlanta.
Miami-based National Airlines operated the first nonstop flight from New Orleans to Europe in the late 1970s. National was acquired by Pan Am in 1980, and consumer demand in subsequent years wasn't enough to entice another airline to fill the void.
Last year, Copa Airlines began nonstop service between New Orleans and Copa's hub at Tocumen International Airport in Panama, which gave local travelers access to dozens of destinations in Central and South America and the Caribbean.
But those flights primarily cater to tourists, and local business leaders have for years sought to lure a large international carrier to provide service to a premier European destination like London or Paris to help diversify New Orleans' tourism-heavy economy.
Frankfurt is less glamorous than those — and Condor's market is mostly leisure rather than business travelers — but Frankfurt is a major business destination in its own right, and it offers connections to virtually every other city in Europe as well as the Middle East.
The news comes amid steady growth at New Orleans' airport, which saw 10.7 million passengers last year, the most in its seven-decade history. By way of comparison, Hartsfield-Jackson Atlanta International Airport, the world's busiest airport, served nearly 92 million passengers in 2014, or nearly nine times New Orleans' total.
Visitors to New Orleans, meanwhile, spent more than $7 billion in 2015, beating the previous year's record. But for hospitality leaders, international travelers are an especially appealing demographic because they tend to stay in the city longer — typically as long as 18 days — and spend more money during their visit than U.S. tourists.
Condor's local expansion will include twice-weekly flights, on Sundays and Wednesdays, from May through October. It's one of a number of new U.S. routes for Condor, which soon will offer service from Frankfurt to San Diego and from Seattle and Las Vegas to Munich.
An online search of Condor's fares Wednesday showed flights starting May 3, 2017. In that search, a round-trip flight leaving New Orleans on May 3 and returning May 10 cost about $910 after taxes.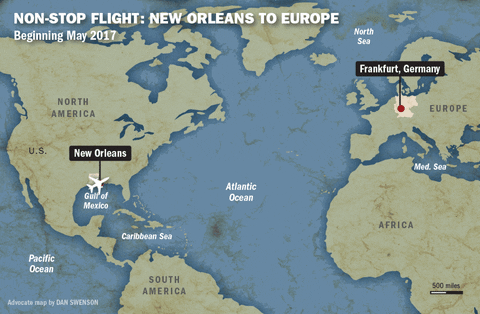 The leisure market that Condor targets has "always been rather large in Europe," according to Seth Kaplan, a managing partner at Airline Weekly, an industry trade publication.
"They're not getting a lot of corporate traffic," he said of Condor. "They're giving Europeans places to go on vacation."
The New Orleans airport — the seventh-fastest-growing facility in the country in 2015 in terms of its passenger count, according to an Airline Weekly analysis — has seen a number of low-fare, high-fee carriers like Allegiant Air jump into the mix in recent years.
But it's hard to predict whether other international airlines will follow Condor's lead into New Orleans, Kaplan said, particularly those that target wealthier business travelers.
"It's good for New Orleans that it's the kind of destination that would work well for the kinds of markets that those airlines see as where the growth is," he said.
Follow Richard Thompson on Twitter, @rthompsonMSY.