For New Orleans waiter Chivas Lynch, it's no picnic trying to make ends meet with a job that pays him just $2.13 an hour in wages. Though the tips are good at the restaurant where he works, he struggles to cover rent for his efficiency apartment.
"I don't think people understand," he said. "I cannot miss a shift if I want to make my rent." 
Sky-high rents have given rise to a new proposal that aims to create more affordable living options for downtown workers who want to live close to their jobs.
Conceived by architect and apartment developer Marcel Wisznia, a project dubbed Two Saints would create 230 residential units in three buildings along St. Charles Avenue at St. Joseph Street, a block from Lee Circle.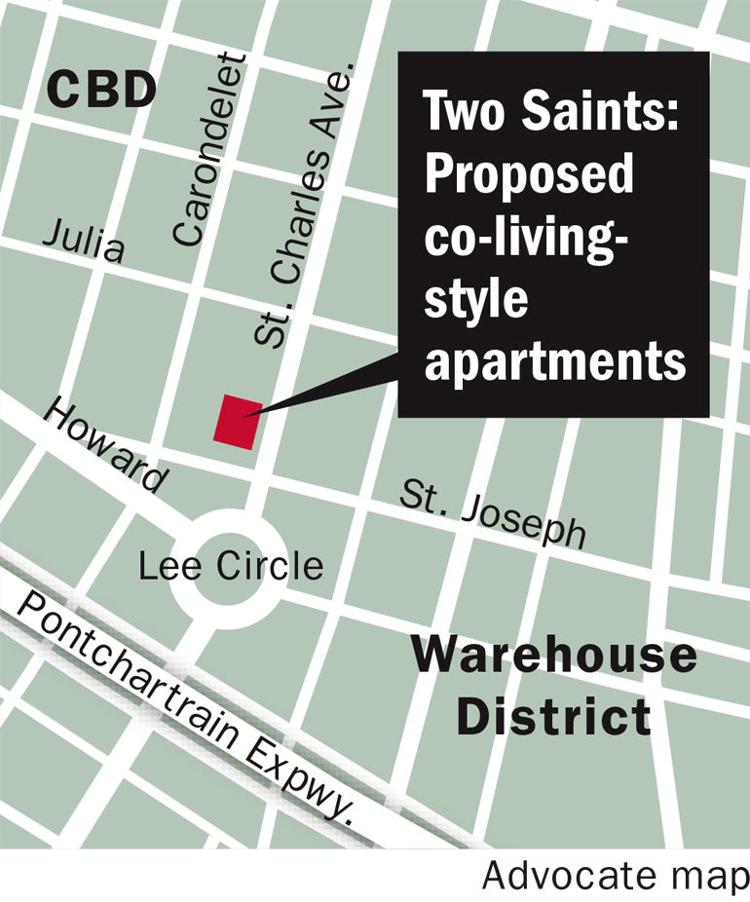 What separates this project from other apartment and condominium buildings in New Orleans is a concept that combines features of individual and communal living under one roof.
Two Saints would feature clusters of furnished rental units that share certain common areas while retaining individual privacy. Each renter would get a bedroom, full bathroom and walk-in closet — all behind a locking door — and would share a kitchen and living and dining areas with three other "suite mates."
In addition, all renters would have access to amenities including workout rooms, a rooftop pool and an entertainment area with a gourmet kitchen, elsewhere within the five-story complex.
Monthly costs in Two Saints could range from $1,100 to $1,300, including a base rent of $900 to $1,000, and $200 to $300 for furnishings, utilities, Wi-Fi and other services.
Many of the units would have private balconies. And in a nod to local tradition, the entrance to each residence would have a landscaped front stoop overlooking an interior courtyard, to encourage interaction among neighbors.
The ground level would offer about 20,000 square feet of co-working space, similar to that offered by several local business incubators, plus 4,000 square feet of retail space fronting on St. Charles Avenue.
To create the project, Wisznia plans to incorporate two buildings — one now vacant and another that houses a convenience store — and build a large new structure on the adjacent parking lot.
Wisznia, whose high-end apartment and condominium developments include the Maritime, Union Lofts and Saratoga buildings, said growing demand for lower-priced apartments led him to the co-living concept.
"Over the last year or two, housing has been moving toward 'micro' units — shrinking the square footage of each apartment to a point where it becomes more affordable," he said. "We look at co-living as an alternative to micro-housing."
The concept also enables the developer to accommodate more tenants in a building than traditional apartments would allow, thereby potentially producing higher revenue per square foot.
In his previous projects, which focused on redeveloping large old buildings, Wisznia has used historic and new markets tax credits, plus loans backed by the U.S. Department of Housing and Urban Development.
For Two Saints, which would involve substantial new construction, Wisznia may ask the city's Industrial Development Board to approve a PILOT, or payment in lieu of taxes. If it agrees, the board would issue bonds to finance the construction, the project would be free of property tax payments for a specified period, and annual lease payments by the developer would pay the debt service on the bonds.
Wisznia said he hopes to break ground on the project in early 2018 and open it a year later.
While Wisznia is both the architect and developer of the project, he would partner with the New York firm Common, which helped pioneer the co-living concept nationally, to operate Two Saints.
Brad Hargreaves, who launched Common in 2015 after founding a technology school, said his initial goal was to provide affordable housing for the 20- to 30-year-olds who attended and worked at the school. "They wanted convenience and flexibility in their residence, and they liked the idea of living with others," he said.
Hargreaves, who grew up in Shreveport, began to consider how to build "a better roommate environment."
He opened the first Common home in New York's Brooklyn borough, with 19 furnished private bedrooms, shared kitchens and living rooms, and a range of services that includes weekly cleaning of common areas, plus things like Wi-Fi and toilet paper. Tenants, who are known as "members," pay a single monthly sum that covers rent, utilities and services.
Prices vary depending on the locale, configuration and amenities in each house. Some homes have an in-unit washer and dryer, for instance, while others have shared laundry rooms.
Hargreaves said Common tenants pay 20 percent to 30 percent less than they would to rent a typical studio apartment and purchase all the utilities, services and supplies that are included in the Common fee.
Since opening that first building in 2015, Common has expanded into Washington, D.C., and San Francisco, and today it operates 10 homes totaling about 350 bedrooms. Hargreaves said the company receives more than 400 applications per week from prospective tenants. "There is huge demand for this type of living space," he said.
Just as important as the pricing and features, he said, is the sense of community that Common housing offers.
Along with on-site management and maintenance personnel, Common employs a "community manager" who organizes social events and encourages residents to come up with ideas to foster interaction among the residents. Activities might include outdoor barbecues, movie nights, book clubs and competitive games.
Members also can move among Common properties. Subject to the availability of space, members in one city can move to a Common property in another city for 30 days or more without losing their lease at their original site.
Adding New Orleans to the Common mix likely would increase the appeal of that option, Hargreaves said.
In New Orleans, Wisznia said he sees the hospitality industry as a key source of tenants for Two Saints. For instance, he figures students at the New Orleans Culinary and Hospitality Institute, now under development in the former ArtWorks building just off Lee Circle, will be drawn by the price and convenience of co-living spaces just steps away from their classes.
He said it's time for local developers to "find a new way of building residences for a portion of the population that has been shut out of our downtown."
Although his first target is young service industry workers, Wisznia said he believes the co-living concept eventually could find favor among an older population, such as empty-nesters whose grown children have moved away and who are looking for ways to become more involved in a larger community.