Say goodbye to the Truck Farm and hello to the Sun Yard.
The Bywater arts space Truck Farm, which for a decade hosted the popular Chazfest alternative festival for local musicians, may soon be transformed into a 37-room boutique hotel.
The project is being pushed by a pair of first-time hotel developers who say they are focused on maintaining the neighborhood's identity.
"We definitely are folks who want to promote culture and nurture it," said Liz Solms, who owns the nearly 1-acre property with her husband, Giuliano Pignataro. "This idea that out-of-towners are coming in and homogenizing things and that sort of stuff is absolutely not our intention. It's really about amplifying what's already going on in the neighborhood."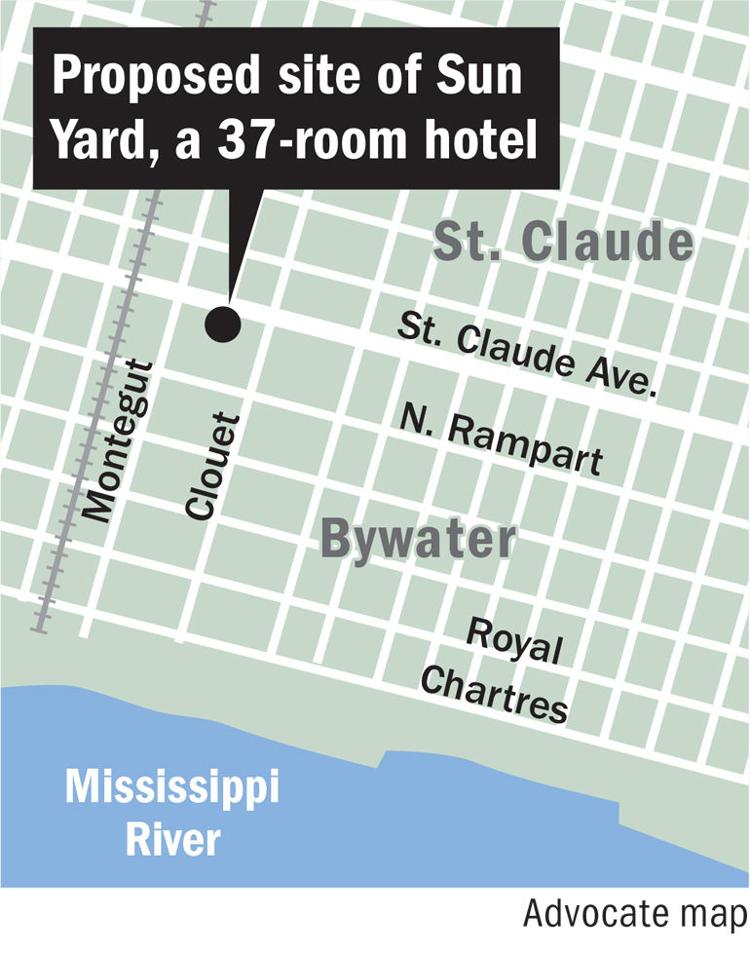 The site, at St. Claude Avenue and Montegut Street, includes four 19th-century, two-family homes and a 1960s ranch-style building last used as an office, as well as significant backyard space.
Plans call for the existing buildings to be incorporated into the project.
Dubbed the Sun Yard, the $10 million project requires a conditional-use permit from the city. In addition to the hotel, the developers plan a restaurant plus an outdoor bar and pool with event space.
Their request is slated to go before the City Planning Commission on Tuesday.
Solms, 36, and Pignataro, 38, co-own a small family business focused on historic preservation, including renovating several apartment buildings in Philadelphia.
She envisions the local property as "just a small boutique hotel" — a nice place to stay, swim and relax, "nothing exclusionary, high-end, just very friendly and fun."
Solms also has spent more than a decade operating an organic agriculture business in Jamaica. Pignataro has a background in real estate.
To some Bywater residents skeptical of new developments, especially ones pitched by out-of-towners, the proposal raises renewed questions about the neighborhood's recent flurry of development activity, and whether it's becoming too much.
In fact, more than two years after it was proposed, the Stateside — a 185-bed upscale hostel, with an estimated price tag of nearly $18 million — remains hamstrung by litigation filed by nearby residents.
Meanwhile, Bywater and surrounding neighborhoods continue to grapple with a rising number of short-term rentals, including more than 700 properties legally registered with the city, which critics say have pushed up rents and priced some residents out of their neighborhoods.
Pignataro said the Sun Yard's rooms may start "in the low to mid-$200s" per night, offering a "full-service alternative to Airbnb."
He said it will get more people "thinking of Bywater as sort of its own mini-destination within the overall destination of New Orleans."
In a report issued last week, the Planning Commission's staff acknowledged that the proposed uses represent "a definite increase in the overall intensity and will certainly have an impact on surrounding properties." However, the report found that those issues — largely dealing with noise — can be remedied and that "proper management of the hotel will ensure that it does not become a nuisance to adjacent properties."
The staff recommended that the commission approve the project, saying it would "invigorate commercial activity along St. Claude Avenue while being compatible with neighboring residential properties."
The City Council would have the final say. The site is in Councilwoman Nadine Ramsey's district.
The project has drawn mixed feelings from nearby residents. Some complain it would remove residential housing to build a hotel, further contributing to transforming a once working-class neighborhood into a tourist destination. However, the project's backers note a dearth of hotels in that area, and they cite the prospect of new amenities, including a pool and restaurant.
Neighbors First for Bywater, a residents' group that is skeptical of many proposed developments, has yet to take a position on the project. The Bywater Neighborhood Association, a longtime group that's generally in favor of development, is generally supportive of it but hasn't taken a formal vote, according to its leader.
Solms, who attended Tulane University, described the site as "just absolutely magical."
The couple owns property adjacent to the site and plan to live there once the hotel is up and running. If all goes according to plan, construction could start in August, with an eye toward opening by late 2019.
Although the issue is slated for Tuesday's meeting, the developers have asked the Planning Commission to hold off on making a recommendation in order to clear up lingering issues, including questions about parking. However, the commission likely will still hold a public hearing this week, giving neighbors a chance to voice their views.
So far, dozens of letters have been sent to the commission in favor and against the project; most were opposed.
Solms said much of the criticism she's heard is misplaced, bogged down in a broader debate about the neighborhood's future rather than judged on this project's merit.
"Our vision for the project is really nowhere near in line with the kind of propaganda and the message that has gone out there," she said. 
Mary Ann Hammett, the chairwoman of the Bywater Neighborhood Association, has concerns about parking but is generally supportive of the project.
"I don't mind some hotel rooms around, and I think both the Stateside and the Sun Yard projects will help in getting more business and commercial activity," she said.
On the other hand, Julie Jones, president of Neighbors First for Bywater, cringes at the prospect of losing the residential housing that the homes on the site provided, and she's also concerned about noise and parking, typical issues in Bywater.
But in this case, both sides likely agree on one thing.
"To have it turned into an Airbnb would have been worse," Jones said.
Editor's note: This story was changed on Feb. 7, 2018, to correct that Neighbors First for Bywater has yet to take a position on the proposed Sun Yard hotel in Bywater.