Negotiations over a potentially $1.5 billion development project tied to the Ernest N. Morial Convention Center, billed as the largest single private investment in the city in decades, have dragged on for more than a year, leading some officials and tourism leaders to wonder whether the venture is permanently stalled and if it's time to consider a fresh start.
The proposed public-private project — which the center's board had hoped to have completed in time for the city's 300th birthday celebration in 2018 — calls for building a large hotel, restaurants, entertainment venues and apartments on a vacant 47-acre tract of land at the upriver end of the giant riverfront assembly hall.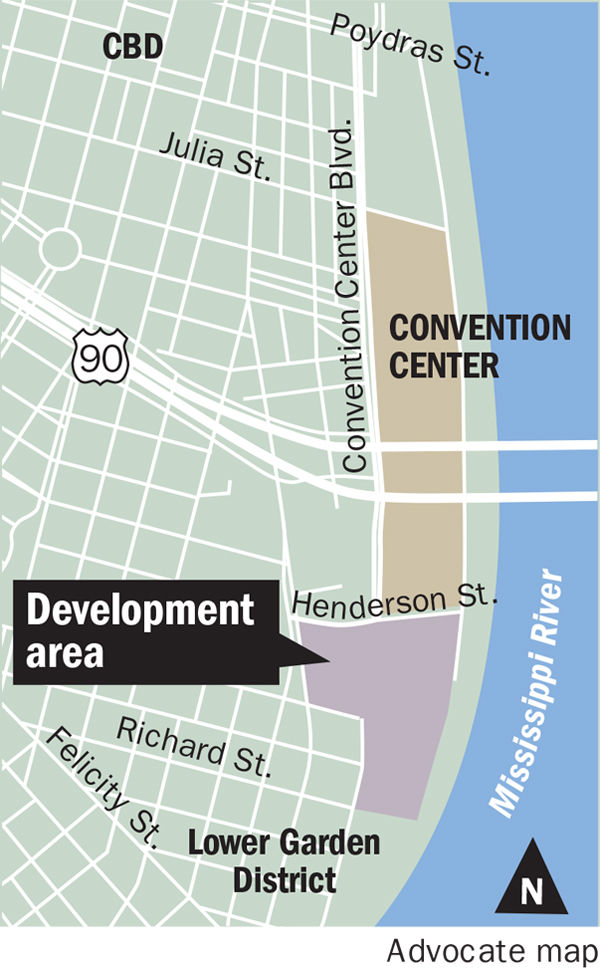 Last year, the facility's governing board began negotiating with a team of local developers to craft a memorandum of understanding, a first step toward a long-term pact. Many expected that initial process to wrap up in a few months, but it hasn't.
"If we can't arrive at a deal, let's go ahead and admit it and we'll do something else," Convention Center President and General Manager Bob Johnson said last week. "But we are still hopeful that we can arrive at a deal that satisfies both the public and the private partners." 
Now, some hospitality leaders say the process is taking too long and causing the city to miss business opportunities.
"It is, frankly, very disappointing to us that it is not proceeding more quickly," said Stephen Perry, president and CEO of the New Orleans Convention and Visitors Bureau. "We really need this. From our point of view, from the industry, we need this accelerated immediately, because we are being caught up and passed by multiple competitors around the United States."
The Convention Center, which opened for business following the 1984 World's Fair, purchased the 47-acre tract for $45 million in 2000. It was once slated to become home to another 500,000 square feet of exhibit space for the 1.1-million-square-foot exhibition hall. But those plans were scrapped after Hurricane Katrina in 2005 as tourism leaders realized the extra space would not be needed.
Instead, the Convention Center's "vision plan," which it laid out in 2014, proposed investing $150 million — money to be pulled from reserves, bonds and a state appropriation — to improve the site.
Since opening three decades ago as the main exhibition hall for the 1984 World's Fair, the E…
By doing so, the facility's governing authority hoped to attract a master developer that would lease the site on a long-term basis and spend at least $700 million building a large "convention-quality headquarters hotel," as well as residences, restaurants and a performance venue.
Tourism officials said the proposed hotel and retail district is critical for New Orleans to remain competitive with the roughly two dozen cities that are its chief rivals for convention business and major sporting events — many of which are doing the same thing. Keeping the area around the meeting hall fresh, they said, would create a new experience, helping to draw repeat visitors.
"We're just trying to create an experience for visitors and locals alike, because quite frankly, in our industry, the convention attendees like to go where the locals go," Johnson said. "If we can make it exciting and interesting and entertaining for local folks, then we know it'll be a success with the visitors."
Things seemed to be falling into place when the Convention Center's board in early 2015 began negotiating with a group led by the Dallas-based Howard Hughes Corp. and local developers Joe Jaeger and Darryl Berger.
Hughes is an experienced national retail developer and owns the nearby Outlet Collection at the Riverwalk. Jaeger and Berger are both successful local hotel developers.
Johnson anticipated that the negotiators would reach an accord last summer and the Convention Center board would vote on whether to award the development team exclusive leasing rights, perhaps by the end of last year.
That still hasn't happened. "We're still slogging through it," Johnson said last week. "As you can imagine, it's very complicated."
It's unclear precisely what's holding things up.
One stumbling block, Johnson said, is that both sides are trying to get comfortable with the massive level of public and private investment contemplated. Although a deal has not been finalized, the board's vision for what should happen on the tract "is still intact," he said.
Johnson added that the discussions are complex and weighed down by a myriad of factors, including ironing out traffic plans and zoning changes. "We keep attending to those in hopes that we can eventually find a way to be able to accommodate everybody's concerns," he said.
Berger had a similar take, saying the deal has a lot of moving parts. "In a nutshell, it is complicated, to say the least," he said.
But he added that he expects an agreement by the end of the year, with plans being drawn up in 2017 and construction of a hotel beginning the year after that. Berger acknowledged some parties to the discussion are feeling "a bit of frustration" but said he personally is not.  
Jaeger could not be reached for comment.
Representatives of the Howard Hughes Corp. did not return a message.
A spokesman for Mayor Mitch Landrieu also did not return a call for comment.
Johnson said another long-awaited part of the Convention Center's master plan — a $65 million effort to transform Convention Center Boulevard into a more pedestrian-friendly street that connects the Warehouse District to the French Quarter in an attractive, enticing way — may reach the design phase by the end of the year.
In the next couple of months, the City Planning Commission will consider proposed zoning changes for the vacant tract that would make it consistent with the Convention Center's developed land, a key step for a new, 1,000-room hotel to be built at the site. The commission will make a recommendation to the City Council after holding a public hearing on the matter.
While those are positive steps, Johnson said it would "be a reasonable consideration" to go back to the drawing board and send out another request for proposals if a deal isn't reached by the end of the year.
But he's optimistic that won't be necessary. "Everybody wants to get it done," he said. "Everybody does, so that's really the only impetus that we need."