A federal racketeering trial is set to get underway Monday morning for 10 accused members of a New Orleans street gang that authorities blame for 13 murders within less than two years, including the December 2010 slaying of acclaimed bounce rapper Renatta "Magnolia Shortly" Lowe in a torrent of bullets.
Prosecutors describe the so-called 39'ers as an alliance of Central City's notorious "3-N-G" gang, named for its stronghold around Third and Galvez streets, and the "G-Strip" gang of the Upper 9th Ward.
The groups combined forces in early 2010 to press for control of the heroin trade in both areas, federal prosecutors allege, often through bloodshed against associates of rival gangs, such as "Ride or Die" from the 8th Ward and gangs associated with the former Calliope and Desire housing projects.
Only three of the 13 accused 39'ers who were named in the original 2015 indictment in the case have pleaded guilty, a rarity in federal cases.
All 10 of the remaining defendants -- Leroy Price, Alonzo Peters, Jasmine Perry, Terrioues Owney, Evans Lewis, Curtis Neville, Solomon Doyle, Damian Barnes, McCoy Walker and Ashton Price -- are accused of roles in at least one murder on behalf of the gang.
A jury selected earlier this month in the case was sent home for more than a week after federal prosecutors turned over thousands of jailhouse phone calls to defense attorneys on the eve of the trial.
The disclosure prompted a flurry of legal jockeying, centered largely around the jailhouse boasts of Gregory "Rabbit" Stewart, an admitted leader of the 39'ers who is considered the government's star witness.
Washington "Big Wash" McCaskill was 11 or 12 when he started toting a gun around the streets…
Stewart, 25, is now serving four life prison terms, having admitted to a role in more than a dozen murders, and he has provided the FBI and U.S. Attorney Kenneth Polite's office with a trove of information on various murders and the ferrying of drugs from Houston to New Orleans, lending remarkable detail to the 47-count federal indictment.
Stewart and his cocksure solicitations of federal authorities while seeking leniency, for himself and others, figure to play large roles in a trial expected to run for three weeks.
Stewart recently bragged over a jail phone line that federal prosecutors -- led by Assistant U.S. Attorney Maurice Landrieu, Mayor Mitch Landrieu's brother -- would buy him a three-bedroom house in Florida when it's all over.
He also has made demands of jailers, boasting of a privileged jailhouse status.
In June, Stewart tried to smuggle marijuana into the St. Charles Parish jail in a pair of tennis shoes that his mother asked an FBI agent, James Ollinger, to deliver to her son, according to an FBI report. Ollinger and another agent ripped open the shoes' insoles to find the drug.
Another former leader of the group, Darryl "Brother" Franklin, also is a cooperating witness in the case.
In a bid to bolster the conspiracy allegations, federal prosecutors plan to show the jury portions of several rap videos featuring accused members of the gang.
Among them is a video from well-known New Orleans rapper Curtis "Kidd Kidd" Stewart, who appears with a few of the accused 39'ers in what Assistant U.S. Attorney Myles Ranier has described as a cross-marketing push between the rapper and a violent street gang.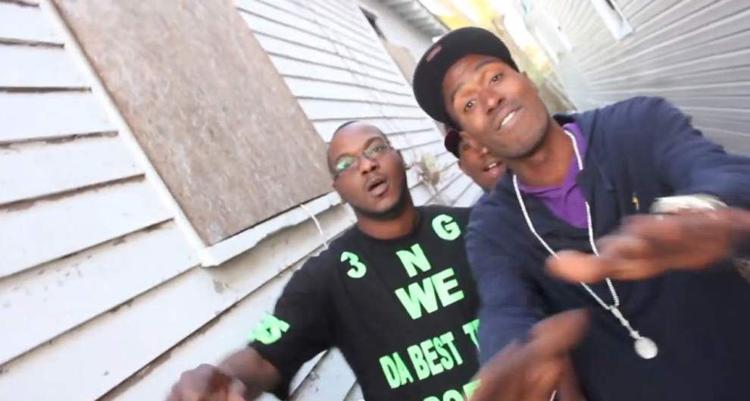 Curtis Stewart is not charged in the indictment.
Prosecutors claim the defendants often shared guns, to which they attached pet names. One, a .223-caliber assault rifle with a double-drum magazine, was dubbed "Monkey Nuts."
In the December 2010 group killing of Lowe and Jerome "ManMan" Hampton -- the result of a dispute that state prosecutors claim dated to the 2003 slaying of rapper James Tapp Jr., better known as Soulja Slim -- Gregory Stewart fired a Glock .40-caliber semi-automatic handgun the gang called "Barack."
Another Glock, a 9 mm handgun, was named "Michelle."
All of the murders cited in the indictment took place in 2010 and 2011, when New Orleans had the highest per capita murder rate in the country.
The case against the 39'ers was built early on through federal wiretaps of Stewart and other members of "G-Strip," court records show. Federal prosecutors, as well as Stewart, say the leader of the heroin-dealing gang was Merle "Black" Offray, who was gunned down in July 2013 at a bar across South Broad Street from police headquarters.
In a transcript of one phone conversation from February 2011, defendant Jasmine Perry tells Stewart he just ran into an unidentified rival at a jewelry store in Lakeside Shopping Center. Perry appears ready for violence, but Stewart cautions him to avoid arrest.
"Thinking about beating him with a chair right now son for real," Perry says, according to a transcript.
"No, cause y'all gonna go to jail," Stewart responds.
"Thinking about punishing this stupid," Perry says. "But we got Barack man, we gonna wait for them. We ain't got nothing to do today."
The transcript suggests they missed their chance. The indictment does not identify any alleged murders by the group that day.
Opening statements are slated to begin at 8 a.m. before Judge Jay Zainey.