Irvin Mayfield, the Grammy-winning New Orleans trumpet player who became a prominent civic figure after Hurricane Katrina, was indicted by a federal grand jury Thursday along with his longtime business partner Ronald Markham.
The 19 federal counts against Mayfield and Markham include one count of conspiracy, four counts of wire fraud, one count of mail fraud, one count of money laundering conspiracy, 11 counts of money laundering and one count of obstruction of justice.
The criminal charges come more than 2½ years after WWL-TV began reporting on how Mayfield used his position leading a foundation that supports the city's public library to funnel money to a jazz orchestra he founded, another nonprofit bank account he controlled and, in some cases, directly toward lavish perks. 
Thursday's indictment alleges that Mayfield and Markham began a conspiracy in August 2011 by transmitting money from the New Orleans Public Library Foundation to accounts they controlled at the New Orleans Jazz Orchestra.
The money ultimately helped pay both men's salaries and other expenses. For instance, the indictment says that $15,000 in library donations went to buy a gold-plated trumpet for Mayfield. He allegedly spent another $23,000 at Saks Fifth Avenue and $2,000 at Harrah's Casino.
Tens of thousands more are alleged to have paid for NOJO's operating expenses, depleting money available to support the library system while propping up the bottom line at an orchestra that had been steadily losing money. 
The indictment alleges Mayfield and Markham gave false or misleading statements to Library Foundation board members and others to cover up the conspiracy, and they they went so far as to alter the minutes of Library Foundation meetings in 2013 in an effort to thwart an FBI investigation. 
Claude Kelly, Mayfield's court-appointed attorney, said in a statement that he was "very disappointed in the government for their timing. To purposefully and intentionally bring this 10 days before Christmas, for a devoted New Orleanian, father of three young kids, and Ronald Markham, who has two young kids — it was kind of mean-spirited."
Mayfield rose to prominence on the local music scene in the late 1990s. He was appointed as the city's cultural ambassador and chairman of the New Orleans Public Library Board by former Mayor Ray Nagin and took over as president of the library's nonprofit support foundation in 2008.
At the time, the Public Library Foundation existed solely to receive donations and pass on financial support to the city's historically underfunded public libraries, but Mayfield quickly moved to change that.
By 2012, he had persuaded the organization's five-member board to expand the nonprofit's mission to provide more general community support and to give himself "sole and uncontrolled discretion" over its finances.
In two of his years in charge of the New Orleans Public Library Foundation, trumpeter Irvin Mayfield spent $133,000 in library donations on ai…
From 2011 to 2014, the Library Foundation tapped into donations meant for the city's libraries and gave NOJO more than $1.1 million in grants to help it build a new community center, music venue and bar in Central City called the New Orleans Jazz Market.
Mayfield justified the grants, which exceeded the Library Foundation's payments to the entire city library system, by claiming the Jazz Market would serve as a specialized music library branch.
One of the five Library Foundation board members who voted to give Mayfield total control over those financial decisions was his business partner and lifelong friend Markham, who, like Mayfield, also commanded a six-figure salary from the New Orleans Jazz Orchestra.
Library Foundation documents show only one of the five foundation board members ever questioned the payments to NOJO.
WWL-TV's initial report in May 2015 set off an immediate firestorm. Mayor Mitch Landrieu cleaned house at the Library Foundation, replacing Mayfield, Markham and others with a completely new board.
Mayfield lost his public teaching post at the University of New Orleans, NOJO agreed to pay back the Library Foundation over five years, and Mayfield canceled most of his local appearances.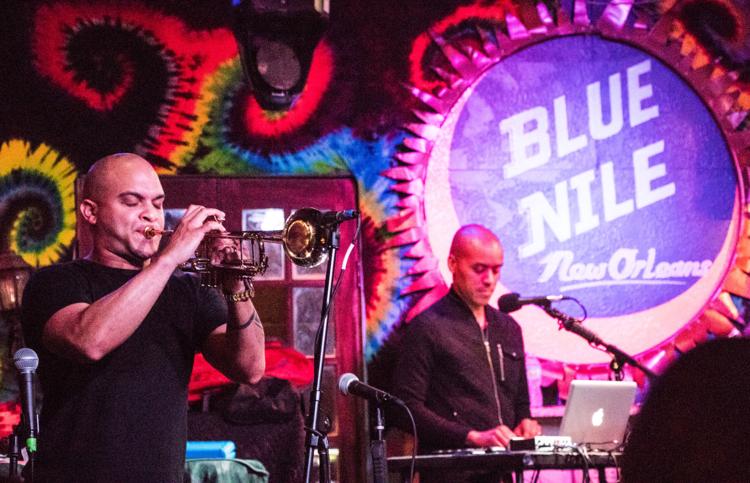 In 2016, WWL-TV obtained an internal report by the new Library Foundation's attorneys showing that Mayfield had also sent $150,000 in library donations to an "Irvin Account" at another nonprofit called the Youth Rescue Initiative.
The report found that Mayfield spent $15,000 of that money on a single trumpet, ostensibly to donate it to a local school, but the Library Foundation attorneys said Mayfield likely kept the instrument for himself.
Other internal documents showed Mayfield spent another $18,713 in Library Foundation money on a weeklong stay at the Ritz-Carlton Hotel on New York's Central Park. The Ritz billed NOJO for Mayfield's $1,100-per-night hotel room, his NOJO assistant's $800-a-night room, a half-dozen limo rides, meals at the hotel restaurant including a $1,400 charge for a single breakfast and in-room alcohol charges, but Mayfield used the library money to pay for it all.
Two weeks after that report, the NOJO board forced Mayfield to resign as artistic director of his own orchestra, prompting his first public comments on the growing scandal. 
"I do not believe that I have violated any law," Mayfield said in a written statement on July 5, 2016. "If I played a role in creating a distraction from NOJO's mission, I sincerely apologize. I respect all those who may not agree with my past direction or personal judgment, as I recognize their passion as well. We did not anticipate the misunderstandings and resulting opposition that has been wrought upon ourselves and those who have supported us."
At that point, NOJO had stopped performing entirely. Mayfield and Markham, a keyboardist, stayed mostly out of public view, though recording a new studio album, before returning to the Jazz Fest stage in 2017 to play a new kind of experimental music.
The federal investigation, which began in 2013 with a tip from the Metropolitan Crime Commission, intensified in 2017. Key members of the Library Foundation and NOJO boards were interviewed or subpoenaed, agents from the FBI and the New Orleans Inspector General's Office asked questions at library branches, and the state Legislative Auditor began a separate probe.
As the feds closed in, Mayfield tried to sell the large Fontainebleau neighborhood home where he often held parties for the Uptown elite. It initially listed for more than $700,000. He finally sold it Oct. 31 for $553,333, barely more than he paid for it in 2012.
Kelly, Mayfield's attorney, declined to address the specific accusations but said the musician "had a vision to educate the youth of New Orleans — all of them, not just those at the Latter Library on St. Charles Avenue, but all of them. A very ambitious, innovative vision, and that ruffles feathers at times. But Irvin is as fine a New Orleanian as you'll ever find, and I'm proud to represent him."
.