Twelve jurors will begin deliberating the fate of Ronald Gasser on Friday, a task that will require them to weigh the evidence presented during six days of testimony and answer a basic question: Did the defendant fire three bullets into Joe McKnight out of a justifiable fear for his life, or was it an impulsive act of rage following five miles of dangerous driving that started over a simple traffic dispute on the Crescent City Connection?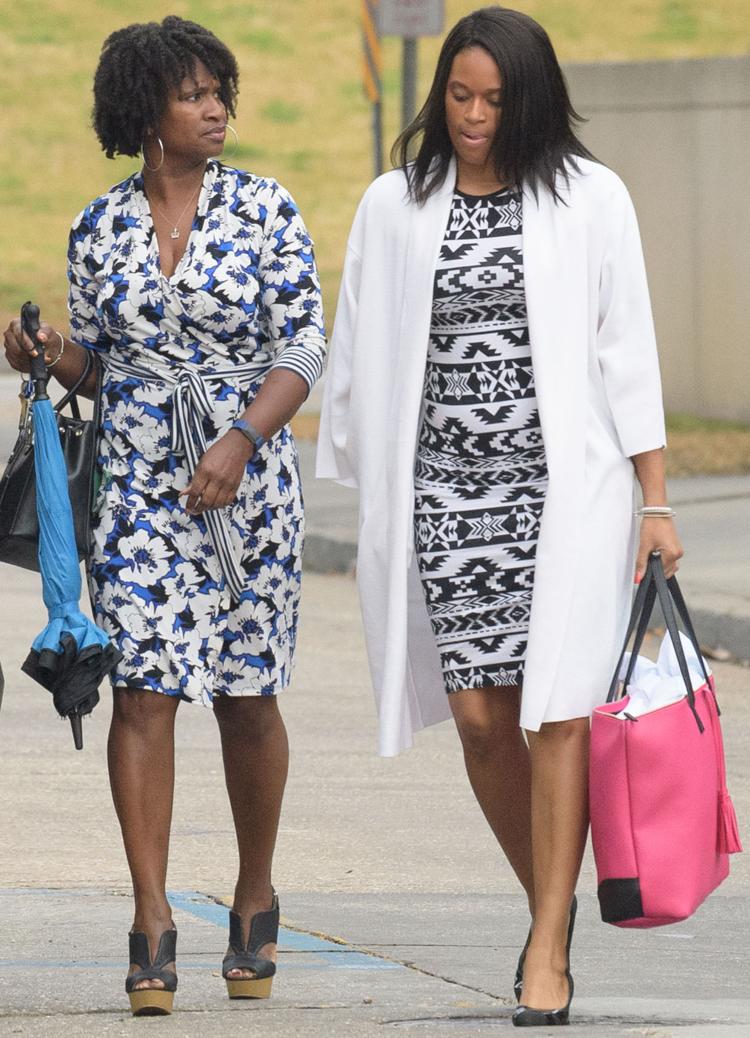 The question might seem simple, but answering it — and determining how harshly Gasser should be punished, if at all — could prove to be difficult.
No witnesses testified that they watched Gasser fatally shoot McKnight, a local high school standout running back who went on to the NFL, on the afternoon of Dec. 1, 2016 -- though there is no dispute that Gasser fired the fatal shots. But his motivation and state of mind can only be divined from security camera footage and statements from people who saw portions of the the roughly 15-minute chase that ended with the fatal encounter at Behrman Highway and Holmes Boulevard in Terrytown.
Then there are the words of Gasser himself, who spent about a dozen hours voluntarily answering investigators' questions in three separate taped interviews. Jurors watched almost every minute of them.
Gasser is charged with second-degree murder, and if convicted of that charge he would automatically be sentenced to life in prison. At the other end of the scale, he could be acquitted if the jury finds the shooting was an act of justifiable homicide.
But somewhere in the middle lies another option that could result in a quicker verdict: manslaughter. Deciding Gasser acted in the heat of passion and without intent to kill would reject both ends of the spectrum and kick the job of deciding what portion of a maximum 40-year sentence Gasser should spend in jail to Judge Ellen Shirer Kovach of the 24th Judicial District.
Here are some of the key elements of the case jurors will consider from the dozens of hours of testimony and evidence they have seen and heard since Jan. 19.
Standing ground?
A key legal issue, according to analysts, lies in Louisiana's laws governing self-defense, sometimes referred to as stand-your-ground laws or the "castle doctrine." The statute says a person has the right to use lethal force to protect himself or repel an intruder who enters their home, business or vehicle.
Gasser says he fired his .40-caliber handgun out of fear for his life as McKnight reached into his open passenger-side window, in some accounts telling police McKnight lunged at him and in others, more vaguely, saying he made some sort of gesture.
A fine mist of McKnight's blood found sprayed on the inside edge of Gasser's passenger door, along with ballistics evidence and autopsy analysis of the bullet wound in two fingers on McKnight's left hand, indicate McKnight's hand was inside the vehicle.
During jury selection, defense attorney Matthew Goetz told prospective jurors that simply crossing the threshold onto someone else's property -- including a car -- allows for self-defense, and the person being encroached upon has no legal requirement to back down.
Investigators testifying for the state have indicated that McKnight's left hand was just dangling inside the window, about an inch away from the edge of the door where it meets the window. Prosecutors Seth Shute and Shannon Swaim say McKnight was likely resting his forearms on the edge of the window as the two men argued and exchanged obscenities.
Many of the witnesses at the intersection that day had either looked away from the two men they heard jawing at one another through their open car windows or, in the case of one witness, saw it from across the intersection.
Hunter, hunted or both?
A key provision in the self-defense law, however, is that a person who instigates a conflict may not claim self-defense. He or she must make attempt to withdraw from the conflict in good faith in order to do so.
Eyewitness accounts of the chase support Gasser's contention that he was cut off in traffic by McKnight's Audi SUV while heading for the West Bank on the Crescent City Connection. There is also surveillance camera footage that shows Gasser's blue Infiniti coupe getting off the exit first with McKnight behind him.
But there was also eyewitness testimony that Gasser cut across several lanes of traffic on Gen. De Gaulle Drive to get behind McKnight as McKnight turned right onto Behrman. Gasser then sped up and got in front of McKnight, according to the witness.
It is not clear how evidence of a tit-for-tat chase, during which both men were said to be yelling obscenities and challenges at one another, will affect Gasser's right to claim self-defense minutes later when McKnight pulled up next to Gasser and sidled over to Gasser's passenger window.
Detective Donald Meunier of the Jefferson Parish Sheriff's Office asked Gasser in his third interview why, if he was so scared, he never slowed down to drop far behind McKnight, where he could safely turn off the road and go home another way? Why had he never rolled his window up?
How far away?
The issue of how close McKnight was to Gasser is another key to the case.
Timothy Scanlan, who reconstructed the crime scene for the Sheriff's Office investigation, testified Thursday that the physical evidence inside Gasser's cramped two-door car did not support a scenario in which someone was shot at extremely close range.
Scanlan went through the various measurements inside of the car, between the two vehicles and the length of Gasser's arms but came back to one conclusion: Any shooting that took place inside the vehicle would have included some soot, burning or gunpowder marks on McKnight or his clothes, and there simply weren't any of those on his body.
Goetz noted that a metal ladder in Gasser's front passenger seat also lacked the physical evidence that would suggest a gun was fired near it and drew attention to the fact that it took two weeks to test Gasser's shirt.
He said the tight space between the two cars and the angle McKnight was shot suggested the former running back was leaning into the car.
Jurors also heard the testimony of the forensic examiner who conducted the autopsy on McKnight, who said the bullet wound in McKnight's shoulder could not have cut the path through his body that it did if his arm was raised even partly.
A road-rage regular?
Over objections by the defense, Kovach allowed jurors to hear from John Shilling, who said he was punched in the head and upper body three times by Gasser after a road-rage argument 10 years ago at the same intersection.
Shilling said he saw a man driving erratically in a red pick-up truck on Behrman in front of Wal-Mart one day in April 2006. He called the number on the side of the truck, expecting to talk the driver's boss, but the voice on the other end of the line began cursing him out. Shilling looked into the lane beside him and realized he was talking to the driver himself. He hung up the phone and pulled off to extricate himself from the situation and get some gas, only to have the man run up on him and punch him three times, exchange a few more words and drive off.
Gasser's version of the story — recounted for jurors at trial by the officer who took the statement after it happened — was vastly different from Shilling's. He admitted striking Shilling, but said the incident took place not at a gas pump but in the street, across the Orleans Parish line. He said Shilling spat at his truck and got out of his car cursing up a storm.
He said he punched Shilling three times in self-defense.
Gasser's attorney objected in pretrial motions to the decision to allow jurors to hear about the incident, which was never prosecuted, saying it was irrelevant and prejudicial. Prosecutors argued it shows Gasser is a hothead who turns minor quarrels into physical confrontations.
Also, if they believe Shilling, jurors could see a tendency on Gasser's part to spin tall tales to police about the encounters he provokes.
In the third of Gasser's recorded interviews, the only one to occur after Gasser had been told he was being arrested for manslaughter, Meunier sought several times to get him to open up about what kinds of motorist behavior makes him angry when he's driving, but Gasser generally wasn't biting.
The detective said his personal pet peeve is when people text behind the wheel.
Gasser agreed, somewhat reluctantly.
"It slows traffic down," he replied, "and people sit at the light after it turns green."