A former state fire captain was sentenced to serve 25 weekends in jail following his conviction in February for pistol-whipping a Jackson Square artist outside a French Quarter bar.
Orleans Parish Criminal District Judge Arthur Hunter handed Richard Abbott a five-year suspended sentence on a charge of second-degree battery stemming from the July 18 altercation outside the Three-Legged Dog bar at Conti and Burgundy Streets.
But the judge also ordered Abbott to report to the Orleans Parish jail next Friday to begin the weekend stints. Abbott also will remain on "active" probation for five years and pay restitution to the victim under the sentence Hunter imposed Tuesday.
Abbott, 50, was a state fire investigator who had moved to the French Quarter last year with his bomb-sniffing dog, Crash, which he took down the street to roam the pet-friendly bar as he sat drinking on a Saturday afternoon.
Abbott later claimed that a small group of patrons hid Crash as a prank, telling him the dog had been hit by a taxi cab.
An Orleans Parish judge on Thursday found former state Fire Marshal's Office Capt. Richard A…
He slid off his stool, walked outside and confronted one man before reaching for his gun and smacking artist Curtis Courtney three times in the head, Courtney testified. Abbott then sat back down on a bar stool and waited for police.
On the witness stand, Abbott claimed someone in the group was reaching for his gun amid the sidewalk confrontation, and that he belted Courtney to protect himself.
Courtney and a friend claimed Abbott was drunk, became enraged when he couldn't find Crash and decided that they had taken the dog.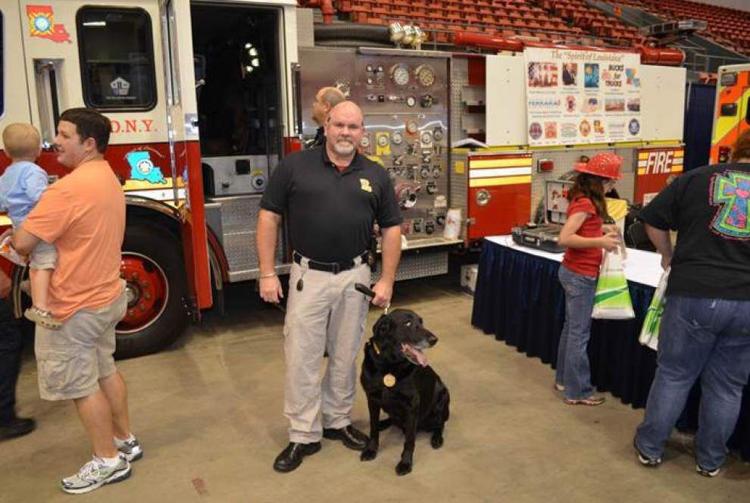 Abbott opted for a bench trial rather than face a jury. Hunter declined to convict him on the aggravated battery charge brought by Orleans Parish District Attorney Leon Cannizzaro's office.
The judge instead found Abbott guilty of the lesser second-degree battery charge, which carries a maximum five-year sentence.
Hunter, who denied Abbott's bid for a new trial this week, also assigned him to receive services through the judge's Veterans Treatment Court.
Abbott resigned last fall from the Louisiana Fire Marshal's office following his arrest. The state agency reassigned Crash.
Follow John Simerman on Twitter, @johnsimerman