A federal judge this week rejected pleas for new trials by all 10 "39'ers" gang members who were convicted in a blockbuster trial early this year, clearing the way for their sentencing next week.
Eight of the 10 men who were found guilty in February after a six-week trial face mandatory terms of life in prison. Minimum 20-year sentences await the other two, Solomon Doyle and Damian Barnes.
The eight men facing life are Leroy Price, Ashton Price, Alonzo Peters, Jasmine Perry, McCoy Walker, Terrioues Owney, Evans Lewis and Curtis Neville. Among them, only Peters was not convicted of a role in at least one murder. 
The 47-count federal indictment blamed 14 killings in 2010 and 2011 on the defendants, along with many other shootings and a heroin-dealing business that stretched from Central City to the Upper 9th Ward.
A jury in the federal "39'ers" gang trial convicted all 10 defendants Wednesday of a rackete…
The 39'ers, prosecutors and witnesses said, were a unified force of members from three gangs: "3NG," named for their bloody turf at Third and Galvez streets; "G-Strip," from Gallier Street; and a group from the Florida housing development.
Each of the 10 defendants was accused in at least one killing. They included a group gun assault that left acclaimed bounce rapper Renetta "Magnolia Shorty" Lowe and Jerome "ManMan" Hampton dead in a shower of more than 80 bullets outside a New Orleans East apartment complex on Dec. 20, 2010.
Several cooperating witnesses at the trial portrayed Lowe as collateral damage in a pre-emptive attack on Hampton, a Calliope gang rival.
The centerpiece of the defendants' long-shot pleas to overturn their convictions was a letter that turned up after the trial, written last year by admitted gang enforcer Washington "Big Wash" McCaskill to an Orleans Parish prosecutor 
McCaskill, who went on to testify at the 39'ers trial, wrote in May 2016 that the federal gang case was "all made up lies." He accused the government's two star witnesses, gang leaders Darryl "Brother" Franklin and Gregory "Rabbit" Stewart, of lying "about a lot of things" in a bid for a reduction of their multiple life prison sentences.
Gregory "Rabbit" Stewart chronicled killing after gangland killing on the streets of New Orl…
If presented at the trial, the letter "would have been a devastating blow to (the) credibility and veracity of Stewart and Franklin and to the integrity of the government's case," wrote Billy Sothern, the attorney for convicted 39'er Evans Lewis.
In a 31-page order issued this week, U.S. District Judge Jay Zainey agreed that McCaskill's letter should have been revealed but found it likely wouldn't have mattered.
A feared Central City gang leader who was sentenced last year to 100 years in prison now cla…
Defense attorneys "inexorably" impeached the credibility of both Franklin and Stewart during several days of cross-examination, and the jury still came back with guilty verdicts, Zainey noted.
"The court is not persuaded that any of the jury's conclusions would have been different if the defense had had the letter during trial," he wrote.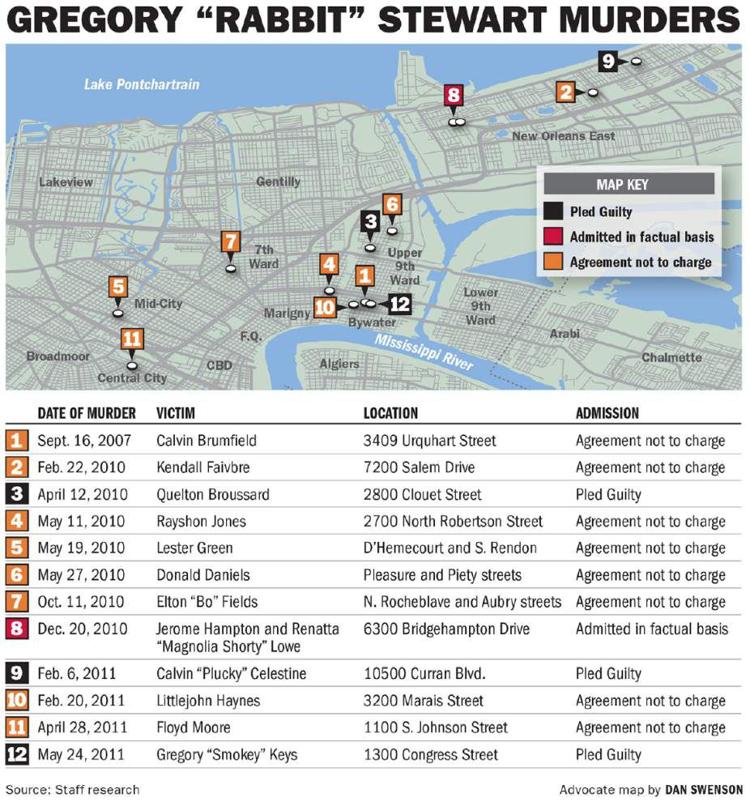 Leroy Price, Ashton Price, Peters and Perry are scheduled to be sentenced Monday morning. Walker, Owney and Lewis are slated for sentencing on Tuesday, with Neville, Doyle and Barnes to be sentenced Wednesday.