For all of the troubled convictions he has battled tooth-and-nail in the courts to preserve, it's the one he gave up without a fight that has forced Orleans Parish District Attorney Leon Cannizzaro to defend his office from its inglorious past.
Cannizzaro's swift decision three years ago to vacate the problematic murder conviction and life sentence of Reginald Adams was hailed then as a bold stroke by a district attorney more prone to relentlessly attacking legal challenges to convictions from the era of his onetime boss, longtime District Attorney Harry Connick.
In Adams' case, Cannizzaro didn't wait for a judge to rule. He called out two former Connick assistants for "manifest intentional prosecutorial misconduct," saying they had joined with a pair of former New Orleans police detectives to railroad Adams for the 1979 murder of Cathy Ulfers, a police officer's wife.
Their nefarious actions "denied this community any opportunity to hold the real perpetrator criminally responsible for this violent crime," Cannizzaro said, while offering a public apology to Adams for his 34 misspent years in prison.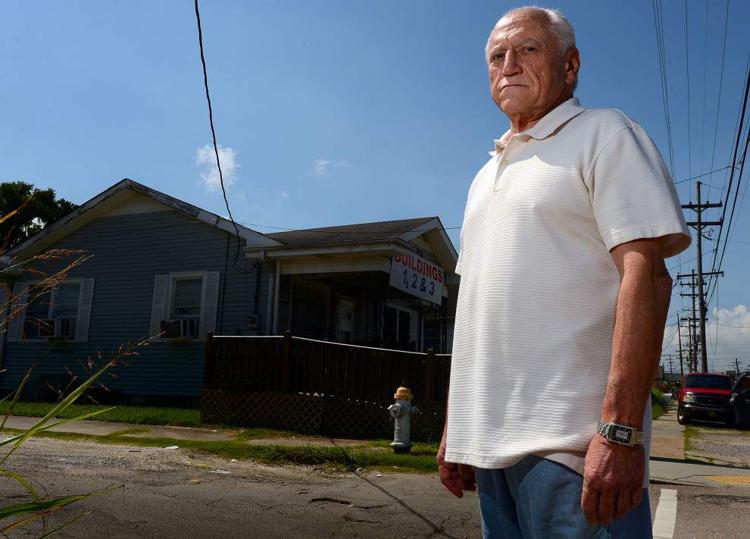 Now, however, Cannizzaro and the city are the defendants in a federal civil rights lawsuit in which Adams alleges his conviction stemmed from a pattern of unconstitutional practices by police and prosecutors.
U.S. District Judge Susie Morgan has set an August trial date for a case that already has put the district attorney on the hot seat, over nearly six hours of deposition testimony in which Cannizzaro dispensed with apologies.
His sworn deposition in February marked Cannizzaro's most expansive on-the-record account of his experience and training as a young prosecutor under Connick, the marching orders he gives his own prosecutors on their obligations to turn over evidence to the defense, and his suddenly jaundiced assessment of Adams' claim of innocence.
A New Orleans man who walked free last year after 34 years in prison filed a federal civil r…
Though he stood by his decision to vacate Adams' conviction, Cannizzaro said he's not so sure now that the man he agreed to cut loose didn't fire seven bullets into Ulfers as she stepped inside her home in New Orleans East.
Her husband, former NOPD Officer Ronnie Ulfers, is now serving his own life sentence for killing his second wife, Debra.
Adams claims then-NOPD Detective Martin Venezia plied him with Valium, beer and intimate details of the murder in an overnight grilling in 1980 that included a late-night drive to the murder scene. The result was a confession that convinced two separate juries to convict Adams, whose first conviction was overturned because of a mistake in letting the jury view a transcript of his confession during its deliberations.  
'Compelling statement'
According to a transcript of his deposition, Cannizzaro repeatedly described Adams' confession as "a compelling statement," even as he acknowledged Adams got several key details wrong: his description of Ulfers, the kind of gun used to shoot her, the number of shots.
"There is no force. There is no intimidation. No one is beating him. No one is using any psychological intimidation factors with regard to this man. And he does admit to the shooting of this woman on a number of occasions. Again, I find that to be compelling," Cannizzaro testified.
"I hope the judge lets us show to the jury, 'Hey, maybe this guy is responsible for this homicide, and maybe he is not entitled to the however (many) millions of dollars you all are trying to get.'"
Attorneys with Innocence Project New Orleans helped convince Cannizzaro to drop Adams' conviction, and IPNO director Emily Maw dismissed the DA's take.
"Has he read the confession? The guy gets the gender of the person he shot wrong, at his first guess," Maw said of Adams. "That confession is not worth the paper it's written on."
Following Adams' release, former state Attorney General Buddy Caldwell's office accepted his claim of "factual innocence," the tall legal hurdle that exonerated ex-convicts must clear to tap the state's Innocence Compensation Fund. After an investigation, Caldwell's office agreed that Adams "did not commit any crime based upon the same set of facts used in his original conviction."
Reginald Adams will receive state compensation for the 34 years he spent behind bars before …
But that decision may have no bearing on a federal civil case that marks the first direct attack on the local District Attorney's Office since the U.S. Supreme Court in 2011 tossed out a $14 million judgment that a jury had awarded to former death-row inmate John Thompson in another case of prosecutorial misconduct from the Connick era.
In its 5-4 ruling, the high court held that a District Attorney's Office couldn't be held liable for failing to train its prosecutors based only on one case and that Thompson hadn't shown a pattern of violations indicating "deliberate indifference."
Since Connick left office in 2002, his legacy has suffered from a series of overturned convictions, with long-serving inmates walking free based on withheld evidence and, in some cases, dirty dealing by police or prosecutors.
Laurie Levenson, a professor at Loyola Law School in Los Angeles who was hired by Adams' attorneys, cited at least two dozen cases from the Connick era involving documented violations of Brady v. Maryland, the 1963 Supreme Court ruling that said prosecutors must disclose all exculpatory evidence to the defense.
In a speech in 2014, Cannizzaro described the District Attorney's Office he took over in 2008 as having been "in a steady state of decline" marked by "bad policies (that) took root and became institutional."
Defending his old boss
Cannizzaro walked back that statement in his recent deposition, defending Connick even as he acknowledged that he couldn't recall much in the way of specific training or office policies regarding the Brady requirement.
"Mr. Connick was about prosecuting cases. He certainly wanted us to be successful, but he did not want us to cheat. He was very, very clear about that," Cannizzaro said. "I will go to my grave saying this man never knew anything about the improper conduct that was taking place by some of the assistants in his office."
Cannizzaro argued that the legal burden on prosecutors regarding the disclosure of evidence has evolved since he served as a prosecutor under Connick from 1978 to 1983 — a period that included the Adams case. He cited the U.S. Supreme Court's 1995 decision, in another New Orleans case, Kyles v. Whitley, clarifying that prosecutors are responsible for turning over all favorable evidence, including evidence withheld by police.
Cannizzaro admitted that when he was a young prosecutor, he rarely questioned detectives directly over what they might have left out of their reports. Sometimes, he said, he wouldn't meet with the lead detective to review a case until the trial was underway.
"You know, sometimes you are embarrassed to say with some of the narcotics cases ... you might not sit down and talk to the officer until maybe the day before," Cannizzaro recalled.
"Or sometimes, you know, I hate — I don't want this to go public, but my kids, I will kill them if they say this. But sometimes, you'd pick a jury. You'd meet the detective who did the throw-down narcotics case for 10 minutes. And you'd go over the report," he testified.
"And you would certainly ask for some indulgence from the judge to — 'Can you give me 15 or 20 minutes just to talk to this guy? It will be short. I won't delay your trial, Judge.' You know, you always want to keep them happy, so you keep the thing moving and they are not cutting you off at your knees during the course of the proceeding."
Cannizzaro also testified to having instituted reforms in his office, including quizzing prosecutors about their obligation to turn over evidence. But he also downplayed the need for detailed written directives or formal oversight to ensure that so-called "Brady material" is disclosed.
"I don't think Brady involves rocket science. I think it is very, very simple. It is simply if you have information, if you have facts that help the defendant, you have an obligation to give it to him," Cannizzaro said.
"I don't want to do it by trickery or deceit. We want to play fair, but we are going to play hard. So that is essentially what we try to drive in them," he added. "It is not about winning at all costs. It is about playing fair and playing hard."
Crossing the line
In Adams' case, Cannizzaro accused former prosecutors Harold "Tookie" Gilbert and Ronald Bodenheimer of crossing the line, hiding part of a newly found police report in the file of a separate burglary case for which Adams was acquitted — but which he now admits committing. More pages of the same report were found in the file of another man, Roland Burns. 
That report pointed to the recovery of a murder weapon and stolen items from the Ulfers home, and cited a trail to a suspect, Burns, who would be arrested on an accessory charge that the District Attorney's Office dropped several months before Adams' confession.
A New Orleans man who walked free last year after 34 years in prison filed a federal civil r…
Burns is now deceased. So is Gilbert, one of the prosecutors. The other one, Bodenheimer, went on to become a Jefferson Parish judge and to serve time in federal prison after being convicted of, among other things, framing an enemy by having drugs planted on him. Bodenheimer, a co-defendant in the civil rights case, has claimed he never saw the report he's accused of hiding.
Cannizzaro agreed to set Adams free just 10 days after IPNO attorneys revealed the hidden document, which purports to detail an investigation into Burns by Venezia and another detective, Sam Gebbia.
Both detectives testified against Adams, telling jurors that no other suspects had been identified and that no murder weapon had turned up.
Gebbia was killed in a vehicle crash in late 2015. Venezia has stridently defended Adams' confession and his own trial testimony, insisting that Burns was innocent and that the gun the NOPD had tied to Ulfers' killing wasn't in fact the murder weapon.
Venezia has called the undisclosed police report a mistake-filled fabrication that he didn't write. He has chided Cannizzaro's office for failing to authenticate the report before tossing out Adams' conviction.
"Reginald Adams did in fact murder Cathy Ulfers, beyond a shadow of a doubt," Venezia said last week, adding, "I have never lied under oath."
Before his untimely death, Gebbia said in an interview with Caldwell's office that he had suspected Ulfers' husband played a role in the murder but that he had backed out of the case well before Adams' confession, over a conflict with Venezia.
Gebbia said Venezia had grown too "chummy" and had developed a "friend relationship" with Ronald Ulfers during the investigation, according to notes from the February 2015 interview. Venezia denies that claim.
After Adams' confession and arrest for Ulfers' murder, Connick's office took the unusual step of asking the FBI to retest the recovered .32-caliber handgun that an NOPD analyst had concluded was the murder weapon as part of the investigation that led to Burns' arrest. But the FBI testing was inconclusive; the agency said it couldn't establish a match to Ulfers' killing, the FBI report shows.
In his deposition, Cannizzaro acknowledged that his office never asked Venezia or Bodenheimer for an explanation before setting Adams free. The existence of the report was proof enough of a bad conviction, he maintained.
Connick, who also was deposed in the Adams case, blamed Gilbert and Bodenheimer for going rogue in hiding the report.
"I'm convinced that they knew what they were doing, and that is why they were secretive about it. And that is what happens when you fail to disclose," Connick said. "I think they knew that it was exculpatory evidence. I knew that the policy of the office prohibited them from not turning over exculpatory evidence. But they did it."
Adams' attorney, Michael Magner, insists that Cannizzaro's attempt to place the blame on "rogue" detectives and prosecutors can't "insulate his office from potential civil liability."
"They were participants in a system that routinely and as a matter of practice and policy withheld exculpatory evidence and other information helpful to the defense as a matter of course," Magner said.
Also named in the suit are former District Attorney's Office investigators Frank Ruiz and Gerald "Jerry" Ursin, who both were involved with the case on the night of Adams' confession.
Ursin, who became a top NOPD commander and later Orleans Parish Sheriff Marlin Gusman's top deputy, pleaded guilty in federal court last year to a billing scam for off-duty details by other deputies. He received three years of probation.