A man from Jefferson Parish serving life in prison for a rape committed at gunpoint in Gretna in 1979 was ordered freed Tuesday, ending a saga that began for Malcolm Alexander when the victim misidentified him four months after the crime, his lawyers said. 
Alexander, who has spent nearly 38 of his 58 years behind bars, sat in a jury box in 24th Judicial District Court, smiling and offering quiet words of encouragement to a dozen family members who had come to hear Judge June Berry Darensburg order his immediate release from the Louisiana State Penitentiary at Angola.
Can't see video below? Click here. 
Darensburg ruled that Alexander had received "ineffective assistance of counsel" during his 1980 trial for the rape of a Gretna antiques shop owner.
District Attorney Paul Connick's office then agreed to dismiss the indictment against Alexander "in the interest of justice."
Members of Alexander's family gasped in relief. Many, including his mother and daughter-in-law, wept.
"Thank Jesus," cried his 82-year-old mother, Maudra Alexander, before her newly freed son leaned over to kiss her as he left the courtroom, headed for processing to be released. 
"I'm gonna see y'all," he said amid hugs. "I'll be right back."
Although the judge ordered him freed based on unconstitutionally feeble lawyering, Alexander's attorneys with the New York-based Innocence Project and the Innocence Project New Orleans said DNA testing of pubic hairs from the rape scene bolstered his claim of innocence.
The DNA evidence, which the Jefferson Parish Sheriff's Office turned up in 2013, matched neither the rape victim nor Alexander.
"Anybody can see that Malcolm did not get a real defense," said Barry Scheck, co-director of the Innocence Project. "But the DNA results on the pubic hairs that doesn't match Malcolm's gives everyone great confidence that if this case had been tried appropriately, there would have been a just result."
Scheck praised the Jefferson Parish Sheriff's Office for its recent cooperation. He said the newly found hairs were key to proving the case after other evidence, including the rape exam kit and a stained towel, was accidentally destroyed years earlier by the Clerk's Office.
"The DA's Office and the Sheriff's Office were very cooperative in trying to see what happened," Scheck said. "We're very appreciative of this."
A jury convicted Alexander after a one-day trial in 1980, based on his identification by the victim, a 39-year-old woman who had been dragged into the bathroom of her store by a stranger in 1979, forced face down on the floor and raped twice.
Between the two rapes in the store on Whitney Avenue, her assailant made her answer a phone call while threatening to shoot her, according to a 2015 court filing by Alexander's attorneys.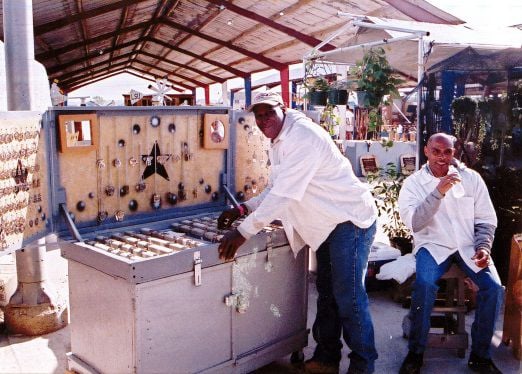 The victim, who is white, first told police that her rapist was a black male in his early 20s who had ridden up on a dark orange 10-speed bicycle carrying a revolver.
Police returned 10 minutes later with a man who was found riding a dark orange 10-speed racer with his jeans unzipped and who — it was discovered later — owned a revolver. But the woman, peering through a window pane, said he wasn't her assailant.
Four months later, after viewing hundreds of police photos, she identified Alexander, who was then 20. His picture had been placed in a photo lineup based on an earlier sexual assault allegation that police had dropped, his attorneys said.
The woman said she was "more than 98 percent sure" he was the rapist.
Her identification, which police initially deemed "tentative," was the sole evidence against Alexander. The victim again identified Alexander from the witness stand, at a trial in which his defense attorney, Joseph Tosh, declined to give an opening statement and put on no witnesses, according to Alexander's current attorneys.
In a brief closing argument, Tosh told the jury that the victim "took a long time before she identified the defendant, before she identified the proper person."
Tosh would be permanently disbarred in 1999 for a slew of failures as a lawyer — 60 misconduct violations in all.
Alexander, who did not testify in his own defense, was convicted of aggravated rape and sentenced to life in prison with no shot at parole.
His lawyer with the Innocence Project, Vanessa Potkin, assailed Tosh in front of the judge Tuesday, saying the jury had no idea the victim in the case barely saw her attacker because the crime happened in a darkened room.
"His trial lawyer did virtually nothing to defend him," she said.
In a statement, Connick said he endorsed that assessment.
"After an extensive investigation during the past 2½ years, I agreed with Mr. Alexander's post-conviction attorneys that the defense attorney during the daylong trial 37 years ago provided ineffective representation in violation of his constitutional rights," Connick said.
The district attorney declined to comment on the DNA testing or whether the results warranted a new look at the case, spokesman Paul Purpura said. 
Alexander first contacted the Innocence Project from Angola in the 1990s, but the organization rejected the case because of the lost evidence.
In 2012, he filed his own motion for DNA testing of hairs and other biological material found at the scene of the rape, court records show. The Innocence Project then filed a post-conviction motion for DNA testing on Alexander's behalf in 2015.
The Advocate is not identifying the first man police brought to the antiques store, who lived in Gretna at the time and was never booked in the rape.
Reached by phone Tuesday, that man said he didn't recall anything about the 1979 police stop or the identification procedure outside the antiques shop. He also denied any involvement in a rape.
"No, no, no indeed. Not me," said the man, now 63. "I didn't have nothing to do with no kind of rape case, no rape or nothing."
Whether the DNA results would have been enough on their own for a judge to vacate Alexander's conviction is uncertain.
But bad witness identifications are the leading cause of known wrongful convictions, accounting for more than 70 percent of the 350-plus convictions overturned based on DNA evidence, according to recent figures from the Innocence Project.
In nearly half of those cases, the advocacy group says, the witness and the defendant were of different races.
Backed by a growing body of scientific research, the dubious reliability of cross-racial identifications, in particular, has prompted some states to allow judges to caution jurors about them. Louisiana courts are not among them.
"I think we have a really great opportunity in Louisiana to do something many states have done now, which is think about how often we use eyewitness identification," said Emily Maw, director of the Innocence Project New Orleans.
"And when we do use identification as the only basis for a conviction, what protection should be in place to ensure that it is a robust and reliable identification, not the kind of insufficient evidence that Malcolm Alexander was convicted (on)."
Malcolm Stewart, who sat in the courtroom Tuesday, was 2 years old when his father landed in prison. Now 40, he barely knows his dad. Stewart's son, Alexander's 20-year-old grandson, also was there.
"They always talk about him, but to be able to see him in the flesh, it's like a dream," Malcolm Stewart Jr. said. "I'm just anxious to have a relationship with him, to actually get to know him."
Charlean Stewart, Alexander's daughter-in-law, said that she too was "elated."
Wendy Alexander, Malcolm Alexander's sister, recalled the long and difficult road the family traveled knowing their loved one was in prison for a crime they said he didn't commit. She said her brother would offer supportive words as she battled cancer and cared for their ailing mother.
"When he called, he always encouraged me to keep doing it, that he'd be home to help me," she said.
Moments after his release, Malcolm Alexander stood out on Dolhonde Street, saying he was heading home to Avondale to be with his family. But before he got to work helping his mother, he said, he had a little request of his own — a slice of beignet-type fried bread and coffee that his mom used to make for him.
"That's the first thing," he said. "I want to eat something home-cooked."
His sister, who had learned the recipe from their mother, said she was happy to oblige.
In the meantime, Alexander said there was no room for bitterness in his homecoming.
"You cannot be angry," he said. "There's not enough time to be angry."​
Staff writer Chad Calder contributed to this story.