Three years after they served up their female friends to be raped by Darren Sharper while disabled by drugs, two co-defendants of the retired NFL star publicly apologized for the first time Thursday at a packed federal sentencing hearing.
But the women forcefully rejected the words of Brandon Licciardi and Erik Nunez as too little, too late.
In halting victim impact statements, the pair chided Licciardi and Nunez for trying to cover for Sharper and themselves after the Sept. 23, 2013 rapes, for which the former Saints safety and serial rapist has admitted guilt.
"You were the one who set everything up," said one of the women, a former Saintsations cheerleader, as she stood facing Licciardi, who was a veteran St. Bernard Parish sheriff's deputy until his arrest two years ago.
"You both would steamroll whoever was in your way to become best friends with these people, and the thing is, where are they now?" she added. "Brandon, it sickens me to realize how you should have been acting versus the reality of who you really are... I guess the 'King of Chalmette' has fallen. The cop that couldn't stop a crime from happening."
U.S. District Judge Jane Triche Milazzo on Thursday formally endorsed the terms of plea deals reached in July for both men.
Licciardi agreed to a 17-year federal prison term, while Nunez, a former steakhouse waiter, accepted 10 years.
Nunez, 29, was accused in a state indictment with raping the same two women that night at Sharper's condo on Tchoupitoulas Street, but he pleaded guilty only to a sexual battery charge from the incident.
Both men pleaded guilty to federal drug conspiracy counts on the eve of a July trial.
The two co-defendants of admitted serial rapist Darren Sharper entered guilty pleas Thursday…
All that is left is a sentencing hearing scheduled for next week in state court. Orleans Parish Criminal District Judge Karen Herman is expected to ratify the same sentences for Licciardi and Nunez for their guilty pleas under the state indictment.
Licciardi, 31, pleaded guilty to three counts of human trafficking and a count of forcible rape stemming from a scheme with Sharper to ply women with drugs such as Ambien, Xanax, Valium and Ecstasy to prime them for sexual assault.
Licciardi admitted raping a woman he met at a pre-Super Bowl party in New Orleans on Feb. 1, 2013. Sharper attempted to have sex with the woman as well, according to Licciardi's formal admission.
At first, she thought the odds were against getting justice, the woman told the federal cour…
The New Orleans Advocate does not identify victims of sexual assault.
The second woman, who described herself as a onetime intimate friend of Nunez, excoriated him Thursday over the violent betrayal.
"You took away my permission and decided to do the unthinkable," she said.
She told police she woke up in a daze at Sharper's condo to find the retired All-Pro, then an NFL Network commentator, raping her.
By then, Nunez had left the condo. Authorities later accused Nunez of ditching a cellphone to get rid of evidence that included text messages he had sent both women following the assaults.
"I had bruises everywhere. I constantly questioned where I got my black eye from," the woman said. "You were dead to me the moment I realized what happened."
Sharper initially pleaded guilty last year under a "global" deal in which he was to serve a 9-year federal prison sentence to resolve allegations that he drugged and raped or attempted to rape nine women across four states, all while retired.
But Milazzo, citing a total of his 16 accusers, rejected that deal. Sharper agreed to maintain his guilty pleas, and Milazzo in August handed him an 18-year sentence.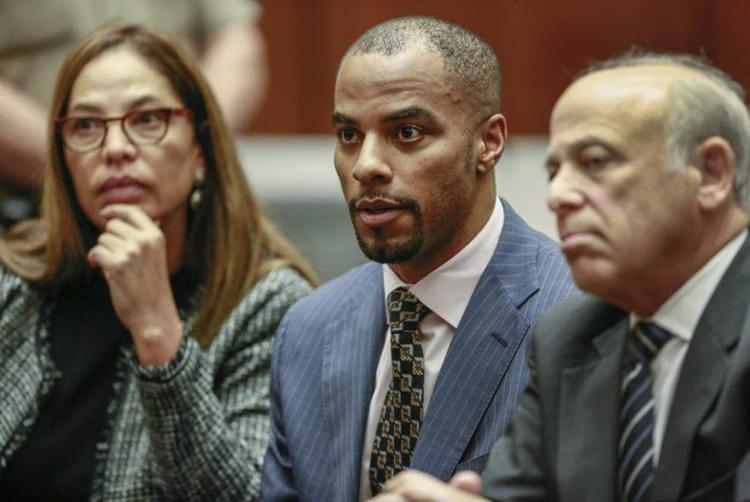 "I still don't know why I lived my life right for 38 years, and then I took this path," Sharper said in his own courtroom apology.
On Thursday, family members and friends of Licciardi, Nunez and their victims packed the courtroom pews.
Licciardi, who met Sharper in 2010 while working a law enforcement detail, said he fell to the seduction of celebrity.
He was accused of fueling the scheme with Sharper, helping to facilitate the crimes of his celebrity friend.
Licciardi knowingly left the cheerleader drugged with Sharper at a downtown club, prosecutors alleged, then failed to rescue her after he showed up at Sharper's door, suspecting trouble.
Weeks later, a close friend of the cheerleader confronted Licciardi at a club over the rape. That woman ended up passed out overnight in the club's bathroom, and awoke covered in vomit. Authorities claimed Licciardi had spiked her drink.
"I did not intend to cause any harm or hurt anyone. I was so wrapped up in a world that was so intoxicating that I let my judgment of other people's character get distorted," Licciardi said Thursday, directing much of his apology to the former cheerleader.
"I made a terrible decision to leave you in the hands of a monster. I went over it 1,000 times in my head, and I should not have left you there with him. But I did."
The former cheerleader dismissed his apology, noting that Licciardi fought the charges and failed to come clean with investigators.
"If you really are truly sorry, do the right thing and start talking," the woman said. "Tell the truth."
It's unclear whether either man has provided information to authorities over other incidents involving Sharper, or perhaps other NFL players.
Nunez acknowledged Thursday that his circle of friends included both rape victims. He has not admitted to raping either woman.
He described his actions as "largely out of character for myself" while describing "an unfortunate night of poor decision-making, misguided judgment."
"I have always respected women and held them in high regard. I would never intentionally want to cause them harm," Nunez added. "I have also learned how extremely important it is that ignorance is no excuse."
Assistant U.S. Attorney Mike McMahon declined Thursday to say whether the investigation that led to the charges against the three men is over.
Any information that Sharper provided in interviews with authorities under the terms of his earlier plea agreement has not been enough to convince federal prosecutors to go to bat for him on a sentence reduction.