New Orleans police have opened an investigation into new allegations of sexual molestation in the 1970s that are being leveled at a convicted pedophile who used to run the NOPD's child abuse unit, officials said Monday.
When Louisiana's five Catholic bishops met last week in Lafayette for their regular quarterly meeting, there was no need to consult an agenda.
An NOPD spokesman didn't identify who filed the new complaint. But Richard Windmann, who recently went public about the $450,000 settlement he received from Jesuit High School to settle sexual abuse claims from the same era, told The Advocate he made the report against Stanley Carl Burkhardt.
Windmann, now 53, declined to elaborate, saying he didn't want to jeopardize the police investigation into Burkhardt, 67. But records show Windmann provided key testimony about Burkhardt years ago at a federal civil trial in North Carolina that resulted in Burkhardt being committed to prison after he was deemed a "sexually dangerous" man.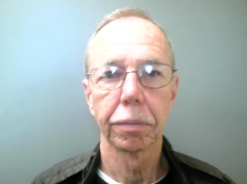 Burkhardt by then had been convicted of possessing child pornography as well as of sexually abusing a 9-year-old relative. In the years since, he's been released from prison and is living in New Orleans.
Burkhardt couldn't be reached for comment Monday about allegations that he had sexually molested Windmann in the 1970s, when Windmann was an adolescent and Burkhardt was a cop.
Burkhardt denied those allegations at the 2011 federal proceeding in Raleigh, North Carolina. Yet the judge presiding over that case determined the denial was dubious and Windmann's claims – which have never been prosecuted – were credible.
It wasn't immediately clear whether Windmann's new claims about Burkhardt intersect with the claims he settled with Jesuit High School over two of the Mid-City school's former employees. Windmann, who grew up near Jesuit, has said he was in his adolescence when school maintenance man Peter Modica repeatedly raped him on campus, with one assault occurring as a priest named Neil Carr watched and masturbated.
Local Jesuit officials deemed Windmann's allegations credible and in 2012 paid to settle the allegations out of court, having already reached similar arrangements in a pair of separate cases involving other ex-employees.
Ricky Windmann wasn't nervous when he accompanied janitor Peter Modica to his ground-floor maintenance office at Jesuit High School on an othe…
More cases have surfaced involving quietly settled, decades-old sexual abuse claims against the Catholic Church in New Orleans, naming a pair …
The Advocate does not typically identify people who report themselves as victims of sexual violence, but Windmann gave the newspaper permission to name him. 
The legal problems swirling around Burkhardt date to 1987, when he was an NOPD veteran of roughly 15 years. Recovering from being shot in the line of duty, the cop — who had a reputation for aggressively pursuing child predators — was arrested that year in a sting operation after unwittingly mailing explicit images of underage boys to undercover agents nationwide. He underwent therapy and was released from prison on those charges in 1992.
Almost immediately, he pleaded guilty in state court to a separate charge of molesting a 9-year-old relative. But he infamously received a sentence of prison time already served. Then-Criminal District Court Judge Jerome Winsberg explained his belief that therapy would rehabilitate Burkhardt, who at the time was under federal supervision. 
Burkhardt was not rehabilitated.
In 1998, authorities ran another sting, finding a 12-year-old boy in Burkhardt's home, as well as videos and magazines depicting child pornography. He pleaded guilty to receipt of child pornography and spent nine years in federal prison – and then he violated his supervised release by contacting another sex offender, surfing the web for images of "young males" and setting up a secret email address, officials have said.
The president of Jesuit High School sought to reassure a shaken Jesuit community Thursday that while he was "horrified" by the sexual abuse th…
To keep Burkhardt behind bars, the feds ultimately turned to a law enabling them to seek lifelong civil commitments of "sexually dangerous" people based on mental health professionals' evaluations. Critics have attacked the process, saying its aim is to head off potential crimes rather than punish proven ones. And an unsuccessful U.S. Supreme Court challenge to that law meant it wasn't until December 2011 that a trial was held over the issue of whether Burkhardt was "sexually dangerous" enough to be committed for the rest of his life.
Transcripts of that trial show, at some point, federal prison officials had been told Burkhardt was a New Orleans cop when he raped a boy with the initials "R.W." Under questioning from his attorney, Burkhardt said he never "molested" or "touched" R.W.
Prosecutors rebutted Burkhardt by calling Windmann to the witness stand. According to the transcript, Windmann said he was involved "in a Boy Scout case" when a detective on that investigation befriended him and began checking in on him. Windmann didn't elaborate on the "Boy Scout case" while on the stand. But he said the detective was eventually transferred, and he told Windmann that another officer would take over "looking in on" him: Burkhardt.
Windmann, who estimated he was 13 at the time, said Burkhardt eventually brought him to his office, showed him child pornography, and started performing oral sex on him.
After establishing that was not the only time Windmann had "sexual contact" with Burkhardt, prosecutor Seth Wood asked his witness to estimate how many other occasions there were.
"I'd say over the course of two to three years, 40 times," Windmann testified. "At the police station, in cars, hotel, my house, his house."
Burkhardt's public defender, Suzanne Little, successfully objected when Wood asked Windmann to describe how the molestation had affected him, arguing it was irrelevant to the proceeding at hand. When she asked Windmann if he had ever tried to tell the police, he replied that he had approached at least two officers who knew Burkhardt but was brushed off.
In the end, after also hearing from two mental health doctors, U.S. District Judge Bernard Friedman committed Burkhardt to the federal prison in Butner, North Carolina. Of Windmann's testimony, Friedman said, "The court finds by clear and convincing evidence that the testimony of Mr. Windmann is credible and that the denial by Mr. Burkhardt of this incident is not credible."
U.S. District Judge James Dever then ordered Burkhardt released in the spring of 2015, deciding that after more than three years of treatment the former cop had "recovered to the extent that he will not experience serious difficulty in refraining from sexually violent conduct or child molestation."
Conditions of his release included requirements for him to get tracked by GPS technology as well as maintain a log of his activities. Dever lifted those two measures in February, though others remain in place, records show.
Coincidentally, one of the cases Burkhardt handled during his career involved defrocked deacon George Brignac being accused of fondling an 11-year-old boy at summer school. Burkhardt booked Brignac, but prosecutors did not prosecute the case. Burkhardt wrote in his report that there had been no sexual contact between Brignac and other students. 
When Louisiana's five Catholic bishops met last week in Lafayette for their regular quarterly meeting, there was no need to consult an agenda.
This year, the Archdiocese of New Orleans paid more than $500,000 to settle claims that he repeatedly raped an altar boy at Holy Rosary School. That prompted at least 10 more victims to come forward with abuse claims against Brignac, who is the subject of an NOPD criminal investigation that remains pending. 
Windmann's complaint against Burkhardt comes after he recently asked state officials to seek and release a list of Catholic clergy who have been targeted by credible abuse allegations, citing his Jesuit case. Those officials directed him to authorities in New Orleans.
In Louisiana, some sex crimes either do not have any statutes of limitations or have ones that do not expire for decades. 
The second-grader dreaded recess at St. Matthew the Apostle School.