A large truck pulling trailers caught fire on Interstate 10 in Metairie early Wednesday, snarling the morning commute for hours, according to officials.
The truck, which was sideswiped by a motorist who fled the scene, was pulling a trailer that flipped over the edge of the elevated expressway, damaging the road, temporarily shutting down both directions of I-10 and forcing commuters to reroute onto surface roads as they headed to downtown New Orleans. 
The truck was carrying a shipment of paint cans that added to the blaze when they caught fire. Initially, Jefferson Parish officials were told, mistakenly, that the truck was carrying hazardous materials that could have created a broader public health concern, Councilman Chris Roberts said. 
The East Bank Consolidated Fire Protection District responded to the trailer blaze and brought it under control shortly after day break, said the agency's chief, Dave Tibbetts.
The 18-wheeler and the first trailer it was pulling ended up on their sides and the second trailer was burned beyond recognition, Tibbetts said.
Louisiana State Police were searching for the hit-and-run driver following the wreck, and by early afternoon they had spotted a Mercury Grand Marquis parked in Metairie that matched the description of the one involved in the crash.
State Police spokeswoman Melissa Matey said they were searching for whoever had left it there. 
The truck driver went to a hospital to be treated for injuries, but they were considered minor, and he is expected to recover, Matey said.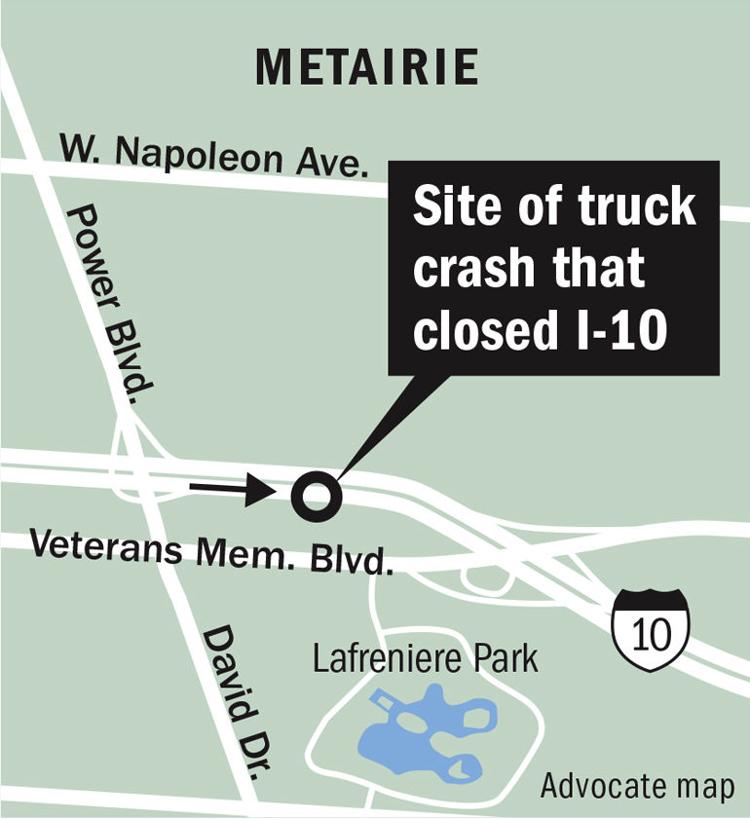 The accident happened sometime around 6:00 a.m.
The truck at the center of the incident was heading towards downtown New Orleans, pulling two trailers in tandem when it was hit by the driver of the Grand Marquis traveling in the right lane. The car didn't stop, Matey said.
One of the truck's trailers fell over the side of the elevated interstate. It appeared to witnesses that a separate box truck had plummeted to the ground, but Matey said first responders ruled out the possibility that a second vehicle had been involved.
The eastbound lanes of I-10 were closed for several hours as crews worked to get the truck upright and remove it. The left lane remained closed so state transportation officials could repair part of the elevated roadway and inspect it.
Authorities at one point were diverting eastbound traffic at Williams Boulevard as well as westbound motorists at Clearview Parkway.
But officials also had to close northbound Interstate 310, which is nearby, at Airline Highway to prevent those motorists from reaching the scene. The result was that the alternate routes were congested more than usual during the morning rush hour. 
---
Can't see video below? Click here.
Anyone with information on the driver of the Grand Marquis can call State Police at 504-471-2775. 
A Twitter user on Wednesday posted a video of the truck fire while it burned.