A New Orleans Police Department officer was booked late Friday on counts of second-degree rape, indecent behavior with a juvenile and molestation of a juvenile.
The allegations against Marcellus White, a 19-year NOPD veteran most recently assigned to Uptown's 2nd District, involve a 14-year-old victim. They date from March or April but only recently were revealed to police.
White, 45, appeared Saturday in Magistrate Court, where Commissioner Brigid Collins set his bail at $200,000 on the rape count and $75,000 on each of the other two counts, court records show.
Collins issued a stay-away order for White, who remained in custody Saturday.
A conviction for second-degree rape carries a sentence of five to 40 years.
NOPD spokesman Tyler Gamble said White's arrest was the result of an investigation by the department's Public Integrity Bureau and the child abuse unit in the Special Victims Section.
White was handed an automatic emergency suspension with his jailing, Gamble said.
White was involved, but cleared of wrongdoing, in the controversial shooting death of Adolph Grimes III, a Brother Martin High School graduate with no criminal record who was shot by several New Orleans police officers at 3 a.m. Jan. 1, 2009.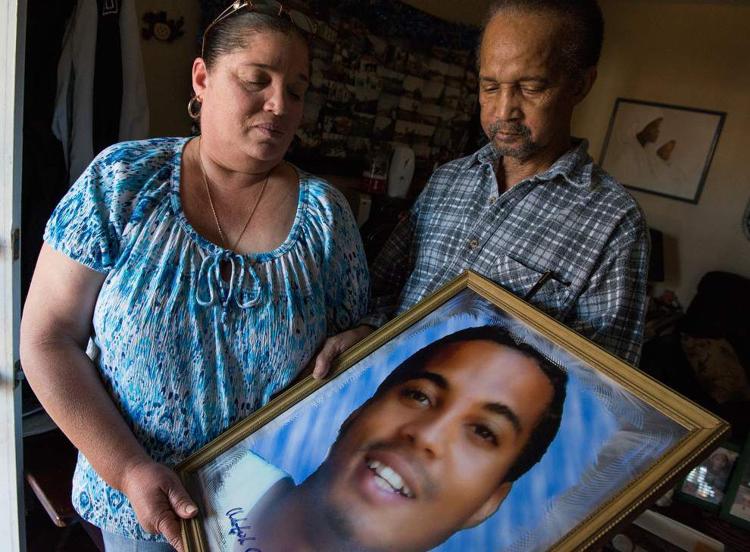 Grimes was sitting in a rental car in the 6th Ward when officers in an unmarked patrol vehicle deemed the car suspicious and rolled up alongside him.
The officers, who were in plainclothes, said they began shooting in self-defense after Grimes trained a handgun on them and fired a single round through the back windshield of his rented Toyota Camry.
Whatever nine New Orleans police officers did right or wrong when they unleashed a hail of b…
Conflicting accounts emerged over whether the officers announced they were police and whether Grimes fired first. The officers said they turned on dashboard blue lights and Grimes' dome light was turned off before the gunfire erupted and Grimes ended up shot 14 times.
White was among the eight officers at the scene of the shooting.
The NOPD determined the shooting was justified and cleared the officers of any administrative or criminal violations.
The U.S. Justice Department investigated the case and declined to pursue charges, quietly closing its probe in 2014 after U.S. Attorney Kenneth Polite's office took a fresh look at the shooting.
The Orleans Public Defenders Office handled White's initial court appearance. He is due back in court Monday for a hearing to determine his future counsel.